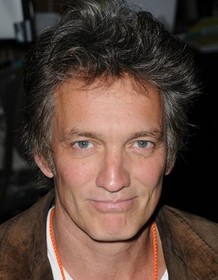 Cameron Dye
Highest Rated: 84% Valley Girl (1983)
Lowest Rated: 60% The Tavern (1999)
Birthday: Dec 13, 1959
Birthplace: New Orleans, Louisiana, USA
Cameron Dye is an American character actor best known for his role as Fred, the nervy sidekick of punk protagonist Randy (Nicolas Cage) in the 1983 romantic comedy "Valley Girl." Dye, whose parents moved frequently, divided his high school years between Ohio and California. After earning his degree in theater arts from UCLA, Dye earned walk-on parts on several early 1980s TV series before making the leap to feature films with a supporting role on the iconic '80s comedy "Valley Girl." While the film, with its distinct Southern California sociolect and New Wave soundtrack, was a bonafide box office hit that remains fondly imprinted in the memories of many Generation X moviegoers, Dye's subsequent appearances in B-movies of the era--including improbable titles like "Heated Vengeance" and "Fraternity Vacation"--fared less well. By the late '80s Dye settled into a steady but unspectacular career as a frequent television guest star, most often playing heavies and unsavory characters.
Photos
VALLEY GIRL, Cameron Dye, Deborah Foreman, Michelle Meyrink, Nicolas Cage, 1983, (c) Atlantic Releasing
VALLEY GIRL, Nicolas Cage (left), Cameron Dye, 1983, (c) Atlantic Releasing
JOY OF SEX, Cameron Dye, 1984, (c)Paramount
FRATERNITY VACATION, Britt Ekland, Tim Robbins, Cameron Dye, Stephen Geoffreys, 1985.
FRATERNITY VACATION, Tim Robbins, Barbara Crampton, Kathleen Kinmont, Cameron Dye, 1985.
BODY ROCK, (clockwise from left): Cameron Dye, Rene Elizondo, Jeanette Starlon, Oz Rock, Lorenzo Lamas, Seth Kaufman, 1984, (c)New World Pictures
Filmography
Movies
TV
Credit

No Score Yet

74%

Medium
Unknown (Guest Star)

2009

No Score Yet

90%

The Mentalist
Freddie Rossini (Guest Star)

2009

90%

83%

Bones
Lou Taylor (Guest Star)

2008

63%

No Score Yet

Justice
Unknown (Guest Star)

2006

83%

86%

The Closer
Jason Higgins (Guest Star)

2006

No Score Yet

82%

CSI: New York
Damon Runyon (Guest Star)

2006

No Score Yet

93%

Numb3ers
Unknown (Guest Star)

2005

83%

No Score Yet

NYPD Blue
Paul Hartley (Guest Star)

2004

No Score Yet

95%

Cold Case
Unknown (Guest Star)

2004

No Score Yet

81%

CSI: Crime Scene Investigation
Leland Brooks (Guest Star)

2003

78%

69%

Smallville
Sam Phelan (Guest Star)

2002

95%

94%

Frasier
Nigel Moon (Guest Star)

2000

No Score Yet

No Score Yet

JAG
Unknown (Guest Star)

2000

No Score Yet

No Score Yet

Brooklyn South
Unknown (Guest Star)

1997

No Score Yet

No Score Yet

The Sentinel
Unknown (Guest Star)

1997

No Score Yet

88%

Murder, She Wrote
Ian O'Connor (Guest Star)

1992

1996

No Score Yet

90%

Quantum Leap
Leon Stiles (Guest Star)

1992

71%

81%

Miami Vice
Unknown (Guest Star)

1989

No Score Yet

87%

M*A*S*H
Soldier (Guest Star)

1982