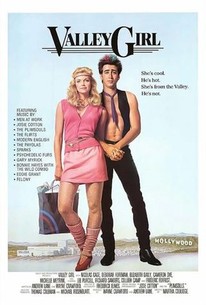 Valley Girl
1983, Romance/Comedy, 1h 35m
29 Reviews
10,000+ Ratings
What to know
critics consensus
With engaging performances from its two leads, Valley Girl is a goofy yet amiable film that both subverts and celebrates the cheerful superficiality of teen comedies. Read critic reviews
Where to watch
Rent/buy
Rent/buy
Rent/buy
Rate And Review
Movie Info
Lovely teen Julie Richman (Deborah Foreman) is steeped in the excessive, pink-clad culture of the San Fernando Valley, complete with her narcissistic boyfriend, Tommy (Michael Bowen). At a party, however, Julie falls for an edgy Hollywood punk named Randy (Nicolas Cage), and the two begin an unlikely romance. Torn between fitting in with her superficial friends and embracing a more non-conformist lifestyle, Julie ultimately has to decide to stay with Tommy or take a risk with Randy.
News & Interviews for Valley Girl
Audience Reviews for Valley Girl
"Bitchin'!" It's laughable how much I flat-out struggled during the first 20 minutes of 'Valley Girl' trying to distinguish the teenagers from the parents. Every person has the same hairstyle, fashion, and every actor - whether teenager or parent - looks like they're 28. It threw me off so much. It is self-fulfilling how - bear with me - earnestly superficial the characters are about love, life, and friendship; there is some seriously understated comedy in that. They are incapable of stepping back and assessing themselves and Martha Coolidge doesn't chastise them for it nor asks us to. Deborah Foreman strikes the perfect chord - keeping Julie trivial, yet wide-eyed and endearing - Nic Cage throws himself wholeheartedly into his lovesick Randy, and Julie's delightfully chill, Woodstock-obsessed parents are standouts. Plus, nearly every song on this marvelous soundtrack is a bonafide 80's classic. The moment you accept this Romeo & Juliet-lite story and characters on their own terms in this little world that Coolidge establishes so distinctly - self-aware yet free of snark - 'Valley Girl' is as smooth as butter.

The quintessential val movie! This hilarious comedy is an essential for 80s teen movie fans. The plot is like a modern day Romeo and Juliet, but more subtle, as the conflict is that her friends don't like who she's dating (her parents are hippies who're cool with him). I love this movie, it's a fun romantic comedy drama, and I highly recommend it.

A seminal eighties teen comedy, "Valley Girl" is so much more than just a vapid romantic comedy. Oh, it's definitely not one of the finer films of the decade for that age group, but not everyone can be John Hughes. Loosely based on both William Shakespeare's "Romeo and Juliet" and the song of the same name by Frank Zappa, the film itself is a commentary on the valley girls of the San Fernando Valley who lived in affluent neighborhoods. They spent a lot of money, didn't much care for social issues, and had their own dialect and slang that became very popular in the United States after this film was released. While watching this I couldn't help make comparisons to the equally thoughtless and classic "Clueless." While that film put a lot of emphasis on wealth and privilege, this film exclusively deals with the social boundaries set up between the well-off kids in the valley and the punk rock kids at Hollywood High. Two of them cross paths at a party, and instantly fall for each other. They are separated by class, community, and place but have a very strong connection, and that actually comes off well onscreen. It's a very lively and fun kind of film, and though it doesn't have the depth of even "Clueless" or the humor, it does what it sets out to do, and that's to show two people brought together in a high school setting. The soundtrack is phenomenal with new wave bands and classic punk and rock, which is always playing in the background. The performances are actually really great for this kind of schlock, including a very melodramatic and anger fueled punk performance from a young and unknown Nicolas Cage. Even the girl's friends have personalities, including a performance from voice actress Elizabeth Daily. This may not be one of the better films of the time, but it's easy fun and there are so many great songs to make up for inconsiderate writing.

An 80's "Romeo and Juliet" complete with the hair,funky outfits and slang. I thought it was going to be better than it was, I really did. It's not really a "typical" 80's movie...but maybe that's just because Molly Ringwald's not in it. So basicallyit's one of those movies without the typical cast. Nicholas Cage's first movie..and well...definitley not his best. Yeah. Not so great, kind of funny at times...but the plot wasn' really..well...it didn't make any sense sometimes, it just jumped here and there without a "red thread". 80's humor, Nick Cage and big hair. Could really be better.
See Details