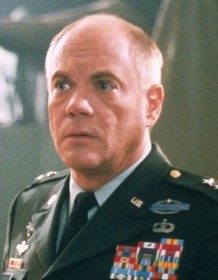 Daniel von Bargen
Highest Rated: 89% Truman (1995)
Lowest Rated: 5% Universal Soldier: The Return (1999)
Birthday: Jun 5, 1950
Birthplace: Cincinnati, Ohio, USA
Character actor Daniel von Bargen has had a long and accomplished career on stage and screen, often appearing as a "man's man." Von Bargen first pursued acting at Purdue University, where he studied drama before moving into theater with Providence's Trinity Repertory in Rhode Island. In 1974, he broke into television with a one-off role on the anthology series "Great Performances" in an adaptation of the play "Feasting with Panthers," which centered on Oscar Wilde's time in prison. He wouldn't break into film for another 17 years, but he did so with aplomb, appearing in four films in 1991, among them the iconic crime thriller "The Silence of the Lambs" and the Woody Allen crime comedy "Shadows and Fog," a cheeky homage to German Expressionism. Von Bargen soon became a familiar face in the crime genre, appearing in thrillers like the femme-fatale infused "Basic Instinct," and the action-packed cyborg sequel, "RoboCop 3." Yet one of his most memorable roles came in the Kevin Costner flop, "The Postman," in which von Bargen played a suspicious sheriff. It proved to be the first of many sheriffs he'd portray, and despite the film's poor reviews his strong performance drew notice. This contributed to his earning a recurring role on the dysfunctional family sitcom "Malcom in the Middle," as the gruff Commandant Spangler, who antagonized the eldest brother, Francis, during his stint in military school. Continuing to balance film, TV, and theater, von Bargen appeared in the comedy "London Betty" in 2009.
Photos
LORD OF ILLUSIONS, Daniel von Bargen, 1995, (c) United Artists
LORD OF ILLUSIONS, Daniel von Bargen, Famke Janssen, 1995, (c) United Artists
LORD OF ILLUSIONS, from left: Jordan Marder, Daniel von Bargen, 1995, © United Artists
ROBOCOP 3, Stanley Anderson, Jill Hennessy, Robert John Burke, Remy Ryan, Robert DoQui, Daniel Von Bargen, 1993. (c) Orion Pictures.
UNIVERSAL SOLDIER: THE RETURN, Justin Lazard, Daniel von Bargen, Jean-Claude Van Damme, Michael Jai White, 1999, (c)TriStar Pictures
UNIVERSAL SOLDIER: THE RETURN, Justin Lazard, Daniel von Bargen, Jean-Claude Van Damme, Michael Jai White, 1999, (c)TriStar Pictures
LORD OF ILLUSIONS, 1995, (c)United Artists
ROBOCOP 3, Robert John Burke, Robert DoQui, Remy Ryan, Daniel Von Bargen, 1993, (c) Orion
ROBOCOP 3, Stanley Anderson, CCH Pounder, Daniel Von Bargen, Jill Hennessy, 1993, (c)Orion Pictures Corporation