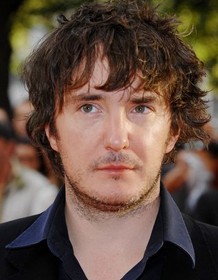 Dylan Moran
Highest Rated: 95% Good Vibrations (2012)
Lowest Rated: 46% Run Fat Boy Run (2007)
Birthday: Nov 3, 1971
Birthplace: Navan, County Meath, Ireland
Dylan Moran was a comedian, writer, and actor best known for his starring role in the cult British comedy "Black Books." He was born in 1971 in the village of Navan, Ireland. His father was a carpenter, and growing up he attended St. Patrick's Classical School before leaving at the age of 16. After leaving school, Moran spent a year of his life struggling to find his way before he began to pursue comedy. At the age of 17 Moran found himself unqualified for most work, but he was strongly attracted to the field of comedy, and he began performing stand-up comedy at a local club in 1992. Within a year of his debut, he entered Channel Four's comedy competition at the prestigious Edinburgh Festival and won the comedy newcomer's "So You Think You're Funny" award. His stand-up show "Gurgling for Money" earned him the Perrier Comedy Award in 1996; at the time, he was the youngest person to ever earn the prize. This quick success led to a nationwide tour of the UK and performances at stand-up festivals across the globe.
Photos
A COCK AND BULL STORY, (aka TRISTRAM SHANDY: A COCK AND BULL STORY), Dylan Moran, 2005, (c) Picturehouse
RUN, FAT BOY, RUN, Dylan Moran, 2007. ©Picturehouse
SHAUN OF THE DEAD, Dylan Moran, Lucy Davis, 2004. ©Rogue Pictures
CALVARY, l-r: David Wilmot, Dylan Moran, 2014. ph: Jonathon Hession/TM and Copyright ©Fox Searchlight. All rights reserved.
SHAUN OF THE DEAD, Nick Frost, Dylan Moran, Lucy Davis, Kate Ashfield, 2004, (c) Rogue Pictures
SHAUN OF THE DEAD, Dylan Moran, 2004, (c) Rogue Pictures
SHAUN OF THE DEAD, Dylan Moran, Kate Ashfield, Simon Pegg, Lucy Davis, 2004, (c) Rogue Pictures
SHAUN OF THE DEAD, Nick Frost, Penelope Wilton, Lucy Davis, Dylan Moran, Kate Ashfield, Simon Pegg, 2004, (c) Rogue Pictures
SHAUN OF THE DEAD, Lucy Davis, Kate Ashfield, Dylan Moran, Simon Pegg, Penelope Wilton, Nick Frost, 2004, (c) Rogue Pictures
A FILM WITH ME IN IT, from left: Mark Doherty, Dylan Moran, 2008. ©Maximum Film Distribution
A FILM WITH ME IN IT, from left: David Doherty, Dylan Moran, Mark Doherty, 2008. ©Maximum Film Distribution
GET BIG, FROM LEFT: TANNER STINE, DYLAN ANTHONY MORAN, 2017. ©PELICAN CLUB PICTURES
A FILM WITH ME IN IT, Dylan Moran, 2008. ©Maximum Film Distribution
GET BIG, FROM LEFT: TANNER STINE, DYLAN ANTHONY MORAN, 2017. ©PELICAN CLUB PICTURES
GET BIG, DYLAN ANTHONY MORAN, 2017. ©PELICAN CLUB PICTURES
A FILM WITH ME IN IT, from left: Keith Allen, Dylan Moran, 2008. ©Maximum Film Distribution
A FILM WITH ME IN IT, from left: Mark Doherty, Dylan Moran, 2008. ©Maximum Film Distribution
GET BIG, FROM LEFT: VANESSA VILLALBA, DYLAN ANTHONY MORAN, 2017. ©PELICAN CLUB PICTURES
A FILM WITH ME IN IT, Dylan Moran, 2008. ©Maximum Film Distribution
A FILM WITH ME IN IT, from left: Mark Doherty, Dylan Moran, 2008. ©Maximum Film Distribution