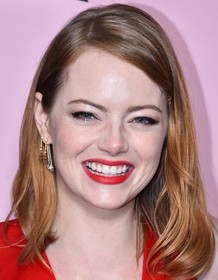 Emma Stone
Highest Rated: 93% Poor Things (2023)
Lowest Rated: 4% Movie 43 (2013)
Birthday: Nov 6, 1988
Birthplace: Scottsdale, Arizona, USA
American actress Emma Stone broke out of her early teen comedy roles to become one of the most celebrated actors of her generation. A native of Scottsdale, Arizona, she began acting as a child in local theater productions around Phoenix. She moved to Los Angeles as a teenager to pursue acting full time and was cast as Laurie Partridge in "The New Partridge Family" (VH1, 2004), a failed reboot of the popular 1970s show. Guest roles in TV series such as "Malcolm in the Middle" (Fox, 2000-06) and "Medium" (NBC, 2005-11) followed before a supporting role in a raunchy comedy put her on the map. Playing cool girl Jules opposite Michael Cera and Jonah Hill in "Superbad" (2007), the actress made a strong impression with the relatively small role. She was soon cast as one of the leads in the short-lived action series "Drive" (Fox, 2007). The film roles started becoming bigger, including starring opposite Anna Faris in "The House Bunny" (2008) and joining Woody Harrelson, Abigail Breslin, and Jesse Eisenberg in the surprise hit "Zombieland" (2009) as post-apocalyptic con artist Wichita. The actress stepped up to carrying a film when she starred in Will Gluck's teen comedy "Easy A" (2010), playing a high school girl caught up in a series of rumors run rampant. After supporting roles in "Crazy, Stupid Love" (2011) and "Friends With Benefits" (2011), she jumped into prestige fare with a starring role in "The Help" (2011) as aspiring writer Skeeter Phelan. The film was a critical and commercial success and put Stone on a new, more adult, trajectory. The actress joined a long list of Woody Allen muses when she starred in the director's "Magic in the Moonlight" (2014) and "Irrational Man" (2015). She also became part of the popular superhero genre with her role as Gwen Stacy in "The Amazing Spider-Man" (2012) and "The Amazing Spider-Man 2" (2014) with Andrew Garfield playing the web-slinger. The actress earned her first Academy Award nomination with her role as Michael Keaton's disaffected daughter in Alejandro Gonzalez Inarritu's Oscar-winner "Birdman (or The Unexpected Virtue of Ignorance)" (2014). Her role opposite Ryan Gosling, her costar in "Crazy, Stupid Love," in Damien Chazelle's acclaimed musical "La La Land" (2016) cemented her status as an A-list actress. Displaying her musical talents as aspiring actress Mia, she won the Oscar for Best Actress. She continued her strong run, earning critical acclaim for playing real-life tennis star and LGBTQ icon Billie Jean King in "Battle of the Sexes" (2017) with Steve Carell. She next joined Olivia Colman and Rachel Weisz in the period drama "The Favourite" (2018). Her role as scheming lady-in-waiting Abigail Masham scored the actress another Oscar nomination. Despite the critical acclaim, Stone gained a reputation for not taking herself too seriously, making self-effacing appearances on talk shows and the sketch comedy mainstay "Saturday Night Live" (NBC, 1975- ). In between film roles, she joined former co-star Jonah Hill for the drama series "Maniac" (Netflix, 2018), playing a troubled young woman participating in an experimental drug trial. She returned to one of her earliest successes when she reteamed with Eisenberg, Breslin, and Harrelson for the sequel "Zombieland: Double Tap" (2019). That same year, it was announced that Stone would star in "Cruella" (2021), a live action continuation of the story of Disney villain Cruella de Vil.
Photos
GANGSTER SQUAD, Emma Stone, 2013. ph: Wilson Webb/©Warner Bros.
iCarly, from left: Nathan Kress, Noah Munck, Miranda Cosgrove, Emma Stone, Jerry Trainor, Jennette McCurdy, 'iCarly Bonus Content Part 2 (streaming only)', Season 5, Ep. #12, ©NICK
LA LA LAND, EMMA STONE, 2016. ©SUMMIT ENTERTAINMENT
THE HOUSE BUNNY, Kat Dennings, Anna Faris, Katharine McPhee, Emma Stone, Rumer Willis, 2008. ©Columbia Pictures
ALOHA, from left: Bradley Cooper, Emma Stone, 2015. ph: Neal Preston/© Columbia Pictures
LA LA LAND, EMMA STONE, 2016. ©SUMMIT ENTERTAINMENT
Josh Gad, Teddy Geiger, Emma Stone and Rainn Wilson in "The Rocker"
BATTLE OF THE SEXES, FROM LEFT: DIRECTOR JONATHAN DAYTON, DIRECTOR VALERIE FARIS, EMMA STONE, ON SET, 2017. PH: MELINDA SUE GORDON/TM & COPYRIGHT © FOX SEARCHLIGHT PICTURES. ALL RIGHTS RESERVED.
Columbus (Jesse Eisenberg), Tallahassee (Woody Harrelson), Little Rock (Abigail Breslin) and Wichita (Emma Stone) in Columbia Pictures' ZOMBIELAND 2: DOUBLE TAP.
Emma Stone, Teddy Geiger, Josh Gad and Rainn Wilson in "The Rocker"
Emma Stone, Rainn Wilson, Josh Gad and Teddy Geiger in "The Rocker"
THE HOUSE BUNNY, from left: Katharine McPhee, Anna Faris, Emma Stone, Rumer Willis, 2008. ©Columbia Pictures
ZOMBIELAND, from left: Abigail Breslin, Emma Stone, 2009, Ph: Glen Wilson/© Columbia
BATTLE OF THE SEXES, L-R: SARAH SILVERMAN, EMMA STONE AS BILLIE JEAN KING, 2017. PH: MELINDA SUE GORDON/TM & COPYRIGHT ©FOX SEARCHLIGHT PICTURES. ALL RIGHTS RESERVED.
LA LA LAND, From left: Emma Stone, Ryan Gosling, 2016. ph: Dale Robinette/©Summit Entertainment
MAGIC IN THE MOONLIGHT, Emma Stone, 2014. ©Sony Classics
LA LA LAND, l-r: Emma Stone, Ryan Gosling, 2016. ph: Dale Robinette/©Summit Entertainment
THE HOUSE BUNNY, Emma Stone, Anna Faris, 2008, (c) Columbia
THE HOUSE BUNNY, from left: Emma Stone, Anna Faris, 2008. ©Columbia Pictures
THE HELP, from left: Emma Stone, Octavia Spencer, Viola Davis, 2011. ph: Dale Robinette/©Walt Disney Studios Motion Pictures