La La Land
(2016)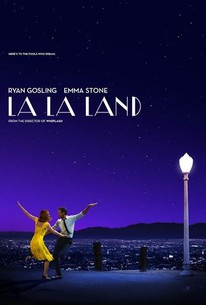 TOMATOMETER
AUDIENCE SCORE
Critic Consensus: La La Land breathes new life into a bygone genre with thrillingly assured direction, powerful performances, and an irresistible excess of heart.
Movie Info
Written and directed by Academy Award (R) nominee Damien Chazelle, LA LA LAND tells the story of Mia [Emma Stone], an aspiring actress, and Sebastian [Ryan Gosling], a dedicated jazz musician, who are struggling to make ends meet in a city known for crushing hopes and breaking hearts. Set in modern day Los Angeles, this original musical about everyday life explores the joy and pain of pursuing your dreams.
News & Interviews for La La Land
Critic Reviews for La La Land
Audience Reviews for La La Land
Damien Chazelle is no less than a Dr. Frankenstein, taking bits and pieces of an old (and curiously disrespected) genre and re-infusing the thing with fresh life. From the first frame to the last here is a new musical, no doubt, and yet at the same time it breathes nostalgia for the sense of unlimited possibilities that the old films used to leave one with. "It's alive! It's alive!" The stars, as in days of yore, deliver stardom.
Kevin M. Williams
Super Reviewer
½
I wasn't expecting to like this movie as much as I did. It pulls off a remarkable shift in tone around the midpoint, and I come away from it thinking that the main characters aren't Mia and Sebastian so much as Hollywood itself. The dramatization of the sacrifices made--the real cost--of becoming part of the fantasies of making it in Hollywood hits hard in the end, but it's not a downer, somehow. Lively, creative, and visually beautiful in places. If only these actors could sing, too...
Daniel Perry
Super Reviewer
In today's day and age, musicals have surely become a thing of the past. From Rock of Ages to Mamma Mia, this genre has been on the decline for years. Back in the days of Sound of Music or even Grease, people were flocking to the cinemas to see the latest foot-tappers. With the exception of a few recent films like Les Miserables (which wasn't globally loved) or the Oscar-winning Chicago, musicals just haven't had the flare like they used to, until La La Land was unleashed for the world to see this year. I will not be surprised if this film sweeps every awards show it is nominated at, because it truly is a must-see. La La Land is without a doubt, one of the best films you will see this year and here are a few reasons why that is. I am not a massive fan of this genre, but I won't ignore the greats. Singin' in the Rain is one of my favourite films of all time and this is right up there in terms of quality musicals. Look, this is a story you have seen a million times, but not exactly told quite this way. As a barista/struggling actress (Emma Stone) works to accomplish her dream, she continuously bumps into a struggling pianist (Ryan Gosling) from time to time, making it seem like fate. Exploring their feelings for each other and learning to love each others passions, this is a beautifully crafted picture that is both a love letter to Hollywood and an exploitation of it. Time progresses rapidly throughout this film and the time in between each transition seems flawless, as do the musical numbers that explain each scene in depth. This film is a true marvel and what filmmakers should always strive to achieve. Whiplash was one of the greatest films of 2014, due to its passion and simplicity into the life of a passionate drummer. Director Damien Chazelle knows exactly how to put music on screen. He clearly has found a niche in the type of films he will be exploring in the future and I am completely on board. Whether a drummer is being showcased on screen, a pianist playing their heart out, or a big musical number is being performed, there is something special about the way that Chazelle directs his films. The music in his films may be displayed perfectly, but nothing about this film is more perfectly executed than the style (cinematography to be exact. From the opening sequence to the subtle transitions, there is not a single moment that felt off to me during my viewing of La La Land. When this film began with a seemingly continuous take, I was already hooked. From then on, this film was finding new ways to impress me in more ways than one. Whether it was subtle callbacks to moments from Singin' in the Rain or making a film fan like me drool at the site of an imitated shot from Rebel Without a Cause, this was classic Hollywood filmmaking at its finest. The visual effects in certain sequences only added to the film and the fact that almost every high-end extravagant-looking sequences was done practically, just goes to show that this film needs even more recognition than it's already receiving. The 2000s have given us musicals in Moulin Rouge!, Chicago, Dreamgirls, Sweeney Todd: The Demon Barber of Fleet Street, Hairspray, and Les Miserables. There are many I left out there, but you get the point. I have seen most of the aforementioned pictures and I can say with the utmost confidence that La La Land is the best musical since 2000. Ryan Gosling and Emma Stone share impeccable chemistry, but audiences should not be surprised by this. They both give award-level performances, the music is stellar and memorable, it makes you feel amazing, the direction is off the charts, and the imagery is something that you would find in a classic Hollywood picture from the 50s. There are a few instances where I felt the film would go into cliches, but there is a reason that everything is shown on screen. I loved every minute of La La Land and it's one of the best films of 2016.
La La Land Quotes
There are no approved quotes yet for this movie.
Discussion Forum
Discuss La La Land on our Movie forum!