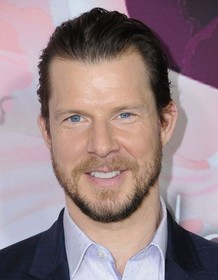 Eric Mabius
Highest Rated: 93% Welcome to the Dollhouse (1995)
Lowest Rated: 18% The Crow: Salvation (2000)
Birthday: Apr 22, 1971
Birthplace: Harrisburg, Pennsylvania, USA
Eric Mabius' Hollywood career took him from the art house to the house of high fashion in one seamless and successful journey. As a star on the Golden Globe-winning series "Ugly Betty" (ABC, 2006-10) Mabius delighted fans with his portrayal of Daniel Meade, the Editor-in-Chief of a fictional fashion magazine, and boss to the unfortunately nicknamed title character, superbly played by America Ferrara. It would not be the first time Mabius had appeared in an underdog-does-good project. He was the dreamboat rocker whom Heather Matarazzo had an adolescent crush on in "Welcome to the Dollhouse" (1995), the movie that propelled Mabius' career into high gear before hitting mainstream success on "Betty."
Photos
WELCOME TO THE DOLLHOUSE, Beverly Hecht, Eric Mabius, 1995, (c)Sony Pictures Classics
RESIDENT EVIL, Eric Mabius (front left), Michelle Rodriguez (front right), 2002. ©Sony Pictures
RESIDENT EVIL, Milla Jovovich, Eric Mabius, James Purefoy, Michelle Rodriguez, 2002 (c) Columbia.
RESIDENT EVIL, Milla Jovovich, Michelle Rodriguez, Eric Mabius, 2002 (c) Columbia.
CRUEL INTENTIONS, Eric Mabius, 1999, (c)Columbia Pictures
SIGNED, SEALED, DELIVERED: FROM PARIS WITH LOVE, (from left): Eric Mabius, Poppy Montgomery (back to camera), (aired June 6, 2015). photo: Bettina Strauss/©Hallmark Entertainment
RESIDENT EVIL, Eric Mabius, 2002. ©Sony Pictures
RESIDENT EVIL, Eric Mabius, 2002. ©Sony Pictures
RESIDENT EVIL, Eric Mabius (left), Milla Jovovich (right), 2002. ©Sony Pictures
RESIDENT EVIL: APOCALYPSE, Eric Mabius, Milla Jovovich, 2004, (c) Screen Gems
CRUEL INTENTIONS, Eric Mabius, Joshua Jackson, 1999, (c)Columbia Pictures
WELCOME TO THE DOLLHOUSE, Eric Mabius (with guitar), Matthew Faber (with clarinet), 1995. ©Sony Pictures Classics
Blue Bloods, Eric Mabius (L), Bridget Moynahan (R), 'Quid Pro Quo', Season 3, Ep. #16, 02/22/2013, ©CBS
WELCOME TO THE DOLLHOUSE, Eric Mabius, 1995. ©Sony Pictures Classics
Scandal, from left: Lisa Sheridan, Eric Mabius, Sam Page, Kelsey Crane, 'Boom Goes the Dynamite', Season 2, Ep. #15, 02/21/2013, ©ABC
Scandal, Eric Mabius (L), Sam Page (C), Kelsey Crane (R), 'Boom Goes the Dynamite', Season 2, Ep. #15, 02/21/2013, ©ABC
Scandal, Eric Mabius (L), Kerry Washington (R), 'Boom Goes the Dynamite', Season 2, Ep. #15, 02/21/2013, ©ABC
Scandal, Lisa Sheridan (L), Eric Mabius (R), 'Boom Goes the Dynamite', Season 2, Ep. #15, 02/21/2013, ©ABC
Blue Bloods, Eric Mabius (L), Bridget Moynahan (R), 'Quid Pro Quo', Season 3, Ep. #16, 02/22/2013, ©CBS
REEKER, Tina Illman, Eric Mabius, 2005
Filmography
Movies
Credit

No Score Yet

14%

Haul Out the Holly: Lit Up
Allan (Character)
-
2023

No Score Yet

42%

Haul Out the Holly
Allan (Character)
-
2022

No Score Yet

60%

Signed, Sealed, Delivered: The Vows We Have Made
Oliver O'Toole (Character)
-
2021

No Score Yet

No Score Yet

It's Beginning to Look a Lot Like Christmas
Liam Clark (Character),
Executive Producer
-
2019

38%

73%

Inside Game
Tim (Character)
-
2019

No Score Yet

No Score Yet

Signed, Sealed, Delivered: To the Altar
Oliver O'Toole (Character)
-
2018

No Score Yet

83%

Signed, Sealed, Delivered: The Road Less Traveled
Oliver O'Toole (Character)
-
2018

No Score Yet

25%

Welcome to Christmas
Gage McBride (Character),
Executive Producer
-
2018

No Score Yet

87%

Signed, Sealed, Delivered: Home Again
Oliver O'Toole (Character)
-
2017

No Score Yet

76%

Signed, Sealed, Delivered: Higher Ground
Oliver O'Toole (Character)
-
2017

No Score Yet

64%

Signed, Sealed, Delivered: Lost Without You
Oliver (Character)
-
2016

No Score Yet

58%

Signed, Sealed, Delivered: One in a Million
Oliver O'Toole (Character)
-
2016

No Score Yet

67%

Signed, Sealed, Delivered: From the Heart
Oliver O'Toole (Character)
-
2016

No Score Yet

62%

Signed, Sealed, Delivered: The Impossible Dream
Oliver O'Toole (Character)
-
2015

No Score Yet

71%

Signed, Sealed, Delivered: Truth Be Told
Oliver O'Toole (Character)
-
2015

No Score Yet

62%

Signed, Sealed, Delivered: From Paris With Love
Oliver O'Toole (Character)
-
2015

No Score Yet

65%

Signed, Sealed, Delivered for Christmas
Oliver (Character)
-
2014

No Score Yet

No Score Yet

Reading, Writing & Romance
Wayne (Character)
-
2013

No Score Yet

67%

Signed, Sealed, Delivered
Oliver O'Toole (Character)
-
2013

No Score Yet

39%

How to Fall in Love
Harold White (Character)
-
2012

62%

30%

Price Check
Pete Cozy (Character)
-
2012

28%

51%

Resident Evil: Retribution
Matt Addison (Voice)
$42.3M
2012

No Score Yet

58%

Where the Road Meets the Sun
Blake (Character)
-
2010

No Score Yet

33%

Nature of the Beast
Donovan (Character)
-
2007

No Score Yet

27%

A Christmas Wedding
Ben (Character)
-
2006

No Score Yet

22%

Reeker
Radford (Character)
-
2005

No Score Yet

17%

Voodoo Moon
Cole (Character)
-
2005

No Score Yet

26%

Venice Underground
Unknown (Character)
-
2005

No Score Yet

No Score Yet

The Job
Rick (Character)
-
2003

No Score Yet

No Score Yet

X-Team
Darby (Character)
-
2003

35%

67%

Resident Evil
Matt (Character)
$39.5M
2002

No Score Yet

No Score Yet

Dancing at the Harvest Moon
John Keats Fleming (Character)
-
2002

No Score Yet

36%

The Extreme Team
Darby (Character)
-
2002

No Score Yet

28%

Tempted
Ted (Character)
-
2001

No Score Yet

11%

On the Borderline
Luke (Character)
-
2000

18%

43%

The Crow: Salvation
Alex Corvis (Character)
-
2000

58%

46%

The Minus Man
Gene (Character)
$368.8K
1999

24%

81%

Wirey Spindell
Wirey, age 17 (Character)
$9.8K
1999

62%

63%

Splendor
Ernest (Character)
$47.0K
1999

54%

80%

Cruel Intentions
Greg McConnell (Character)
$38.6M
1999

No Score Yet

73%

Around the Fire
Andrew (Character)
-
1998

No Score Yet

No Score Yet

Myth America
Unknown (Character)
-
1998

No Score Yet

62%

Black Circle Boys
Shane Carver (Character)
-
1997

72%

84%

Lawn Dogs
Sean (Character)
$106.3K
1997

No Score Yet

69%

Harvest of Fire
Sam Hostetler (Character)
-
1996

93%

86%

Welcome to the Dollhouse
Steve Rodgers (Character)
$4.8M
1995
TV
Credit

No Score Yet

No Score Yet

Signed, Sealed, Delivered
Oliver O'Toole (Character)

2014

2020

2023

No Score Yet

88%

Chicago Fire
Jack Nesbitt (Guest Star)

2015

No Score Yet

82%

Blue Bloods
Richard Rourke (Guest Star)

2013

93%

73%

Scandal
Peter Caldwell (Guest Star)

2013

61%

84%

Franklin & Bash
Ted Rossi (Guest Star)

2012

68%

79%

The Client List
Ray (Guest Star)

2012

33%

No Score Yet

Chase
Unknown (Guest Star)

2011

14%

56%

Outcasts
Unknown (Character)

2011

97%

83%

Ugly Betty
Daniel Meade (Character)

2006-2010

No Score Yet

No Score Yet

Eyes
Jeff McCann (Character)

2005-2006

2009

No Score Yet

No Score Yet

The Wendy Williams Show
Guest

2009

No Score Yet

No Score Yet

Rachael Ray
Guest

2008

No Score Yet

67%

CSI: Miami
Unknown (Guest Star)

2006

68%

71%

The O.C.
Unknown (Guest Star)

2005

57%

75%

The L Word
Unknown (Character),
Unknown (Guest Star)

2004-2005

47%

No Score Yet

Fastlane
Unknown (Guest Star)

2003

60%

100%

Popular
Unknown (Guest Star)

2000

67%

No Score Yet

Get Real
Unknown (Guest Star)

2000

No Score Yet

91%

Party of Five
Unknown (Guest Star)

1999

No Score Yet

86%

Millennium
Unknown (Guest Star)

1999

No Score Yet

No Score Yet

Chicago Hope
Unknown (Guest Star)

1997