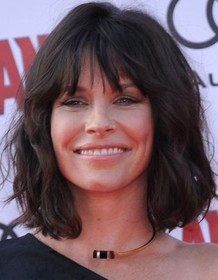 Evangeline Lilly
Highest Rated: 97% The Hurt Locker (2008)
Lowest Rated: 46% Ant-Man and The Wasp: Quantumania (2023)
Birthday: Aug 3, 1979
Birthplace: Fort Saskatchewan, Alberta, Canada
Evangeline Lilly was a Canadian actress and writer who first rose to prominence by co-starring in one of the most successful TV shows of the early 21st century, before moving on to some of the biggest franchise blockbuster films of the era, but soon made it abundantly clear that she saw acting as nothing more than a means to and end, which allowed her to pursue her interests in writing and humanitarian causes. Born Nicole Evangeline Lilly on August 3, 1979 in Fort Saskatchewan, Alberta, Canada, she was the middle child in a family of three daughters. Lilly's mother was a produce manager, while her father taught home economics. Later in life, Lilly would credit her interest in philanthropy and humanitarian causes to her Christian upbringing. After graduating from W.J. Mouat Secondary School in Abbotsford, British Columbia, where she played soccer and served as Vice President of the student council, Lilly went on a humanitarian aid trip to the Philippines, before enrolling at the University of British Columbia, where she majored in International Relations. She intended to use her degree to pursue a career in philanthropy, but that all changed one afternoon. While walking down the street in Kelowna, British Columbia, Lilly was approached by an agent from the Ford Modeling Agency, who gave her a business card. Eventually she contacted the agency, and soon landed a number of commercial appearances and non-speaking parts on TV shows such as "Smallville" (The WB, 2001-2011) and "Kingdom Hospital" (ABC, 2004). Though she had never had a credited speaking part, Lilly was sent to audition for a new ABC drama co-created by J.J. Abrams, knowing only that it took place on a deserted island. Out of the 75 women who auditioned for the role of Kate Austen, the leader of a group of air crash survivors who becomes ensnared in a love triangle with disgraced doctor Jack Shephard (Matthew Fox) and anti-social con man James "Sawyer" Ford (Josh Holloway), Lilly was surprised to land the role, but still through that the show, "Lost" (ABC, 2004-2010), would not last more than a single season. Luckily for her, she was wrong. Following its premiere on September 22, 2004, "Lost" was an instant cultural phenomenon, earning rave reviews from critics and drawing audiences in with its mysterious sci-fi structure, designed to keep them guessing from episode to episode just where these people were, and for that matter, who they were. Though the Kate-Jack-Sawyer love triangle was a controversial plot point amongst fans of the show, Lilly was often praised for her nuanced portrayal of Kate, even earning a Golden Globe nomination in 2006. "Lost" would go on to win ten Primetime Emmy Awards, including the 2005 statuette for Outstanding Drama Series, and was eventually ranked as the the top-rated TV show of the decade by IMDb. Despite all of this success, Lilly decided that she might take a break from acting for a while following the "Lost" finale, choosing to focus on writing, humanitarian work, and raising her two sons alongside her partner, Norman Kali. Though she would continue acting, including performances in the Oscar-winning war drama "The Hurt Locker" (2009) and entering the cinematic realm of Middle Earth to play the Mirkwood elf warrior Tauriel in "The Hobbit: The Desolation of Smaug" (2013) and "The Hobbit: The Battle of the Five Armies" (2014), she made it clear that she saw acting as more of a day job than a true calling. In 2013, Lilly's debut children's book, "The Squickerwonkers" (2013), the first part in a proposed series, was released. She then ventured into the Marvel Cinematic Universe, taking on the role of Hope van Dyne in "Ant-Man" (2015), a role she would reprise for "Ant-Man and the Wasp" (2018) and "Avengers: Endgame" (2019). Lilly could next be seen in "Dreamland" (2020), a thriller from writer/director Nicholas Jarecki set against the backdrop of the opioid crisis.
Photos
Evangeline Lilly
Punk'd, Evangeline Lilly, 03/17/2003, ©MTV
ANT-MAN, from left: director Peyton Reed, Corey Stoll, Evangeline Lilly, on set, 2015. ph: Zade Rosenthal/©Walt Disney Studios Motion Pictures
The Tonight Show With Jay Leno, Evangeline Lilly (L), Jay Leno (R), 'Season', ©NBC
THE HOBBIT: THE BATTLE OF THE FIVE ARMIES, from left: Peggy Nesbitt, Evangeline Lilly, 2014. ph: Mark Pokorny/©Warner Bros.
ANT-MAN, l-r: Evangeline Lilly, Paul Rudd, Michael Douglas, 2015. ph: Zade Rosenthal/©Walt Disney Studios Motion Pictures
ANT-MAN, l-r: Corey Stoll, Evangeline Lilly, 2015. ph: Zade Rosenthal/©Walt Disney Studios Motion Pictures
ANT-MAN, Evangeline Lilly, 2015. ph: Zade Rosenthal/©Walt Disney Studios Motion Pictures
ANT-MAN, Evangeline Lilly, 2015. ph: Zade Rosenthal/©Walt Disney Studios Motion Pictures
ANT-MAN, from left: Evangeline Lilly, director Peyton Reed, on set, 2015. ph: Zade Rosenthal/©Walt Disney Studios Motion Pictures
ANT-MAN AND THE WASP, FROM LEFT, EVANGELINE LILLY AS THE WASP, PAUL RUDD AS ANT-MAN, 2018. PH: BEN ROTHSTEIN. ©MARVEL/©WALT DISNEY STUDIOS MOTION PICTURES
"REAL STEEL" RS-06357R Charlie Kenton (Hugh Jackman) and Bailey Tallet (Evangeline Lilly) study the command matrix on the controller's screen that sets the robot boxer Noisy Boy into action mode in DreamWorks Pictures' action drama "Real Steel". Ph: Mel
ANT-MAN AND THE WASP, FROM LEFT: EVANGELINE LILLY, MICHAEL DOUGLAS, 2018. PH: BEN ROTHSTEIN/© MARVEL/© WALT DISNEY STUDIOS MOTION PICTURES
THE HOBBIT: THE DESOLATION OF SMAUG, from left: Evangeline Lilly, Orlando Bloom, 2013. ph: James Fisher/©Warner Bros. Pictures
ANT-MAN AND THE WASP, EVANGELINE LILLY, 2018. PH: BEN ROTHSTEIN. ©MARVEL/©WALT DISNEY STUDIOS MOTION PICTURES
THE HOBBIT: THE DESOLATION OF SMAUG, Evangeline Lilly, 2013. ph: James Fisher/©Warner Bros. Pictures
"REAL STEEL" RS-08967 Bailey Tallet (Evangeline Lilly) tells Max (Dakota Goyo) that, as a boxer, his father, Charlie Kenton, was the top contender, number 2 in the world in DreamWorks Pictures' action drama "Real Steel". Ph: Melissa Moseley ©DreamWorks
ANT-MAN AND THE WASP, FROM LEFT, EVANGELINE LILLY AS THE WASP, PAUL RUDD AS ANT-MAN, 2018. PH: BEN ROTHSTEIN. ©MARVEL/©WALT DISNEY STUDIOS MOTION PICTURES
THE HOBBIT: THE DESOLATION OF SMAUG, from left: Lee Pace, director Peter Jackson, Evangeline Lilly, on set, 2013. ph: Mark Pokorny/©Warner Bros. Pictures
THE HURT LOCKER, Evangeline Lilly, 2008. ©Summit Entertainment