Little Evil
(2017)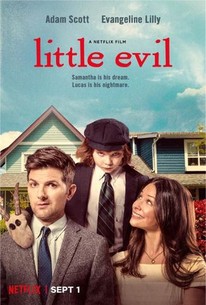 Movie Info
From writer/director Eli Craig (Tucker & Dale vs. Evil); Adam Scott (Big Little Lies, Parks & Rec) and Evangeline Lilly (Ant-Man, Lost) star in this offbeat comedy about love, family, and the Antichrist. Gary has just married the love of his life, Samantha, and is now the stepfather to her quirky 5 year old son, Lucas (Owen Atlas). But he soon finds himself in increasingly odd situations around the child, which drives him to believe his new stepson may actually be the spawn of Satan.
News & Interviews for Little Evil
Critic Reviews for Little Evil
Audience Reviews for Little Evil
½
'Little Evil' is a seldom gut-bustingly funny horror-comedy which winks at Richard Donner's demon-seed masterpiece 'The Omen' (with the Tubular-Bells-esque, apocalyptic score heralding the Antichrist's dominion over Earth) but it bungles the burlesque execution. Eli Craig (of 'Tucker & Dale Vs. Evil') is a Kapellmeister at an idyllic surface over the arterial-spray terror. At one point, Craig flagrantly regurgitates the smash-cut structure of Edgar Wright. Lucas (Owen Atlas) is a doppelganger for Damien as well but Craig doesn't spoof diacritical scenes (other than the birthday soiree carnage with a self-immolating clown). As the office nuisance Al, Bridget Everett is truly excruciating. In a florid Hawaiian shirt and with an androgynous attitude about the step-parent role, Everett is assaultively unfunny to real estate agent Gary Bloom (Adam Scott) and the viewer's ear canals with the surfer tautology of "man". Ultimately though, 'Little Evil' is uprooted by a one-joke conceit in which all of Lucas' goat-puppet ventriloquism and other diablerie are faintly ratiocinated by a deadpan Scott. However, it is undeniably uproarious when Scott postulates that hair gel is why Lucas is frozen during his wedding day tornado. Sadly, much of the raillery about Satanism is monomaniacal to the mean-spirited, misogynistic extent where Gary's ravishing wife, Samantha (Evangeline Lilly), is a blathering ignoramus (a conversation about Lucas' conception at a cult ceremony with "warm red pain").
Cory Taylor
Super Reviewer
This had a lot of potential but it only delivers when the cast of characters play off each other. Adam Scott is the driving force here and he gives another solid performance in the lead role. The concept is the weakest link, they setup an interesting idea but the execution is an otherwise lack in direction. The humour is the play on a tired genre and these funny moments are the key for holding the film together. The stepfathers group is the best idea of the film and they never exploit this even though it clearly gains the biggest laughs, not sure they didn't build an extra 20 minutes into the film. Not one of best films on Netflix but it does pass the time. 06-09-2017.
Brendan Nicholls
Super Reviewer
Nicki Marie
Super Reviewer
Little Evil Quotes
There are no approved quotes yet for this movie.
Discussion Forum
Discuss Little Evil on our Movie forum!