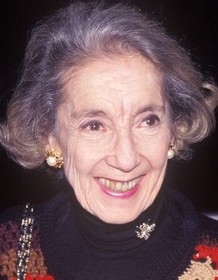 Frances Bay
Highest Rated: 95% Blue Velvet (1986)
Lowest Rated: 15% The Karate Kid Part III (1989)
Birthday: Jan 23, 1919
Birthplace: Mannville, Alberta, Canada
Frances Bay's diminutive stature and doddering appearance certainly have her typecast. But the actress's tireless work ethic kept her incredibly active since she first appeared on screen in 1978 -- at the tender age of 60. Her bit part as the elderly Mrs. Russel in the comedic mystery "Foul Play," starring Chevy Chase and Goldie Hawn, led to more bit parts as the old woman in everything from the legendary TV comedy series "The Jeffersons" to the big-screen classic coming-of-age story "The Karate Kid." She is probably most identifiable for her role in the 1996 comedy "Happy Gilmore," in which former hockey player (Adam Sandler) takes up professional golf to rescue the house owned by his grandmother (played by Bay) from seizure by the IRS. Devotees of the NBC sitcom "Seinfeld," however, will always remember her as Mrs. Choate, the woman Jerry refers to as an "old bag" as he steals her marble rye. She returned in two more episodes, including the series' conclusion, but this wasn't her first show finale; she had previously appeared in the closing acts of both "Happy Days" and "Who's the Boss?" Bay's own finale came in 2011 when, at the age of 92, she passed away from complications caused by pneumonia, just shortly after completing her finale role, Aunt Ginny on the family sitcom "The Middle."
Photos
THE WEDDING PLANNER, Justin Chambers, Jennifer Lopez, Frances Bay, 2001
HAPPY GILMORE, Julie Bowen, Frances Bay, Adam Sandler, 1996, (c) Universal
THE WEDDING PLANNER, Frances Bay, 2001.
IN THE MOUTH OF MADNESS, Frances Bay, 1994, © New Line
Filmography
Movies
TV
Credit

No Score Yet

88%

The Middle
Aunt Ginny (Guest Star)

2009-2011

No Score Yet

85%

Hannah Montana
Cathy (Guest Star)

2006

No Score Yet

72%

My Wife and Kids
Unknown (Guest Star)

2002

No Score Yet

89%

Charmed
Unknown (Guest Star)

2002

6%

No Score Yet

Bob Patterson
Unknown (Guest Star)

2001

No Score Yet

85%

ER
Georgia (Guest Star)

2001

No Score Yet

No Score Yet

The Hughleys
Unknown (Guest Star)

1998-2000

33%

No Score Yet

Style & Substance
Unknown (Guest Star)

1998

No Score Yet

No Score Yet

Beyond Belief: Fact or Fiction?
Unknown (Guest Star)

1998

43%

No Score Yet

C-16
Miss Wilson (Guest Star)

1998

No Score Yet

No Score Yet

Diagnosis Murder
Unknown (Guest Star)

1997

No Score Yet

No Score Yet

Life With Roger
Unknown (Guest Star)

1997

89%

92%

Seinfeld
Mrs. Choate (Guest Star)

1996

No Score Yet

No Score Yet

Courthouse
Unknown (Guest Star)

1995

No Score Yet

No Score Yet

The Commish
Ardith Cannon (Guest Star)

1995

No Score Yet

No Score Yet

The Marshal
Unknown (Guest Star)

1995

74%

86%

The X-Files
Dorothy (Guest Star)

1994

No Score Yet

No Score Yet

Dave's World
Unknown (Guest Star)

1994

No Score Yet

No Score Yet

Who's the Boss?
Unknown (Guest Star)

1992

0%

No Score Yet

Baby Talk
Unknown (Guest Star)

1992

No Score Yet

90%

Quantum Leap
Millie Reynolds (Guest Star)

1992

No Score Yet

No Score Yet

Matlock
Unknown (Guest Star)

1991

No Score Yet

No Score Yet

Hunter
Mrs. Laskey (Guest Star)

1988

1991

77%

92%

Twin Peaks
Mrs. Tremond (Guest Star)

1990

No Score Yet

83%

ALF
Virginia Russell (Guest Star)

1990

No Score Yet

No Score Yet

Newhart
Unknown (Guest Star)

1989

No Score Yet

93%

The Golden Girls
Claire (Guest Star)

1988

No Score Yet

No Score Yet

My Sister Sam
Unknown (Guest Star)

1987

No Score Yet

No Score Yet

Last Precinct
Unknown (Guest Star)

1986

97%

No Score Yet

Hill Street Blues
Elizabeth Mies (Guest Star)

1986

87%

95%

Cheers
Mrs. Brubaker (Guest Star)

1986

No Score Yet

82%

Amazing Stories
Unknown (Character)

1985

No Score Yet

No Score Yet

Fame
Unknown (Guest Star)

1985

68%

No Score Yet

E/R
Unknown (Guest Star)

1984

No Score Yet

No Score Yet

Alice
Unknown (Guest Star)

1984

No Score Yet

No Score Yet

Happy Days
Grandma Nussbaum (Guest Star)

1982

No Score Yet

No Score Yet

The Dukes of Hazzard
Aunt Hortense (Guest Star)

1981

No Score Yet

No Score Yet

The Jeffersons
Mrs. Wilson (Guest Star)

1981

No Score Yet

No Score Yet

Hart to Hart
Unknown (Guest Star)

1979-1980

No Score Yet

No Score Yet

The Mary Tyler Moore Show
Maid (Guest Star)

1977