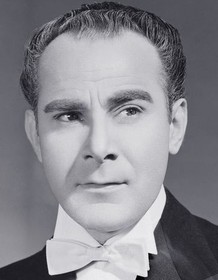 Fritz Feld
Highest Rated: 100% At the Circus (1939)
Lowest Rated: 15% The World's Greatest Lover (1977)
Birthday: Oct 15, 1900
Birthplace: Berlin, Germany
German-born actor Fritz Feld established himself in his native film industry before immigrating to the United States in the '20s. With a distinct European accent, Feld was often typecast as an aristocrat or as a hotel employee of some sort. Following a hiatus from film during the mid '30s, Feld was cast with fellow Europeans Claudette Colbert and Charles Boyer in Ukrainian director Anatole Litvak's "Tovarich," about exiled royal Russians in Paris during the Bolshevik revolution. The following year Feld was cast as Dr. Fritz Lehman (he would often be cast as a "Fritz") in Howard Hawks's screwball comedy "Bringing Up Baby" in 1938. Playing another Fritz in H.C. Potter's musical "Romance in the Dark," Feld costarred with John Barrymore. In the '40s he played Lecours in the Oscar-winning horror film "Phantom of the Opera," directed by Arthur Lubin, and developed his trademark "pop" exclamation as Chez Henri in the comedy "If You Knew Susie" in 1948. Working in small and supporting film roles through the '40s and '50s, Feld increasingly took television roles in the '60s in guest roles on popular shows such as the spy series "The Man from U.N.C.L.E." and the superhero series "Batman." Still making films, Feld had small parts in the romantic comedies "Barefoot in the Park" and "Hello, Dolly!"--once again playing a character named Fritz. Displaying incredible longevity in his career, Feld made films into the '80s, including several spoofs of early cinema like Gene Wilder's "The World's Greatest Lover" in 1977.
Photos
VICTORY, Betty Field, Fritz Feld, 1940
SHUT MY BIG MOUTH, from left, Joe E. Brown, Fritz Feld, 1942
HER SISTER'S SECRET, Nancy Coleman, Fritz Feld, 1946
LITTLE EGYPT, Fritz Feld, 1951
EVER SINCE VENUS, Alan Mowbray, Fritz Feld, 1944
TAKE IT BIG, Jack Haley, Fritz Feld, 1944
EVER SINCE VENUS, Billy Gilbert, Fritz Feld, Ross Hunter, 1944
GO CHASE YOURSELF, (top) Granville Bates, Ted Oliver, Margaret Armstrong, George Irving, George Shelley, Frank Thomas, (bot) Fritz Feld, Lucille Ball, 1938
O.HENRY'S FULL HOUSE, from left: Fritz Feld, Jeanne Crain, ('The Gift of the Magi' segment), 1952. ©20th Century-Fox Film Corporation, TM & Copyright
BRINGING UP BABY, Katharine Hepburn, Fritz Feld, 1938
I'LL GIVE A MILLION, Marjorie Weaver, Warner Baxter, Fritz Feld, 1938, (c) 20th Century Fox, TM & Copyright
GO CHASE YOURSELF, Lucille Ball, Fritz Feld, 1938
HER SISTER'S SECRET, Fritz Feld, Felix Bressart, 1946
TAKE IT BIG, Fritz Feld, Jack Haley, 1944
TROUBLE MAKERS, from left, Huntz Hall, Fritz Feld, 1948
BRINGING UP BABY, Cary Grant, Katharine Hepburn, Walter Catlett, Fritz Feld, 1938.
EVER SINCE VENUS, Billy Gilbert, Ross Hunter, Ann Savage, Fritz Feld, 1944
SHUT MY BIG MOUTH, Fritz Feld, Joe E. Brown, Adele Mara, 1942
WHEN TOMORROW COMES, from left, Irene Dunne, Charles Boyer, Fritz Feld, 1939
SLEEPYTIME GAL, Tom Brown, Jay Novello, Billy Gilbert, Fritz Feld, 1942