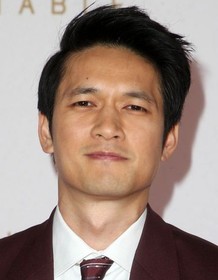 Harry Shum Jr.
Highest Rated: 94% Everything Everywhere All at Once (2022)
Lowest Rated: 15% Revenge of the Green Dragons (2014)
Birthday: Apr 28, 1982
Birthplace: Puerto Limón, Costa Rica
Harry Shum Jr. was a Chinese-American actor and dancer who was best known for playing the role of Mike Chang on all six seasons on Fox's hugely-popular musical series "Glee" (Fox, 2009-2015). Shum was born in Costa Rica to Chinese parents, and spoke Spanish as his first language. By the age of 6, however, his parents relocated the family to San Francisco, and Shun became immersed in American culture. He was drawn to iconic dancers/performers like Gene Kelly and Michael Jackson, and after a brief flirtation with sports, decided to audition for his high school dance team. Shum easily earned a spot on the team, and from there his passion for dancing intensified. After high school he spent a yearlong stint at San Francisco State University, but soon realized that school wasn't for him and dropped out. Shum then relocated to nearby Los Angeles to launch his professional dancing career. Within a few years he began landing small parts in dance films like "You Got Served" (2004), "Stomp the Yard" (2007) and "Step Up 2: The Streets" (2008), thus quickly earning a reputation as a talented young dancer who could act. Then in 2009 Shum nabbed his breakout role as Mike Chang on "Glee." Although Shum's role on the series was limited in the first season, "Glee's" writers expanded his part in season 2 and well into the ensuing seasons. In all, Shum appeared in 90 episodes throughout the show's six seasons. After "Glee" ended Shum continued working regularly. In addition to nabbing roles in the films "Fire City: End of Days" (2015) and "Crouching Tiger, Hidden Dragon: Sword of Destiny" (2016), he also joined the cast of the YouTube Red series "Single by 30" (2016). Furthermore, a year after "Glee" ended, Shum joined the cast of the action-fantasy series "Shadowhunters: The Moral Instruments" (Freeform, 2016- ), playing the role of Magnus Bane. With his career already on the rise Shum further expanded his acting profile in the summer of 2018 by appearing in the breakout film "Crazy Rich Asians" (2018). The film, which also starred Constance Wu and Henry Golding, was based on a popular book of the same name by author Kevin Kwan.
Skip to Quotes