Crazy Rich Asians
(2018)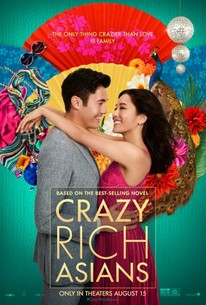 TOMATOMETER
AUDIENCE SCORE
Critic Consensus: With a terrific cast and a surfeit of visual razzle dazzle, Crazy Rich Asians takes a satisfying step forward for screen representation while deftly drawing inspiration from the classic -- and still effective -- rom-com formula.
Movie Info
"Crazy Rich Asians" follows native New Yorker Rachel Chu (Wu) as she accompanies her longtime boyfriend, Nick Young (Golding), to his best friend's wedding in Singapore. Excited about visiting Asia for the first time but nervous about meeting Nick's family, Rachel is unprepared to learn that Nick has neglected to mention a few key details about his life. It turns out that he is not only the scion of one of the country's wealthiest families but also one of its most sought-after bachelors. Being on Nick's arm puts a target on Rachel's back, with jealous socialites and, worse, Nick's own disapproving mother (Yeoh) taking aim. And it soon becomes clear that while money can't buy love, it can definitely complicate things.
News & Interviews for Crazy Rich Asians
Critic Reviews for Crazy Rich Asians
Audience Reviews for Crazy Rich Asians
This is a good movie that really shoots right down the middle for mass appeal. It does touch on some intricate details about growing up and living with an Asian family but really plays out as fancy blockbuster rom-com. Since this film does naturally come from a different angle than most rom-coms, however, with different issues and obstacles, it at least stands out. The B-story involving Astrid seems rushed and incomplete but leaves open the option for a sequel that will explore her more, which I would like to see.
Sanjay Rema
Super Reviewer
Better than expected. I was glad they left a few things out from the book honestly, though I would have liked a little more Kitty Pong!
Nicki Marie
Super Reviewer
SINGAPORE SURPRISE - My Review of CRAZY RICH ASIANS (3 Stars) I'm thrilled that CRAZY RICH ASIANS has found box office success. Any time when the studios are proven wrong that movies starring women or minorities don't have an audience, makes me a happy camper. Unfortunately, they never seem to look at these things as anything but a fluke. The SEX AND THE CITY movie juggernaut didn't pave the way for a ton of female-driven studio films, nor did the 2005 BROKEBACK MOUNTAIN's success give us an LGBT-centric studio film until LOVE, SIMON earlier this year. CRAZY RICH ASIANS is the first film of its ilk with a predominantly Asian cast since THE JOY LUCK CLUB back in 1993. With a sequel surely on its way, I am hoping the bean counters and gatekeepers begin to understand the hunger out there for films showing the diversity of this planet. Having said that, 1994 called and wants its romantic comedy back. That's not to say I didn't have a good time. The film, based on the bestselling novel by Kevin Kwan, directed by Jon M. Chu, and written by Peter Chiarelli and Adele Lim, is very, very cute, erupting with stylish visuals and incredibly sumptuous production design. I felt like I was thrust inside a kaleidoscope while a mashup of early 2000s dance and emo blasted in my ears. It certainly features an incredible spirited, unbelievably gorgeous cast, all of whom know what kind of movie they're in, but it's all in service of something that perpetuates society's insatiable need for conspicuous consumption. Thanks Kardashians! I blame you entirely! Constance Yu (FRESH OFF THE BOAT) winningly plays Rachel Chu, an Economics Professor in New York who accepts an invitation to her boyfriend Nick Young's (Henry Golding) best friend's wedding in Singapore. It's Rachel's first chance to meet Nick's family, which unbeknownst to her is filthy rich. Led by their Grand Dame of a matriarch, Eleanor (a commanding, awesome Michele Yeoh), Rachel faces an uphill battle for her working class background to find acceptance here. Thankfully, this element of the film dominates over the usual romantic comedy tropes, giving the film some bite with regards to its classism. A prologue flashback with Eleanor and her young children in London does a terrific job of showing the audience the struggles Eleanor faced being perceived as a worthless person to a couple of Hotel employees. It helps explain her current steely resolve, and I'm glad it was included. In a typical romantic comedy, we would not have been given this perspective of a supporting character. Filling out the cast are Rachel's college BFF, Peik Lin, perhaps a lesbian but it's never clearly spelled out except for one reference to "Ellen", and Awkwafina carries most of the comedy with scene-stealing aplomb, much as she did in OCEAN'S 8. We also meet the rest of Nick's family, especially his social media star of a sister, Astrid (THE HUMANS striking Gemma Chan), who has her own issues with love and independence. There's also Nick's "rainbow sheep" of a cousin, Oliver (Nick Santos), who speaks just like Tim Curry, and while amusing and able to show us in one flash that he needs to hide his gay side a bit in the Singapore culture, plays a bit too much into the whole "gays are great when it comes to clothes" stereotype which I had hoped had ended with Stanley Tucci's run in THE DEVIL WEARS PRADA. Will Rachel find acceptance within this closed society? Will Nick propose to her and abandon his inheritance? Will Eleanor stop acting so outwardly cruel? If you've ever seen a rom-com before, I think you'll know every beat of this. What surprised me, however, is how the movie showcases Singapore as this heavenly wonderland. I'm sure it is for the 1%, with its awe-inspiring, ultra-modern skyline and endless shopping and food extravagances, but let's be real. Singapore has an oppressive, Stalin-esque regime with a truly terrible human rights record, none of which pokes through the bubble of this film. Not that I expected it, but this film makes Singapore a character as much as New York was for SEX AND THE CITY, and its character's flaws never see the light of day. Yes, this is aspirational fantasy, but I have no doubt this film will send tourists flooding to this country without a care in the world for how most of its population gets treated. Am I being a buzzkill? Absolutely. I don't regret it. Unlike the horrendous SEX AND THE CITY sequel, CRAZY RICH ASIANS does get one thing right. We actually get to see a game-changing first class plane cabin in all its glory, whereas SEX bungled that moment. What can I say? I'm a sucker for first class porn. I love looking at flatbed seats and airplane pajamas! All kidding aside, CRAZY RICH ASIANS, while a tad too long, is an overall pleasurable experience. It does lose its laughs after the first 90 minutes and sometimes the energy wanes, but all told, it gave me the case of the adorables. Also, it truly does serve as yet another wake-up call to Hollywood to pay attention to minority-driven films. I hope we don't have to wait for its sequel for another Asian-centric film.
Glenn Gaylord
Super Reviewer
Crazy Rich Asians Quotes
There are no approved quotes yet for this movie.