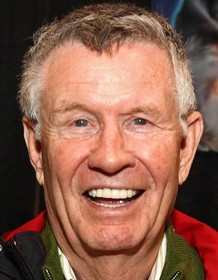 James Hampton
Highest Rated: 97% Sling Blade (1996)
Lowest Rated: 8% Teen Wolf Too (1987)
Birthday: Jul 9, 1936
Birthplace: Oklahoma City, Oklahoma, USA
James Hampton was a veteran character actor, often the quintessential sidekick, most notably as Hannibal Dobbs in the vintage sitcom "F Troop," and as Caretaker in the Burt Reynolds prison film, "The Longest Yard." Hampton studied acting in New York, Los Angeles, and Texas--where he grew up--and did several off-Broadway productions, including alongside Reynolds, who became a friend as well as future collaborator. After making his big screen debut in an Oscar-nominated short in 1962, Hampton launched what became a very long TV career the following year, as Jeb on "Gunsmoke," followed in 1965 by his regular part on "F Troop" as P.F.C. Dobbs, the incompetent bugler and personal assistant to lead character Captain Parmenter (Hampton also served in the Army in real life). Though his TV work continued for the next 30-odd years, he's more recognizable for his film parts, starting with his role as Caretaker, the manager for the Paul Crewe (Burt Reynolds)-led prison football team. After appearing in key supporting roles in such disparate fare as the 1979 thriller "The China Syndrome" and the 1981 superhero comedy "Condorman," Hampton's next standout sidekick turn came in the 1985 comedy, "Teen Wolf," as Harold Howard, father to Michael J. Fox's title character. Hampton reprised the part in the 1987 follow-up with Jason Bateman, "Teen Wolf Too," and the animated series spinoff. Behind the camera, Hampton also wrote and directed several sitcoms, including the early 1990s series "Evening Shade," which starred Hampton's old pal Reynolds. James Hampton died April 7, 2021 at the age of 84.
Photos
James Hampton
HANGAR 18, James Hampton, 1980, © Sunn Classic Pictures
W.W. AND THE DIXIE DANCEKINGS, from left, Richard Hurst, James Hampton, Don Williams, Conny Van Dyke, (aka Connie Van Dyke), Jerry Reed, Burt Reynolds, 1975.
W.W. AND THE DIXIE DANCEKINGS, from left, Jerry Reed, Don Williams, (back), Burt Reynolds, James Hampton, Conny Van Dyke, (aka Connie Van Dyke), Richard Hurst, 1975
W.W. AND THE DIXIE DANCEKINGS, Richard Hurst, James Hampton, Don Williams, Conny Van Dyke, Jerry Reed, Burt Reynolds, 1975
THE LONGEST YARD, Burt Reynolds, James Hampton, 1974
THE LAST RIDE, James Hampton (sitting, left), Henry Thomas, (top right) as Hank Williams, Jesse James (right), 2012. ph: Melody Gaither/©Category One Entertainment
Filmography
Movies
TV
Credit

No Score Yet

No Score Yet

Zoe ...
Director

2000

No Score Yet

No Score Yet

Smart Guy
Director

1997-1998

No Score Yet

No Score Yet

Sister, Sister
Director

1997-1998

17%

No Score Yet

Fired Up
Unknown (Guest Star)

1997

No Score Yet

No Score Yet

Life With Roger
Director

1996

No Score Yet

No Score Yet

Kirk
Director

1996

No Score Yet

No Score Yet

Hope & Gloria
Unknown (Guest Star)

1995

No Score Yet

No Score Yet

Hogan Family
Unknown (Guest Star)

1991

No Score Yet

82%

Full House
Mr. Malatesta (Guest Star)

1989-1990

No Score Yet

No Score Yet

Guns of Paradise
Unknown (Guest Star)

1990

No Score Yet

No Score Yet

Newhart
Unknown (Guest Star)

1990

No Score Yet

No Score Yet

Mama's Family
Unknown (Guest Star)

1989

No Score Yet

No Score Yet

1st & Ten
Phil (Guest Star)

1988

No Score Yet

No Score Yet

Punky Brewster
Jimmy John (Guest Star)

1986-1987

No Score Yet

No Score Yet

Super Password
Guest

1987

No Score Yet

No Score Yet

Teen Wolf
Harold Howard (Voice)

1986-1987

No Score Yet

No Score Yet

Houston Knights
Unknown (Guest Star)

1987

No Score Yet

No Score Yet

Simon & Simon
Odell Mitchell (Guest Star)

1985

No Score Yet

No Score Yet

Who's the Boss?
Unknown (Guest Star)

1984-1985

No Score Yet

No Score Yet

Goodnight, Beantown
Oliver (Guest Star)

1983

No Score Yet

No Score Yet

The Dukes of Hazzard
Sheriff Buster Moon (Guest Star)

1980

No Score Yet

No Score Yet

The Rockford Files
Aaron Ironwood (Guest Star)

1975

No Score Yet

No Score Yet

Mannix
Billy Lee (Guest Star)

1975

No Score Yet

No Score Yet

The Doris Day Show
LeRoy B. Simpson (Character),
Unknown (Guest Star)

1968-1973

No Score Yet

No Score Yet

The Interns
Unknown (Guest Star)

1971

No Score Yet

No Score Yet

Cimarron Strip
Unknown (Guest Star)

1967

No Score Yet

No Score Yet

F Troop
Bugler Hannibal Dobbs (Character)

1965-1967

No Score Yet

No Score Yet

Rawhide
Unknown (Guest Star)

1965

No Score Yet

No Score Yet

Gunsmoke
Jeb Willis (Guest Star)

1963

1965

No Score Yet

No Score Yet

Gomer Pyle, U.S.M.C.
Branch Eversole (Guest Star)

1965

No Score Yet

No Score Yet

Greatest American Hero
Sheriff (Guest Star)