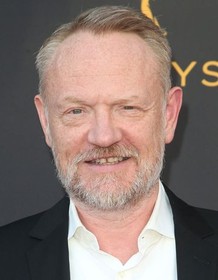 Jared Harris
Highest Rated: 100% The Ghost of Richard Harris (2022)
Lowest Rated: Not Available
Birthday: Aug 24, 1961
Birthplace: London, England, UK
A versatile character actor, equally adept at thugs and ne'er-do-wells as he was with businessmen and artists, Jared Harris contributed memorable performances to such films as "I Shot Andy Warhol" (1995), "Happiness" (1998) and "The Curious Case of Benjamin Button" (2008), as well as television programs like "Mad Men" (AMC, 2007-15). The son of volatile Irish actor Richard Harris, he shared none of his father's penchant for theatrical performances, preferring instead for thoughtful, carefully controlled turns. He soon garnered a reputation for near-complete transformations for each role; from the ethereal Warhol to a scheming Russian cabdriver in "Happiness" and a mercurial John Lennon in "Two of Us" (VH1, 2001) to the buttoned-down English financial officer on "Mad Men." That mainstream breakthrough led to higher-profile roles for Harris in films ranging from Steven Spielberg's "Lincoln" (2012) to action drama "Pompeii" (2014) and Guy Ritchie's TV series reboot "The Man from UNCLE" (2015). A key role as King George VI in Peter Morgan's "The Crown" (Netflix 2016- ) and a supporting role in indie drama "Certain Women" (2016) kept him firmly in the public eye. Harris' breadth of talent made him one of the most capable character actors in the business.
Photos
THE WARD, Jared Harris (back), Amber Heard, 2010. ©ARC Entertainment
THE MAN FROM U.N.C.L.E., l-r: Henry Cavill, Armie Hammer, director Guy Ritchie, Jared Harris on set, 2015. ph: Daniel Smith/©Warner Bros. Pictures
BLUE IN THE FACE, Jared Harris, 1995, (c)Miramax
I SHOT ANDY WARHOL, Jared Harris, 1996
Jared Harris in "The Curious Case of Benjamin Button"
THE CURIOUS CASE OF BENJAMIN BUTTON, Jared Harris, 2008. ©Paramount
FROM WITHIN, Jared Harris, 2008. ©After Dark Films
I SHOT ANDY WARHOL, Donovan Leitch, Jared Harris, 1996, (c) Orion
MR. DEEDS, Jared Harris, 2002 (c) Columbia.
ALLIED, l-r: Brad Pitt, Jared Harris, 2016. ph: Daniel Smith/©Paramount Pictures
Mad Men, Jared Harris (L), Embeth Davidtz (R), 'Love Among the Ruins', Season 3, Ep. #2, 08/23/2009, ©AMC
Mad Men, Jared Harris (L), Embeth Davidtz (C), David Hunt (R), 'Far Away Places', Season 5, Ep. #5, 04/22/2012, ©AMC
Mad Men, David Hunt (L), Jared Harris (C), Embeth Davidtz (R), 'Far Away Places', Season 5, Ep. #5, 04/22/2012, ©AMC
ALLIED, l-r: Brad Pitt, Jared Harris, Simon McBurney, 2016. ph: Daniel Smith/©Paramount Pictures
ALLIED, Jared Harris, 2016. ph: Daniel Smith/©Paramount Pictures
Mad Men, Embeth Davidtz (L), Jared Harris (C), David Hunt (R), 'Far Away Places', Season 5, Ep. #5, 04/22/2012, ©AMC
EXTRAORDINARY MEASURES, from left: Jared Harris, Brendan Fraser, 2010. ph: Merie Wesimiller Wallace/©CBS Films
Mad Men, David Hunt (L), Jared Harris (C), Embeth Davidtz (R), 'Far Away Places', Season 5, Ep. #5, 04/22/2012, ©AMC
Mad Men, Embeth Davidtz (L), Jared Harris (R), 'Far Away Places', Season 5, Ep. #5, 04/22/2012, ©AMC
Mad Men, Jared Harris, 'Hands and Knees', Season 4, Ep. #10, 09/26/2010, ©AMC