Certain Women
(2016)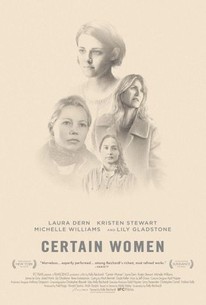 TOMATOMETER
AUDIENCE SCORE
Critic Consensus: Certain Women further demonstrates writer-director Kelly Reichardt's gift for telling the stories of ordinary people with uncommon empathy and skill.
Movie Info
The lives of three woman intersect in small-town America, where each is imperfectly blazing a trail. Based on stories by Maile Meloy.
News & Interviews for Certain Women
Critic Reviews for Certain Women
Audience Reviews for Certain Women
½
It is very uninteresting and dull to watch the banality of these women's lives, and while the film does have a good cast, I can't find any meaning in this poorly-put-together anthology of which only the last story seems to have something to say after all.
Carlos Magalhães
Super Reviewer
Certain women are very uninteresting, and much like those certain women, "Certain Women" is very uninteresting. This was my introduction to Kelly Reichardt's cinematic offerings, and the nicest thing I could say is that she knows where to point a camera. Besides a fine, but completely unremarkable performance from Laura Dern and the photography being good, that will be the extent of my congratulations. To say that this film is boring would be an understatement and a bit of an insult to boringness itself. Boring can be good. Boring gives us time to meditate on concepts, to relish the visuals, and to anticipate action and emotion. But this film never has any sort of payoff, and it doesn't even seem to be all that concerned with it's own concept. Women quietly struggle on a day to day basis, especially in rural settings, to attain legitimacy or acceptance, and the tiniest glimmer of hope or assurance can make it all worthwhile. But this movie might be the most bland, wan film I've seen this year, and doubly so because it hardly focuses on that cornerstone of a concept. If the script had been longer than 6 pages, and if they would have replaced the horse feeding sequences that take up a third of the movie with, I don't know, some dialogue or a plot, it might have turned out better. The characters hardly interact with each other, and if the half-hearted attempt to tie what are essentially vignettes centered around Dern, Michelle Williams, and Lily Gladstone together had any purpose other than "They live in Montana", maybe this would have some deeper purpose or meaning. But no, all we see is that women have a difficult time, and they are sad or resigned about it. If you are a certain person, the kind that likes things to happen in their movies, you will certainly not like this film.
K Nife Churchkey
Super Reviewer
½
Certain Women is my introduction to the much celebrated writer/director Kelly Reichardt who has crafted such films as Wendy and Lucy and Night Moves. Reichardt is said to craft these methodically paced character studies that exist more for their introspective takes on the lives of their characters than anything resembling plot. Minimalist, if you will. Reichardt seemingly adapts many of her films from short stories or collections of short stories. And while I've yet to see any previous films from the filmmaker including her much heralded 2010 feature Meek's Cutoff I don't know that her latest necessarily urges me to go back and see what all the fuss is about. That said, Certain Women is certainly intriguing though the reasons for such interest fall more on the befuddling side of things rather than the promising. It is easy to sell the minimal approach as being more insightful and more telling simply out of the convenience of letting the audience do more of the heavy lifting, but some of the time keeping in line with the minimal approach is simply a substitute for there not being much to say in the first place. It's not hard to appreciate that Reichardt has approached these tales of three individual women in three different stages of their lives that only overlap in the most subtle of ways in an even more subtler fashion, but it is only by virtue of the focus shifting from one story to the next that the film doesn't become a complete and utter bore. And it would were it left in the hands of certain characters and beside the fact this is the point of those certain characters' profiles-documenting the monotony and lack of anything spectacular or interesting occurring in their lives-the film isn't ever able to come up with anything new or profound enough to say about the mundanity of daily life or the foibles that eventually bring us all around to the same level playing field as human beings to be noteworthy in its own right. I can understand and again even appreciate that this is very much a film that speaks to the complex and misunderstood experiences of the female in our male-driven society, but as a product that is intended to convince me of the discrepancies and double standards females deal with on a daily basis that males might not even consider I took away very little by way of enlightenment. There is a fine line between being understated and simply being uninteresting and unfortunately Certain Women skirts that line too often to fall on that minimal, but effective side of things. read the whole review at www.reviewsfromabed.com
Philip Price
Super Reviewer
Certain Women Quotes
There are no approved quotes yet for this movie.
Discussion Forum
Discuss Certain Women on our Movie forum!