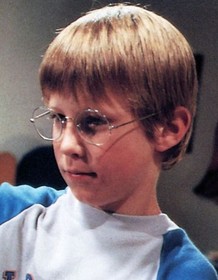 Jasen Fisher
Highest Rated: 94% The Witches (1990)
Lowest Rated: 29% Hook (1991)
Birthday: May 8, 1980
Birthplace: Chicago, Illinois, USA
Although he was only nine years old at the time, Jasen Fisher made his screen acting debut in the 1989 family comedy, "Parenthood." In the film, directed by Academy Award- winner Ron Howard, Fisher played Kevin Buckman, the emotionally troubled son of Steve Martin's character. Fisher's heartfelt performance immediately caught the attention of critics and he was nominated for a Young Artist Award as a result. The following year Fisher landed the lead role in the fantasy adventure film, "The Witches." The film, which was adapted from a popular Roald Dahl children's book, faired poorly at the box office but was notable for being the final film that iconic puppeteer Jim Henson worked on before his untimely death at the age of 53. Once again, Fisher's performance drew critical praise and he was nominated for a Saturn Award for his role. Fisher made his final on-screen performance in 1991 playing a small role as one of the Lost Boys in the Steven Spielberg-directed family film, "Hook." For the third straight time Fisher was honored for his work, receiving a Young Artist Award with the rest of his ensemble cast. Although Fisher has yet to act in another movie since his appearance in "Hook," he has made no formal announcement of his retirement from professional acting.
Photos
PARENTHOOD, (front row)Leaf Phoenix, Dianne Wiest, Ivyann Schwan, Alison Porter, Jason Fisher, Helen Shaw, Alex Burrall (on floor)Zachary Lavoy (back row) Keanu Reeves, Martha Plimpton, Harley Kozak, Rick Moranis, Mary Steenburgen, Steve Martin, Jason Roba
THE WITCHES, Jasen Fisher, 1990, ©Warner Brothers
PARENTHOOD, Jasen Fisher (blindfolded), Steve Martin, 1989, (c) Universal
PARENTHOOD, Jasen Fisher (striped shirt), Mary Steenburgen, 1989, (c) Universal
THE WITCHES, Mai Zetterling, Jasen Fisher, 1990.©Warner Bros.
THE WITCHES, Jasen Fisher, 1990, (c) Warner Brothers
PARENTHOOD, Steve Martin, Jasen Fisher, 1989, (c)Universal Pictures
THE WITCHES, Jasen Fisher, 1990, (c) Warner Brothers
THE WITCHES, from left: Jasen Fisher, Anjelica Huston, 1990, © Warner Brothers
Filmography
Movies
| | | | Credit | | |
| --- | --- | --- | --- | --- | --- |
| 29% | 76% | Hook | Ace (Character) | $116.3M | 1991 |
| 94% | 70% | The Witches | Luke (Character) | $8.7M | 1990 |
| 92% | 76% | Parenthood | Kevin Buckman (Character) | $99.6M | 1989 |