Hook
(1991)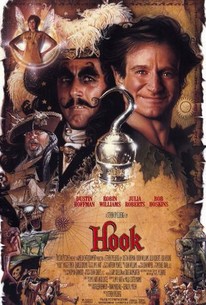 TOMATOMETER
AUDIENCE SCORE
Critic Consensus: The look of Hook is lively indeed but Steven Spielberg directs on autopilot here, giving in too quickly to his sentimental, syrupy qualities.
Movie Info
Steven Spielberg filters J. M. Barrie's Peter Pan through a distinctly 1990s sensibility in Hook. Peter Pan has become Peter Banning (Robin Williams), a 40-year-old mergers and acquisitions lawyer with a permanent scowl on his face and a cellular phone in his belt. Banning has lost any memory of being Peter Pan, and he is also in danger of losing his wife Moira (Caroline Goodall) and two children, Jack (Charlie Korsmo) and Maggie (Amber Scott). Peter and his family travel to London to visit Granny Wendy (Maggie Smith) who recalls Peter's lost youth and asks him, "Peter, dear, don't you know who you are?" With Peter's children asleep in the same bedroom where the original Peter Pan story began, there is a blinding flash. Peter comes into the room to discover a note from Captain Hook (Dustin Hoffman), informing Peter that he has kidnapped his children. Granny Wendy now tells him who he really is and encourages him to re-discover his happy thoughts, transform himself into the Peter Pan of the past, and go rescue his children. With the encouragement of Tinkerbell (Julia Roberts), Peter recalls the birth of his son and once again takes wing. Then it's off to Never Land to rescue his kids. ~ Paul Brenner, Rovi
People Who Like this movie also like
News & Interviews for Hook
Audience Reviews for Hook
Daniel Mumby
Super Reviewer
½
A film solely made for children with very little adult substance to sustain it's tedious 142 minute running time. I will say that Robin Williams and all the kids involved throughout this film are very well-cast and they make the film seem better than it really is. It may have one of the silliest and most unnecessary stories, but the payoff is nice and it makes what was ridiculous worth it in a way. I can neither confirm nor deny whether I liked this film or not, because it had so many elements that I hated, but quite a few that I loved as well. Taking place after the event of the original "Peter Pan" from Disney, "Hook" is all about the remeberance of the character and a revenge story of captain hook. Full of cheese, an uneven script, plot holes galore, and a waste of talent by Steven Spielberg, "Hook" is mediocre at best. However, the score, landscapes, and action scenes are very well-done. I never grew up watching this film, so I do not feel that nostalgic factor that some do, but I completely see why people love this movie.
Wendy Darling: So, Peter, you've become a pirate. "What if Peter Pan grew up?" Hook was one of the many movies I remember vividly from my childhood. It's also one I remember liking a lot more than I do now. The movie is nothing amazing. It's definitely one of Steven Spielberg's weaker movies, but still a fun and entertaining one. The production is pretty large and looks really good, for the most part. How they decided to do the Peter Pan story for Hook is interesting and although it could have been better, I liked it. Peter Banning is a 40 year old lawyer who has no time for his two children, Jack and Maggie. He makes promises to them, but ends up always missing the important moments. Him and his family fly to London to visit Wendy, who is having a ceremony to dedicate an orphanage to her name. Peter remembers her as the lady who found him a family, but Wendy tries to explain to him that he's really Peter Pan. He's forgotten it all, but when his children are stolen from their beds in the night and a letter with a sword through it says Captain Hook; Peter is forced to remember as he is taken to Neverland by Tinkerbell. I like the usage of symbols and foreshadowing in the film. My favorite part of the movie is when the family first arrives at Wendy's house and we get all these little clues from the dialogue. When in Neverland, the movie begins to get extremely silly and maybe to silly for its own good. Hook is a decent family movie. I wish it was as good as I remember it being as I kid, but older eyes show the glaring imperfections. Dustin Hoffman gives a wonderful performance as Hook, which is nice, as the rest of the cast is pretty weak. All in all, it's a worthwhile movie if you like the Peter Pan story, just don't expect anything too amazing.
Melvin White
Super Reviewer
Hook Quotes
| | |
| --- | --- |
| Peter Banning/Peter Pan: | I do believe in fairies! I do! I do! |
| | |
| --- | --- |
| Granny Wendy Darling: | You must make yourself remember. |
| Peter Banning/Peter Pan: | Remember what? |
| Granny Wendy Darling: | Peter, don't you know who you are? |
| | |
| --- | --- |
| Jack Banning: | BANG! BANG! |
| Peter Banning/Peter Pan: | Look, everybody just SHUT UP!! |
| Peter Banning/Peter Pan: | Look, everybody just SHUT UP! |
| Jack Banning: | I'm sorry. |