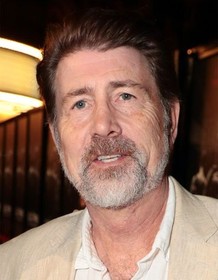 Jim Piddock
Highest Rated: 93% Best in Show (2000)
Lowest Rated: 2% Meet the Spartans (2008)
Birthday: Apr 8, 1956
Birthplace: Rochester, England, UK
The kind-eyed, heavily jowled British actor Jim Piddock has garnered many meaty roles on the stages of both Broadway and London, but that doesn't mean he can't have a little frivolous fun on the big screen. A respected theater performer before he ever set foot on American soil, he made his stateside television debut in the mid-1980s and went on to guest star on such hits of the decade as the feel-good high-school musical "Fame" and the sly high-tech satire "Max Headroom." By the '90s and early 2000s, he was landing bit parts in major dramas like the alien-invasion blockbuster "Independence Day" and the mind-bending magic tale "The Prestige." Generally though, he's resonated the most while portraying deadpan caricatures of the stuffy, blue-blooded British stereotype, mining particularly big belly laughs in both the wry mockumentaries of Christopher Guest ("A Mighty Wind," "For Your Consideration") and the broad spoofs of directors Jason Friedberg and Aaron Seltzer ("Epic Movie," "Meet the Spartans"). Piddock is also a prominent voice actor; in addition to lending his pipes to such kid-friendly animated hits as "Batman: The Brave and the Bold," he provided the voice of Kenneth Long, the infamous fictional film curator who made increasingly absurd claims about the classic Coen Brothers noir "Blood Simple" on the film's tongue-in-cheek "director's cut" commentary. Having made a modest foray into writing and producing in the '90s, he's since scripted and overseen such high-profile Hollywood projects as the lively fantasy lark "The Tooth Fairy" (2010).
Photos
Jim Piddock
MASCOTS, Jim Piddock (right), 2016. ph: Scott Garfield/© Netflix
Season 2, Ryan Hansen (L), Jim Piddock (R), 'Season 2', 04/23/2010, ©STARZPR
Season 2, Ryan Hansen (L), Jim Piddock (R), 'Season 2', 04/23/2010, ©STARZPR
KILL YOUR FRIENDS, Jim Piddock, 2015. ph: Dean Rogers/© Well Go USA Entertainment
Up All Night, Jim Piddock, 'New Car', Season 1, Ep. #4, 10/05/2011, ©NBC
Family Tree, Chris O'Dowd (L), Christopher Guest (C), Jim Piddock (R), 'Welcome to America', Season 1, Ep. #5, 06/16/2013, ©HBO
BEST IN SHOW, Fred Willard, Jim Piddock, 2000.
FOR YOUR CONSIDERATION, Deborah Theaker, Jim Piddock, Rachael Harris, 2006. ©Warner Independent Pictures
A MIGHTY WIND, Eugene Levy, Jim Piddock, 2003, (c) Warner Brothers
Family Tree, Jim Piddock, 'Country Life', Season 1, Ep. #4, 06/09/2013, ©HBO
THE FIVE-YEAR ENGAGEMENT, from left: Jim Piddock, Jacki Weaver, Jason Segel, Emily Blunt, Mimi Kennedy, David Paymer, 2012. ph: Glen Wilson/©Universal Pictures