Mascots
(2016)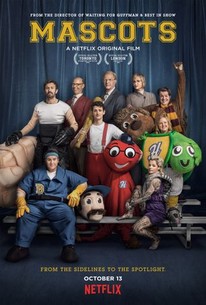 Movie Info
Mascots is a new comedy from Christopher Guest, director of Waiting for Guffman and Best in Show. Starring many of his regular troupe of actors, this latest film takes place in the ultra-competitive world of sports mascots where they compete for the most prestigious award in their field, the Gold Fluffy.
News & Interviews for Mascots
Critic Reviews for Mascots
Audience Reviews for Mascots
½
It has been 10 years since Guest's For Your Consideration. Unfortunately these two have shown a definite decline in this mockumentary subgenre. Most of the jokes and gags fall flat.
Byron Brubaker
Super Reviewer
"Mascots" is a very funny film, but it lacks the spontaneity of Christopher Guest's earlier films. This film seems to be more heavily scripted and the lack of witty engagement among the ensemble is apparent.
Christian C
Super Reviewer
½
You know, I've been a big fan of Christopher Guest's mockumentary films. I really enjoyed Waiting for Guffman and Best In Show is one of my favorite comedies of all time. The latter truly is a comedic masterpiece in every sense of the word. I'm not as familiar with A Mighty Wind, I really need to see that one in its entirety. I've seen bits and pieces of it on TV, but never in one full sitting. Anyway, the point is that I'm a big fan of his improvisational comedic style where he just lets his actors do their thing without much in the way of restriction. I'm sure there's certain bullet points they're given to follow the narrative, but they're given free reign with everything else in between. Which is why it pains me to say that this movie really missed the mark entirely. Perhaps entirely isn't the right thing to say but, when compared to Guest's best films, it falls way short of that mark. Guest movies always take a look at some people and how seriously they take something that, inherently, is really silly. And this one is no different. But, usually, you'd see Guest's films and they'd pretty much hit every mark they were going after. It doesn't necessarily make fun of the people, just how seriously they take it all. The theater pretty much writes itself, which is what Guffman was about. Dog shows are absolutely elitist, so, again, pretty much writes itself. What do mascots have that should make them the focus point of a film? Nothing really. There's nothing you can really go after without feeling like you're being condescending to these group of people. And I don't think they even make an effort to be condescending, that's just how it comes across. Because, there's certain scenes near the end, where you see just how much being a mascot means to these people, like the Babineaux sisters for example, where Cindi, I believe, got sick and she had her sister, Laci, do her routine for her. Which actually served a narrative purpose as, Laci, suffered an injury during her high school days that made her stop cheerleading, she wanted to go to college on a cheerleading scholarship. So there's some actual progression of seeing Laci perform after all this time in spite of her injury and her lacking the confidence to do so. Of course Laci's routine ends up being absolute shit, but that's not really relevant as much as it Laci having enough courage to go out there and perform. See, that shit is actually pretty cool. Like, in spite of all the absurdity going on around them, there's some characters with legitimate arcs. They may be basic as all hell, but there's at least something. And not everyone has an arc, but it's good to see that some of the do. The problem with the fact is that the film, honestly, just isn't that funny. Like all of the trademarks from Guest's films are there. The improvisational dialogue, the great cast, the idiosyncratic characters. But it's just not a consistently funny movie at all. And, honestly, the movie is just OK until the actual routines by the mascots take place, after that it's only just elevated to average. The cast is good, of course, and the film does have its laughs. Maybe part of the problem is that it's been a long time since Guest has done one of his mockumentaries. It's been 13 years. And I don't wanna say that Guest is behind the times, but he didn't really bother, much, to catch up to the changes we've seen since 2003. I guess in a way I'm saying he is behind the times, but the fact of the matter is that if he had a great movie on his hands then the fact that he's using a style he's been using for almost 20 years, not consecutively of course, wouldn't be a problem. So that's not really a problem to me, the problem is the fact that the movie just isn't that funny outside of some moments here and there. There's some funny moments with furries, but the movie could have gone in so many different directions that it just didn't go on. Whether through choice or ignorance, it just didn't go as far as it could have with the absurdity of its concept. It is what it is, but this just isn't what I would call a good movie and that really disappoints me when taking into consideration the great comedic films that Guest has under his belt. Can't really recommend it. Only watch if you're a super hardcore Guest fan. And even then, this might not fully satisfy you. That's a shame. I'm sure Best In Show is really cheap on DVD/Blu-Ray nowadays, so get that instead.
Jesse Ortega
Super Reviewer
Mascots Quotes
There are no approved quotes yet for this movie.