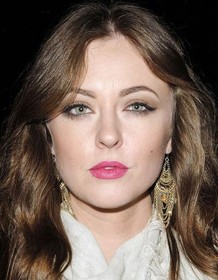 Katharine Isabelle
Highest Rated: 92% Insomnia (2002)
Lowest Rated: 17% Knight Moves (1992)
Birthday: Nov 2, 1981
Birthplace: Vancouver, British Columbia, Canada
Canadian actress Katharine Isabelle got her start in film and television acting when she was only eight years old. It was during that time in the late '80s, that Isabelle began appearing in minor roles in films shot in and around Canada, including "Cold Front," "The Last Winter," and "Immediate Family." By the '90s she began guest starring on popular television shows as well, like the crime series "MacGyver," the science fiction show "The Ray Bradbury Theater," as well as a 1998 episode of "The X-Files." Isabelle's breakthrough role came in 2000 when she was cast as the lead in "Ginger Snaps," a horror movie about bloodthirsty werewolves. Horror proved to be a genre in which Isabelle prospered, and in the years to follow she appeared in several more horror movies, including 2003's "Freddy vs. Jason," 2004's "Ginger Snaps: Unleashed," and 2008's "Ogre." By the late 2000s, however, Isabelle started appearing in more dramatic shows on American television. In 2009 she guest starred on the acclaimed Showtime drama "The L Word," as well as the CBS legal drama "The Good Wife." By 2011 Isabelle returned to acting on Canadian television shows. That year she landed a recurring role as Danni on "Endgame," a crime drama about a genius chess player.
Photos
Hannibal, Katharine Isabelle, 'Shizakana', Season 2, Ep. #9, 04/25/2014, ©NBC
GINGER SNAPS, Katharine Isabelle, 2000. (c) Unapix Entertainment.
Hannibal, Katharine Isabelle, 'Dolce', Season 3, Ep. #6, 07/09/2015, ©NBC
Hannibal, Mads Mikkelsen (L), Katharine Isabelle (R), 'Shizakana', Season 2, Ep. #9, 04/25/2014, ©NBC
Hannibal, Katharine Isabelle, 'Dolce', Season 3, Ep. #6, 07/09/2015, ©NBC
Hannibal, Katharine Isabelle, 'Ko No Mono', Season 2, Ep. #11, 05/09/2014, ©NBC
Hannibal, Katharine Isabelle, 'Ko No Mono', Season 2, Ep. #11, 05/09/2014, ©NBC
Hannibal, Katharine Isabelle, 'Naka-Choko', Season 2, Ep. #10, 05/02/2014, ©NBC
Hannibal, Katharine Isabelle, 'Naka-Choko', Season 2, Ep. #10, 05/02/2014, ©NBC
GINGER SNAPS, Katharine Isabelle, Emily Perkins, 2000. ©Unapix Entertainment
Hannibal, Michael Pitt (L), Katharine Isabelle (R), 'Naka-Choko', Season 2, Ep. #10, 05/02/2014, ©NBC
Hannibal, Katharine Isabelle, 'Zu-Zakana', Season 2, Ep. #8, 04/18/2014, ©NBC
Hannibal, Katharine Isabelle, 'Zu-Zakana', Season 2, Ep. #8, 04/18/2014, ©NBC
Hannibal, Mads Mikkelsen (L), Katharine Isabelle (R), 'Zu-Zakana', Season 2, Ep. #8, 04/18/2014, ©NBC
Hannibal, Katharine Isabelle, 'Zu-Zakana', Season 2, Ep. #8, 04/18/2014, ©NBC
Hannibal, Katharine Isabelle, 'Zu-Zakana', Season 2, Ep. #8, 04/18/2014, ©NBC
Motive, Katharine Isabelle (L), Scott Michael Campbell (R), 'Pushover', Season 1, Ep. #3, 05/30/2013, ©ABC
Hannibal, Katharine Isabelle, 'Naka-Choko', Season 2, Ep. #10, 05/02/2014, ©NBC
Hannibal, Michael Pitt (L), Katharine Isabelle (R), 'Naka-Choko', Season 2, Ep. #10, 05/02/2014, ©NBC
SEE NO EVIL 2, from left: Kaj-Erik Eriksen, Katharine Isabelle, 2014. ph: Ed Araquel/©Lionsgate
Filmography
Movies
TV
| | | | Credit | |
| --- | --- | --- | --- | --- |
| 96% | 85% | Ghosts | Liz (Guest Star) | 2022 |
| No Score Yet | No Score Yet | Little Dog | Ginny Ross (Character) | 2018-2019 |
| No Score Yet | 76% | The Arrangement | Hope Declan (Guest Star) | 2017-2018 |
| 9% | 75% | Rosewood | Unknown (Guest Star) | 2017 |
| 92% | 94% | Hannibal | Margot Verger (Guest Star) | 2014-2015 |
| No Score Yet | 84% | Rookie Blue | Detective Frankie Anderson (Guest Star) | 2015 |
| 77% | 89% | Being Human | Suzanna Waite (Guest Star) | 2013-2014 |
| 89% | 94% | Psych | Unknown (Guest Star) | 2014 |
| No Score Yet | No Score Yet | Cedar Cove | Cecilia Rendall (Guest Star) | 2013 |
| No Score Yet | 83% | Motive | Unknown (Guest Star) | 2013 |
| No Score Yet | 86% | Flashpoint | Madeleine 'Maddie' Sullivan (Guest Star) | 2012 |
| 93% | 90% | The Good Wife | Cindy Lewis (Guest Star) | 2009 |
| No Score Yet | 88% | Sanctuary | Sophie (Guest Star) | 2008 |
| 93% | 72% | Supernatural | Unknown (Guest Star) | 2007 |
| No Score Yet | 88% | Stargate SG-1 | Valencia (Guest Star) | 2006 |
| 78% | 69% | Smallville | Sara Conroy (Guest Star) | 2003 |
| 73% | No Score Yet | John Doe | Unknown (Guest Star) | 2002 |
| No Score Yet | No Score Yet | The Outer Limits | Tammy Sinclair (Character) | 2002 |
| 74% | 86% | The X-Files | Lisa Baiocchi (Guest Star) | 1998 |
| No Score Yet | No Score Yet | Children of the Dust | Unknown (Character) | 1995 |
| No Score Yet | No Score Yet | The Ray Bradbury Theater | Mink (Character) | 1992 |
| No Score Yet | 78% | MacGyver | Unknown (Guest Star) | 1989 |