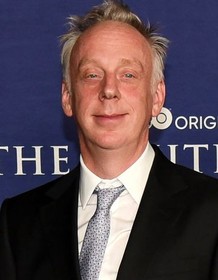 Mike White
Highest Rated: 92% The School of Rock (2003)
Lowest Rated: 6% The Emoji Movie (2017)
Birthday: Jun 28, 1970
Birthplace: Pasadena, California, USA
Having emerged from the television world to find success in feature comedies, screenwriter-actor Mike White quickly became in-demand for his scripts that often featured central characters as alienated outsiders, weirdos and general malcontents who were nonetheless engaging, human and above all hilarious. White broke into the business as a staff writer on the hit teen drama "Dawson's Creek" (The WB, 1998-2003) before entering the feature game as the writer of the black comedy "Dead Man on Campus" (1998) and serving as a writer-producer on the cult television series "Freaks and Geeks" (NBC/Fox Family, 1999-2000). White had his first major breakthrough with the oddball black comedy "Chuck & Buck" (2000), which also featured the writer in the latter title role. Realizing features were his chosen medium, he penned the lighthearted teen comedy "Orange County" (2002) while reuniting with longtime collaborator director Miguel Arteta for the acclaimed indie dramedy "The Good Girl" (2002), starring Jennifer Aniston. But perhaps his biggest feature success came with "School of Rock" (2003), a Jack Black comedy about a musician moonlighting as a grade school teacher. White, who also co-starred in the film, had written the project specifically for his friend and the results were remarkable, both critically and at the box office. While enjoying the occasional appearance onscreen in small but memorable roles, and making his directorial debut with "Year of the Dog" (2007), there was no doubt that White was one of the most diverse and prolific talents working in Hollywood.
Photos
Mike White
BRAD'S STATUS, DIRECTOR MIKE WHITE, ON-SET, 2017. PH: JONATHAN WENK. THEATRICAL DISTRIBUTOR: ANNAPURNA PICTURES/©AMAZON STUDIOS
SMOTHER, Mike White, 2008. ©Screen Media Films
SCHOOL OF ROCK, Jack Black, Barry Shurchin, Mike White, Joan Cusack, Sarah Silverman, 2003, (c) Paramount
THE SCHOOL OF ROCK, Mike White, Jack Black, 2003, (c) Paramount
CHUCK & BUCK, Michael White, Chris Weitz, 2000
SMOTHER, from left: Mike White, Diane Keaton, Dax Shepard, Liv Tyler, 2008. ©Variance Films
SMOTHER, Mike White, 2008. ©Variance Films
SMOTHER, from left: Mike White, Diane Keaton, 2008. ©Variance Films
GENTLEMEN BRONCOS, from left: Mike White, Michael Angarano, 2009. ph: Seth Smoot/TM and ©Copyright Fox Searchlight Pictures. All rights reserved.
SMOTHER, from left: Mike White, Diane Keaton, Dax Shepard, Liv Tyler, 2008. ©Variance Films
SMOTHER, from left: Dax Shepard, Diane Keaton, Mike White, Liv Tyler, 2008. ©Variance Films
Enlightened, Laura Dern (L), Mike White (R), 'Revenge Play', Season 2, Ep. #2, 01/20/2013, ©HBO
Enlightened, Mike White, 'The Key', Season 2, Ep. #1, 01/13/2013, ©HBO
YEAR OF THE DOG, director Mike White, on set, 2007. ©Paramount Classics
Enlightened, Molly Shannon (L), Mike White (R), 'The Ghost is Seen', Season 2, Ep. #5, 02/10/2013, ©HBO
SCHOOL OF ROCK, Mike White, Sarah Silverman, 2003, (c) Paramount
NACHO LIBRE, co-writer/producer Mike White, Jack Black, on-set, 2006, © Paramount
CHUCK & BUCK, Michael White, Lupe Ontiveros, 2000
YEAR OF THE DOG, Molly Shannon, director Mike White, on set, 2007. ©Paramount Classics
Filmography
Movies
Credit

No Score Yet

No Score Yet

Despicable Me 4
Screenwriter
-
2024

No Score Yet

No Score Yet

Migration
Screenwriter
-
2023

72%

65%

The One and Only Ivan
Frankie/Passing Driver (Character),
Screenwriter
-
2020

28%

43%

Pitch Perfect 3
Screenwriter
$104.9M
2017

79%

55%

Brad's Status
Nick Pascale (Character),
Director,
Screenwriter
$2.1M
2017

6%

36%

The Emoji Movie
Screenwriter
$86.1M
2017

76%

53%

Beatriz at Dinner
Screenwriter
$7.1M
2017

No Score Yet

34%

The Emoji Movie
Screenwriter
-
2017

54%

25%

The D Train
Jerry (Character),
Producer
$661.0K
2015

68%

31%

Magic Magic
Producer
-
2013

20%

44%

Gentlemen Broncos
Dusty (Character)
$113.2K
2009

38%

20%

Smother
Myron Stubbs (Character)
-
2007

70%

43%

Year of the Dog
Director,
Screenwriter,
Producer
$1.5M
2007

40%

55%

Nacho Libre
Writer,
Producer
$80.2M
2006

No Score Yet

No Score Yet

Welcome to California
John Goodman (Character)
-
2005

26%

30%

The Stepford Wives
Hank (Character)
$59.5M
2004

92%

64%

The School of Rock
Ned Schneebly (Character),
Writer
$81.3M
2003

82%

59%

The Good Girl
Corny (Character),
Writer
$14.0M
2002

47%

61%

Orange County
Writer
$41.0M
2002

84%

66%

Chuck & Buck
Buck (Character),
Writer
$1.1M
2000

15%

55%

Dead Man on Campus
Writer
$15.1M
1998
TV