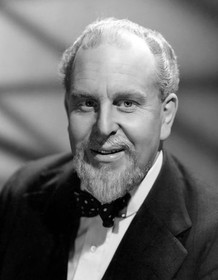 Robert Morley
Highest Rated: 100% Murder at the Gallop (1963)
Lowest Rated: 20% Life at the Top (1965)
Birthday: May 26, 1908
Birthplace: Semley, Wiltshire, England, UK
Portly English character actor who first gained acclaim on the London stage for his title role in "Oscar Wilde." Morley successfully reprised the part on Broadway in 1938, leading to an invitation to Hollywood and an Oscar-nominated film debut as Louis XVI in "Marie Antoinette" (1938).
Photos
MARIE ANTOINETTE, Norma Shearer, Robert Morley, 1938.
THE BATTLE OF THE SEXES, Robert Morley, Peter Sellers, 1959
THE AFRICAN QUEEN, Robert Morley, 1951
THE JOURNEY, Robert Morley, 1959
HOT MILLIONS, Robert Morley (net), Karl Malden (fist), Bob Newhart (pointing), 1968
SINFUL DAVEY, Robert Morley, 1969
SCAVENGER HUNT, Robert Morley, 1979, © 20th Century Fox Film Corp. All rights reserved.
OSCAR WILDE, Robert Morley, 1960
OF HUMAN BONDAGE, Robert Morley, 1964
THE AFRICAN QUEEN, Robert Morley, 1951
MARIE ANTOINETTE, Peter Bull, Robert Morley, 1938
THE DOCTOR'S DILEMMA, Robert Morley, 1958
CROMWELL, Robert Morley, 1970
THE BATTLE OF THE SEXES, Robert Morley, 1959
TOPKAPI, Robert Morley, 1964
LIBEL, Robert Morley, 1959
THE STORY OF GILBERT AND SULLIVAN, Robert Morley as William S. Gilbert, 1953
THOSE MAGNIFICENT MEN IN THEIR FLYING MACHINES, from left: Robert Morley, Terry-Thomas, James Fox, 1965, TM & Copyright © 20th Century fox Film Corp., tmmitfm1965mt-fsct03, Photo by: (tmmitfm1965mt-fsct03)
SINFUL DAVEY, John Hurt, Nigel Davenport, Robert Morley, 1969
SINFUL DAVEY, Robert Morley, 1969