The Great Muppet Caper
(1981)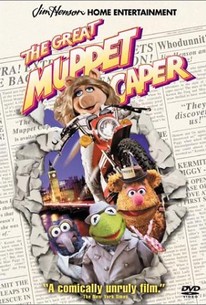 The Great Muppet Caper Videos
The Great Muppet Caper Photos
Movie Info
The Great Muppet Caper is the second Muppet film and it is considerably more complex than its predecessor, The Muppet Movie, which was essentially just a road movie. As the film begins, Kermit the Frog and Fozzie Bear are reporters who have failed to bag a story of a London jewel heist, which happened under their watch. The real criminals managed to escape and frame Miss Piggy as the thief. Kermit, Fozzie and the Great Gonzo set out on a mission to solve the mystery and track down the criminals who stole the Baseball Diamond. There are fewer star cameos and songs in The Great Muppet Caper than in The Muppet Movie, although appearances from John Cleese and Charles Grodin are particularly memorable. ~ Stephen Thomas Erlewine, Rovi
Rating:
G
Genre:
, ,
Directed By:
Written By:
In Theaters:
On DVD:
Runtime:
Studio:
Universal Pictures
News & Interviews for The Great Muppet Caper
Critic Reviews for The Great Muppet Caper
Audience Reviews for The Great Muppet Caper
The first Muppet movie was very focused on introducing characters and revolved around being a road movie, comedy. In this second of the Muppet films, our now established friends play various characters in a thriller concerning precious jewels being stolen from a fashion designer. Reporters Kermit and Fozzy must team up with a squadron of misfits and Miss Piggy in order to catch the culprits. The film respects its characters, but often makes a lot of in-jokes and meta references to the fact that the Muppets are playing characters, and also that Kermit and Fozzy are "identical twins" because they both wear hats. There are a lot of great musical numbers performed by the Muppets, including a water ballet routine by Miss Piggy in her true over the top fashion. The supporting actors are great, including a crotchety Charles Grodin, and an overly nice John Cleese, in a great cameo appearance. Wildly entertaining and certainly fun, the Muppets make yet enough grand old film.
Spencer S.
Super Reviewer
Of all the Muppet movies I've seen, I enjoyed this the least. I couldn't follow the plot at some points and the story just didn't intrest me. The Muppets solving a mystery just isn't my type. But there is still funny quotes and the movie has its moments. That is why I am giving this a 60%. Funny dialogue scene: (A truck driver is pushed out of his truck and is thrown next to a trach can. A person comes out of the garbage can next to him.) Truck Driver: "What are you doing here?" Oscar the Grouch: "A very brief cameo." Truck Driver: "Me too."
Bentley Lyles
Super Reviewer
A good story, but not as funny as the first movie. I liked this movie when I was a kid, but now that I see it again, it's not as good as I remembered. Anyway, it's enjoyable and kids will like it.
The Great Muppet Caper Quotes
| | |
| --- | --- |
| Lady Holiday: | We have to make drastic changes in the new line before the show tomorrow - all my girls are going around looking like barn-yard animals. - good heavens, who are you? |
| Lady Holiday: | We have to make drastic changes in the new line before the show tomorrow. All my girls are going around looking like barn-yard animals. Good heavens, who are you? |
| Miss Piggy: | My name is Miss Piggy, and I would like to be a high-fashion model. |
| Miss Piggy: | My name is Miss Piggy and I would like to be a high-fashion model. |
| Lady Holiday: | Doesn't surprise me; seem to be the way we're heading. |
| Lady Holiday: | Doesn't surprise me. Seems to be the way we're heading. |
| | |
| --- | --- |
| Fozzie Bear: | Excuse me, Mr. Holliday. Would you let Kermit go? If you hold him too long he'll just give you warts. |
| | |
| --- | --- |
| Beauregard: | [driving a cab]You can call me Beauregard. where are you guys going? |
| Beauregard: | You can call me Beauregard. where are you guys going? |
| Kermit: | The happiness hotel. |