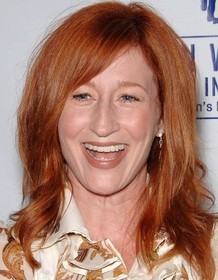 Vicki Lewis
Highest Rated: 99% Finding Nemo (2003)
Lowest Rated: 20% Godzilla (1998)
Birthday: Mar 17, 1960
Birthplace: Cincinnati, Ohio, USA
Her flaming red hair and in-your-face personality made Vicki Lewis perfect for musical comedy and sitcoms, and, indeed, beginning in the late 80s she became an active participant in both. She has recurring roles as Tim Allen's inept producer on ABC's "Home Improvement" and as Jason Alexander's bane-of-my-existence secretary on NBC's "Seinfeld" before landing the regular stint as Beth, the secretary from Smart Aleck 101, on "NewsRadio" (NBC, 1995-99).
Photos
GODZILLA, Kevin Dunn, Matthew Broderick (center), Vicki Lewis (r.), 1998, (c)TriStar Pictures
GODZILLA, Doug Savant (foreground left), Matthew Broderick (hat), Vicki Lewis (foreground center), 1998. ©TriStar Pictures
PUSHING TIN, Kurt Fuller, Jake Weber, Matt Ross, Vicki Lewis, 1999. TM and Copyright © 20th Century Fox Film Corp. All rights reserved..
GODZILLA, Doug Savant, Matthew Broderick, Vicki Lewis, 1998, (c)TriStar Pictures
Survivor, Vicki Lewis (L), John De Vito (C), John DiMaggio (R), 05/31/2000, ©KSITE
Survivor, Vicki Lewis (L), John DiMaggio (C), John De Vito (R), 05/31/2000, ©KSITE
Survivor, John DiMaggio (L), Vicki Lewis (C), John De Vito (R), 05/31/2000, ©KSITE