An Extremely Goofy Movie
(2000)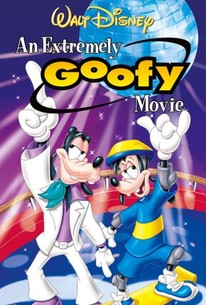 An Extremely Goofy Movie Photos
Movie Info
Higher education will never by the same, as Goofy goes to college in this animated comedy. Max (Jason Marsden) is a top-ranked skateboarder who is just starting college, but he has one little problem -- his father Goofy (Bill Farmer), who is a walking disaster and a frequent source of embarrassment. Max figures that he'll be able to impress the girls at the University with Dad a safe distance away, but when Goofy loses his job, he learns that his best bet for launching a new career is to complete his college degree, and soon Max and Goofy are now classmates. Goofy puts a serious cramp in Max's hipness quotient with his non-ironic enthusiasm for disco music and late-'70s fashions, and Max, in training for the X Games, tries to keep his dad at arm's length. Goofy has enough to keep himself busy between his schoolwork and his romance with similarly clueless librarian, Sylvia (Bebe Neuwirth), but in time, Goofy and Max realize that it's better to get along than to stay away from each other. An Extremely Goofy Movie was the direct-to-video sequel to the 1995 theatrical success A Goofy Movie.
Critic Reviews for An Extremely Goofy Movie
Audience Reviews for An Extremely Goofy Movie
½
TOO MUCH FUN!!! I love dem saucy ladies: Beret Girl voiced by vivacious redhead Vicki Lewis and Sylvia the Librarian voiced by repressed dame Bebe Neuwirth.
Alice Shen
Super Reviewer
½
fantastic animation and great songs with good humor and plot and that says a lot for a direct to video Disney sequel
Michael Edwards
Super Reviewer
½
The title says it all! Plus, it's also an extremely fun movie!
An Extremely Goofy Movie Quotes
There are no approved quotes yet for this movie.