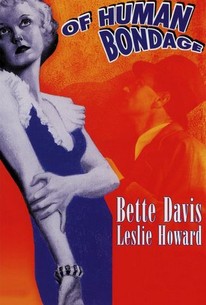 Of Human Bondage
1934, Drama, 1h 23m
14 Reviews
2,500+ Ratings
Where to watch
Rent/buy
Subscription
Rate And Review
Movie Info
Based on a novel by W. Somerset Maugham, this drama follows Philip Carey (Leslie Howard), an English medical student who abandons his artistic aspirations when he falls for Mildred Rogers (Bette Davis), a callous and manipulative waitress. Despite Mildred's abuse, Philip becomes completely obsessed with her as she walks into and out of his life. Whenever it seems that Philip is ready to move on, Mildred reappears, in a seemingly inescapable vicious cycle.
Genre: Drama

Original Language: English

Director: John Cromwell

Producer: Pandro S. Berman

Writer: Lester Cohen

Release Date (Theaters): original

Release Date (Streaming):

Runtime:

Distributor: RKO Radio Pictures
Audience Reviews for Of Human Bondage
Were you or someone you know ever involved in a lopsided relationship? Where one party knew the other loved them more than they felt and so used the person most inconsiderately? Bette Davis, all hungry vampire-eyes-set-to-kill is a low-class strumpet who sees imminent financial possibility in Leslie Howard's middle class nebbish, who merely suspects that he's being played but can't quite believe that anyone would ever do such a thing (much less his beloved) and is thunderstruck that he himself would allow himself to be played so untruthfully. Like an auto accident on the freeway, you won't be able to take your eyes away.

It's a little hard to watch this one, just as it was a little hard to read the novel by W. Somerset Maugham. Leslie Howard plays the sensitive, club-footed young man who falls for a lower-class, vulgar woman who manipulates and exploits him time and time again. Bette Davis plays the woman brilliantly, and for her performance I could have notched up my rating half a star. The movie has one scene worth watching in particular - the one where she viciously rips into him after he tells her that she disgusts him. Her response: "Me?! I disgust you? You, you, you're too fine! You'll have none of me, but you'll sit here all night looking at your naked females...You cad! You dirty swine! I never cared for you, not once. I was always makin' a fool of ya. You bored me stiff! I hated ya! It made me sick when I had to let ya kiss me. I only did it because ya begged me. Ya hounded me and drove me crazy! And after you kissed me, I always used to wipe my mouth! WIPE MY MOUTH! I made up for it. For every kiss, I had a laugh. We laughed at ya, Miller and me, and Griffith and me, we laughed at ya! Because you were such a mug, a mug, a mug! You know what you are? You gimpy-legged monster? You're a cripple! A cripple! A cripple!" Despite that, he STILL returns back to her (arrgh), which is disagreeable to watch, even though he has a benign acceptance about being doomed to love her, just as a much friendlier woman is doomed to love him. And so it goes. The movie would firmly establish Bette Davis as an actress, and rightfully so, though she was snubbed by the Academy. I found it interesting to read later that there was such an uproar over it that the Academy president said write-in votes could be cast, and Davis received enough to finish ahead of one of the nominees, but not enough to beat Claudette Colbert who would win for 'It Happened One Night' (the process would be changed the following year). Unfortunately, Davis can't completely overcome the masochism of the story, or Leslie Howard's somewhat wooden performance.

I've heard a lot of good things about this movie, but when I saw it I didn't understand it. Maybe I need to see it again, but I really thought it was dull and uninteresting.

The unabridged version of the the novel simply can't be adapted to the screen.
See Details