Li'l Abner
(1959)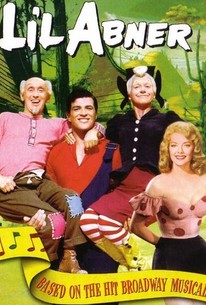 AUDIENCE SCORE
Critic Consensus: No consensus yet.
Movie Info
1959's Li'l Abner was adapted from the hit 1956 Broadway musical--which, in turn, was inspired by the satirical comic strip by Al Capp. Peter Palmer recreates his Broadway role as Li'l Abner Yokum, the handsome, muscle-bound, muscle-brained leading hillbilly of Dogpatch, USA. The citizens of Dogpatch are in an uproar because their ramshackle community has been designated the "most useless" town in America, and therefore a prime candidate for an atomic bomb testing site. At first, the Dogpatchers consider their least-desirable status a great honor, but then they despair upon realizing that they'll have to vacate the premise before the annual girl-chases-boy Sadie Hawkins Day race. Together with his Mammy (Billie Hayes) and Pappy (Joe E. Marks), Li'l Abner is dispatched to Washington DC, to argue that Dogpatch has some vital significance: after all, only in Dogpatch can one partake of the Yokumberry Tonic, the source of Abner's super strength. Shifty billionaire General Bullmoose (Howard St. John) wants that Yokumberry tonic for his own devices, and to that end dispatches his lady friend Appasionatta von Climax (Stella Stevens) to Dogpatch to catch Li'l Abner during the Sadie Hawkins race and thus secure the mountain boy's cooperation via marriage. Li'l Abner's erstwhile girl friend Daisy Mae Scragg (Leslie Parrish) would likewise like to snare Abner in the race, but Appasionata wins, thanks to the squirrelly Evil Eye Fleegle (Al Nesor), whose "triple whammy" paralyzes Abner just inches before the finish line. If you think all this is unbelievable, wait till you see how the story resolves itself. Featured in the cast is Stubby Kaye as Marryin' Sam, who leads the hillbilly chorus in the musical's best number, "Jubilation T. Corpone". Other Johnny Mercer-Gene de Paul tunes carried over from the Broadway version of Li'l Abner are "A Typical Day," "If I Had My Druthers," "Namely You," "The Country's in the Very Best of Hands," "Past My Prime," "Put 'Em Back (The Way They Wuz)" and "The Matrimonial Stomp."The film is staged in the same broad, caricatured manner as the play, which only adds to the fun. An earlier, unrelated movie adaptation of Li'l Abner, filmed in 1940, is best forgotten, as is a series of lukewarm Abner cartoons produced by Screen Gems in the late forties.
Rating:
NR
Genre:
, , ,
Directed By:
Written By:
In Theaters:
On DVD:
Runtime:
Studio:
Paramount Pictures
Audience Reviews for Li'l Abner
½
★★1/2 (out of four) Minor and a bit too whimsical. This musical, based on the comic strip looks pretty cheap. I know the filmmakers likely wanted the sets to look like a drawing. Intsead it looks like the drawn backgrounds of a high school musical. Set in the fictional Dogpatch, USA. The town has recently been named the most useless town in the country. Therefore it has been selected as a prime place for atomic bomb testing. The town might have to vacate just before they were to have their annual Sadie Hawkins Day races, where the girls chase the boys around. The dimwitted, yet muscular and dreamy Abner must go to Washington to and argue the virtues of their town. Peter Palmer reprises his Broadway role as Abner, and he is no doubt, well cast. Julie Newmar as Stupefyn' Jones is also a site to see. But the film itself is just so goofy and lightweight, and cheap. [IMG]http://img.photobucket.com/albums/v48/Zeppo1/LilAbner_zps708f974b.jpg[/IMG]
Steve Smith
½
Really Cute, Camp, & such Dumb but Lovable Characters. I believe the Beverly Hillbillies TV series was based on this Movie.Campy Muscle Bound Li'l Aber Yokum, Oversexed Daisy Mae who just wants a husband, & Mammy Yokum & her Vitamin Potion, Yokumberry Tonic, that makes Muscles out of Measly Men, & the Us Army wants it!!! There's the annual Sadie Hawkins Day Race where a Lady can catch her a Hubby & make him marry her.It's great Tween Chick Flick, & a great memory for me
Marilee Aschwanden
The songs are pretty fun and catchy. The performances suit the material well. Everything else just doesn't work for me. The whole thing looks and feels as if it were filmed on stage, and has no cinematic pulse to speak of, which is one of the biggest crimes a movie can commit. The sets look fake as can be and they don't embrace their own artifice, so they are simply fake looking sets, as opposed to an extension of the movie. The plot feels rushed, and maybe I got confused somewhere, but how could the mogul's daughter marry Abner, seeing as how she wasn't from Dogpatch? And what exactly is the "code of the hills"?
Bobby LePire
Li'l Abner Quotes
There are no approved quotes yet for this movie.