Stalker
(1979)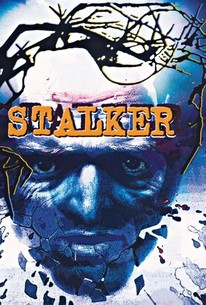 Movie Info
Russian director Andrei Tarkovsky's Stalker, an allegorical science fiction film like his earlier Solaris, was adapted from the novel Picnic by the Roadside by brothers Boris Strugatsky and Arkady Strugatsky. The film follows three men -- the Scientist (Nikolai Grinko), the Writer (Anatoliy Solonitsyn), and the Stalker (Alexander Kaidanovsky) -- as they travel through a mysterious and forbidden territory in the Russian wilderness called the "Zone." In the Zone, nothing is what it seems. Objects change places, the landscape shifts and rearranges itself. It seems as if an unknown intelligence is actively thwarting any attempt to penetrate its borders. In the Zone, there is said to be a bunker, and in the bunker: a magical room which has the power to make wishes come true. The Stalker is the hired guide for the journey who has, through repeated visits to the Zone, become accustomed to its complex traps, pitfalls, and subtle distortions. Only by following his lead (which often involves taking the longest, most frustrating route) can the Writer and the Scientist make it alive to the bunker and the room. As the men travel farther into the Zone, they realize it may take something more than just determination to succeed: it may actually take faith. Increasingly unsure of their deepest desires, they confront the room wondering if they can, in the end, take responsibility for the fulfillment of their own wishes. ~ Anthony Reed, Rovi
Rating:
NR
Genre:
, , , ,
Directed By:
Written By:
In Theaters:
On DVD:
Runtime:
Studio:
Zweites Deutsches Fernsehen
News & Interviews for Stalker
Critic Reviews for Stalker
Audience Reviews for Stalker
½
It may be a tough sit-through to some as it is not as emotionally engaging as Tarkovsky's magnificent Solaris, but it is hard not to be mesmerized by this stunning metaphysical and philosophical allegory about human desire and the search for happiness.
Carlos Magalhães
Super Reviewer
Andrei Tarkovsky's Stalker is a brilliant film that I would rank among his very finest works. This is my third film I've seen of his, and aside from the previous two, Andrei Roublev and Solaris, Solaris being my most favorite of his films; I would say that this is my second favorite. Brilliantly crafted, Tarkovsky always brought a subtle, yet engaging touch in the way he made his movies, and that's what I love most about his work. With the other pictures that I've seen, he would tell simple, yet grand stories, evoki9ng a sense of storytelling that was reminiscent of Stanley Kubrick in a way. In fact, I would describe him as the Russian Kubrick. Stalker is a great movie that seems a bit bleak, but is very captivating, as it is shot beautiful black and white, which adds a melancholic surrealistic atmosphere to the tone of movie. Clearly, Tarkovsky tried to capture a certain vibe, and you feel it here. If you love foreign cinema that are breathtaking in scope, films that make you think, and has a simple, yet very good premise, this is a film not to miss. After Solaris, is Tarkovsky's second greatest work, and it's a film that resonates with the human consciousness. This is a superb movie, a flawless piece of cinema, and one of the finest movies that I had the pleasure to watch. Watching more and more of Andrei Tarkovsky's body of work, you begin to realize how great he was at telling superb stories with brilliant performances and incredible direction. His films are works of art, and with Stalker, this is a journey that is worth taking as we travel with the two characters as they travel in search of what they're looking for. This is simply put, filmmaking at its very best, and if you love exceptionally well crafted cinema, then you ought to watch this phenomenal film. The film is long, but it never feels boring because there is just so much in the film that you never realize how long it is. The film is a journey, one that makes you think, and it's a masterwork from a director who has constantly crafted truly superb pictures. Andrei Tarkovsky is one of the rare filmmakers whose filmography is flawless because he hasn't made one bad movie.
Dazed, shaken and poignantly moved. Mesmerizing, not by the magnetic scenery itself, but by own thought.
Adriel Lim
Super Reviewer
Stalker Quotes
| | |
| --- | --- |
| Stalker: | Passion is the friction between one's soul and the outside world. |
| | |
| --- | --- |
| Stalker: | Weakness is a great thing, and strength is nothing. When a man is just born, he is weak and flexible. When he dies, he is hard and insensitive. When a tree is growing, it's tender and pliant. But when it's dry and hard, it dies. Hardness and strength are death's companions. Pliancy and weakness are expressions of the freshness of being. Because what has hardened will never win. |
| | |
| --- | --- |
| Stalker's Wife: | "I love your eyes, my darling friend, their play so light and brightening. When a sudden stare up you send, and like a heaven-blown lightning, it'd take in all from end to end. But there's nothing more that I admire; your eyes when they are downcast. In bursts of love inspired fire, and through the eyelash goes fast - a longing, dull call of desire." Final Scene. |
| Stalker's Wife: | I love your eyes, my darling friend, their play so light and brightening. When a sudden stare up you send, and like a heaven-blown lightning, it'd take in all from end to end. But there's nothing more that I admire; your eyes when they are downcast. In bursts of love inspired fire, and through the eyelash goes fast - a longing, dull call of desire. |