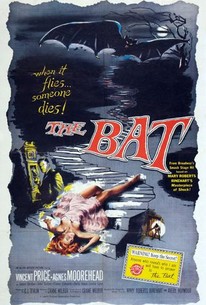 The Bat
1959, Mystery & thriller, 1h 20m
7 Reviews
2,500+ Ratings
Where to watch
Subscription
Subscription
Rent/buy
Rate And Review
Movie Info
A killer called "the Bat" has claimed many lives in the small town inhabited by novelist Cornelia van Gorder (Agnes Moorehead) and her maid, Lizzie (Lenita Lane). As Cornelia implores Dr. Malcolm Wells (Vincent Price) to help her ailing maid, $1 million in the town's bank goes missing. With greed and fear reaching new heights, police Lt. Andy Anderson (Gavin Gordon) goes to Cornelia's house to investigate additional murders committed by the Bat.
Audience Reviews for The Bat
A mystery writer (Agnes Moorehead) moves into a mansion where an embezzled fortune may be hidden, and has to deal with evil small-town doctor Vincent Price and a claw-gloved serial killer known as "the bat." The solution to this oft-filmed mystery play is obvious, but a campy Moorehead and Price keep this version watchable.

Despite having top billing, Vincent Price is only in the movie for a few scenes. In a way, anybody could have played Price's part. Price is good in the few moments he is in the movie, but most of the film rests on Agnes Moorehead's shoulders. Unfortunately, Moorehead chews up the scenery and her performance tends to be as erratic as the film's tone. This campy dark mansion whodunit comes off as terribly un-even and uninspired. The comedic moments are too cheesy and forced to be funny. Plus the mystery is drawn out too much, especially considering how few suspects there were. The cinematography is also very static, giving a very bland TV movie feel to the production. This is a bland mystery movie that is only remembered for featuring Vincent Price.

"The Bat" is another version, the fourth, of the story and is one of the lesser versions in terms of credibility and portrayal. Even with the legendary and one of my personal favorites, Vincent Price as one of the lead characters, the film fails to be much more than a "who did it" mystery. While the film has its moments, in the end the poor script and cringe worthy dialogue and movements to fit the screenplay destroy any Classic status. While it was enjoyable at times and has some creepy bits, overall I wasn't blown away and look forward to seeing the '26 and '30 versions next. If you love Vincent Price, watch it and if not then it's no big loss.

This movie has an ordinary mystery movie type story, but the style is more like a horror movie, and the actors are good, so the movie is pretty good too.
See Details