Supernova
(2000)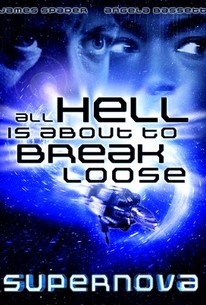 Movie Info
Supernova chronicles the search and rescue patrol of a medical ship in deep space in the early 22nd century and its six-member crew which includes a Captain and Pilot (Robert Forster),a co-pilot (James Spader), a medical officer (Angela Bassett), a medical technician (Lou Diamond Phillips), a search and rescue paramedic (Robin Tunney), and a computer technician (Wilson Cruz). When their vessel, the Nightingale 229, answers an emergency distress signal from a comet mining operation in a distant galaxy, the crew soon finds itself in danger from the mysterious young man (Peter Facinelli) they rescue, the alien artifact he's smuggled aboard, and the gravitational pull of a giant star about go supernova the most massive explosion in the universe.
Critic Reviews for Supernova
Audience Reviews for Supernova
½
It's easy to imagine that buried somewhere deep within Supernova there was once a pretty compelling Sci-Fi. The reality however is far less engaging, and significantly duller. James Spader and Angela Bassett are fine in the lead roles, but nowhere near impressive enough to save Supernova from mediocrity.
½
The first decent deep space movie I've seen in awhile. Everything is going fine for the crew, until, you guessed, they just have to answer a distress signal. They pick up a really fine chap and matters digress from there. Takes up where Alien and Dead Calm left off. NEVER pick up hitchhikers! Even in, make that ESPECIALLY in outer space!
Steve Strange
Super Reviewer
½
It looks like very few people like "Supernova." A spaceship that is carrying a crew of people that are involved in the medical field, picks up a mysterious drifter named Karl (Peter Facinelli). Karl is a mystery by himself, but he brought along an equally mysterious space artifact. Will Karl and this strange object prove to be a help to the medical crew, or is danger closer to being the word? I don't see where "Supernova" is that bad of a movie to be honest. Sure, it's bigtime cliched and it doesn't have a spectacular cast or acting (except by Angela Bassett), but nonetheless, it's an interesting movie with good special effects. For awhile at the beginning, it's a little slow paced and not that exciting, but once a certain enemy starts rampaging, "Supernova" gets a lot more interesting. If you like sci-fi movies in the least sense, I recommend at least watching "Supernova." Even though it's not the most original film ever made, it's not that bad. NOTE: That was my Amazon review from the year 2001.
Jason Owens
Super Reviewer
Supernova Quotes
| | |
| --- | --- |
| Karl Larson: | Stars die so that we can live. And we die so that stars can be reborn. |
| | |
| --- | --- |
| Kaela Evers: | Whoever they are they're s smart as God and a lot less nice. |
| | |
| --- | --- |
| Karl Larson: | The only real sin is regret. |
Discussion Forum
Discuss Supernova on our Movie forum!