The Hound of the Baskervilles
(2000)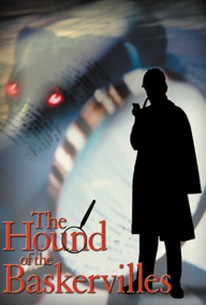 AUDIENCE SCORE
Critic Consensus: No consensus yet.
The Hound of the Baskervilles Photos
Movie Info
Former Max Headroom star Matt Frewer made his first appearance as master detective Sherlock Holmes in this well-appointed adaptation of Arthur Conan Doyle's The Hound of the Baskervilles. On this occasion, Holmes and his chronicler Dr. John Watson (Kenneth Walsh) set about to protect young Sir Henry Baskerville (Jason London) from falling victim to what seems to be an old and inexorable family curse. Eventually the two sleuths converge upon Baskerville Hall, near the dreaded Grimpen Mire, where a huge and voracious hound threatens the wellbeing of all concerned. But who is really behind the sinister plot against Sir Henry -- and is anyone involved in the case truly whom he or she claims to be? Largely filmed on-location at Montacute House in Somerset, England, The Hound of the Baskervilles made its American TV bow over the Odyssey cable network on October 21, 2000, and seven days later debuted in Canada courtesy of CTV.
Rating:
NR
Genre:
, , ,
Directed By:
Written By:
In Theaters:
On DVD:
Runtime:
Studio:
Muse Entertainment Enterprises
Cast
Critic Reviews for The Hound of the Baskervilles
All Critics (2) | Fresh (0) | Rotten (2) | DVD (2)


Spirituality and Practice
Audience Reviews for The Hound of the Baskervilles
½
Wow--They Made Sherlock Holmes [i]More[/i] Obnoxious! I've loved Kenneth Welsh for years. Yesterday, Graham was watching some show or another, probably a Canadian one, and I noticed Welsh in it. While using IMDb to double-check this, I discovered this series of movies. I have no intention of watching any of the others; I don't even like Sherlock Holmes, for the most part. And I don't know whether to blame Matt Frewer or director Rodney Gibbons for a lot of what went wrong, here. However, no matter who bears the blame, it's pretty clear that something went wrong. What's kind of worrying is that maybe it was actually on purpose. Maybe the whole thing was supposed to look, sound, and so forth the way it does. And maybe being an actual Sherlock Holmes fan would make the whole thing less obnoxious, but it's also worth noting that this is one of the stories that doesn't actually have much of the character in it. Welsh is Watson to Frewer's Holmes. Somehow, I missed how, Holmes has acquired the cane of one Doctor James Mortimer (Gordon Masten). When Dr. Mortimer comes to pick it up, he also lays out for Holmes the story of the Baskerville family. Two hundred years previously, a previous Baskerville is said to have sold his soul to the devil, then been killed by a spectral hound. Shortly before the story began, Sir Charles Baskerville was found dead, apparently of a heart attack--but some blame the hound. Now, the only known Baskerville heir, Sir Henry (Jason London), has been located in Toronto and returned to the family's estate. Holmes believes that Sir Henry's life is in danger, and he sends Watson to keep an eye on Sir Henry, while he does, you know, whatever it is that Holmes does. Alone with Sir Henry, Watson encounters the Barrymores (Arthur Holden and Leni Parker); Barrymore's family has served the Baskerville family for a century. And then there's Stapleton (Robin Wilcock) and his sister, Beryl (Emma Campbell), with whom Sir Henry falls in love. I'm pretty sure I read this book once, but probably not since I was in about second grade. I was in a program called Great Books, or something like that, for gifted kids. One of the things we read was Sherlock Holmes--"The Speckled Band," as I specifically recall--and I also read some more on my own. I think PBS was airing the Jeremy Brett Holmes on [i]Mystery![/i] at about the same time, too. I know Mom and Elaine were really into Holmes, but somehow, he's never really done anything for me. I think it's at least in part that old resentment about how Holmes doesn't have to try to pass. He can be just as obnoxious as he wants. Everyone has to just suck it up, because he has something they want and won't give it to them if they try to make him act like a normal person. Worse, he gets praised for his eccentricities, because they're supposedly just signs of his genius. It's only been quite recently that they've also been seen as signs of mental illness. Frewer's performance is even worse. A few years after this was made, Robert Downey, Jr., began to portray a Sherlock Holmes who was brilliant and bipolar, strangely personable though it's hard to say why. Admittedly, because Holmes is out of the picture for so much of this story, you don't get to see much of his brilliance. All you see of the mood swings is the manic, too. This is also probably because we see so little of him. And I will say, you know, at least he didn't spend all his screen time wearing the deerstalker--but the hat he's wearing when he's playing his violin is not necessarily an improvement. He also turns the obnoxiousness level way, way up--interrupting and insulting his way through essentially every scene he's in. His accent is also problematic; Sir Henry can have an American accent, though of course he should have a Canadian one, but when Sherlock Holmes just basically sounds like Matt Frewer, well, that's a problem. Okay, so it's interesting to see Kenneth Welsh play someone other than a psycho killer. I know he can do it; he managed it on an episode of [i]Law & Order[/i] once--where, interestingly, he played a guy whose brother was mentally ill and killed some people. Welsh was fun as Randal Bolt on [i]Due South[/i], and of course as Windom Earle on [i]Twin Peaks[/i]. Here, he's the stereotypical stumbling, bumbling Dr. Watson--the one who, in my opinion, doesn't entirely exist in the original stories. It seems to me as though, in most cases, the properties of the various characters are blunted so they are, in fact, caricatures. Watson is a sidekick incapable of doing much of anything on his own. Inspector Lestrade is hopelessly incompetent; you have to figure that if the London police were really that bad, not a single person arrested in London would actually be guilty, and it would be the safest place to commit a crime, because the guilty are never punished. No, little as I like the books, I still generally prefer them to the movies.
Edith Nelson
½
A pretty neat telling of the story, good acting, but I felt the way it was paced left much to be desired.
Marion Ravenwood
Super Reviewer
Discussion Forum
Discuss The Hound of the Baskervilles on our Movie forum!
News & Features