Savage Messiah
(2002)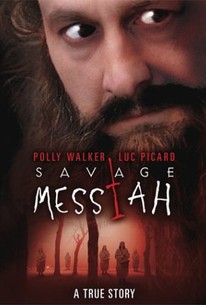 AUDIENCE SCORE
Critic Consensus: No consensus yet.
Movie Info
Based on a true story, this drama centers on a woman's attempts to bring down a sadistic religious zealot. Polly Walker is Paula, a social worker who at first is wowed by a religious cult led by Moses (Luc Picard). Eventually though, she finds there's much more to the group's commune than meets the eye. In the tradition of the Manson Family and Jonestown, Moses wields a deadly power over his loyal followers. From director Mario Azzopardi, Savage Messiah also stars Isabelle Blais and Isabelle Cyr. ~ Matthew Tobey, Rovi
Critic Reviews for Savage Messiah
There are no critic reviews yet for Savage Messiah. Keep checking Rotten Tomatoes for updates!
Audience Reviews for Savage Messiah
½
Savage Messiah is a pretty good made for TV movie about Canada's version of Charles Manson, "Moise" Roch Theriault. This is a good movie, but one that is hard to watch in terms of its content. The cast do a good job in their parts, and the story is quite good and is based on real events. Seeing this when first released was quite the experience, I had never heard of Theriault and his cult of followers. The guy was a psychopath, a monster and had complete disregard for human life. Savage Messiah is a flawed movie, but it does give you a taste of what went on in the cult, and how monstrous Theriault's crimes were. This is a film that is only worth seeing once, not because it's a horrible movie, but because its subject doesn't warrant multiple viewings. I found the movie to be quite eye opening, and shocking to find out that something this monstrous was happening in my native Canada, but nowadays, it's no shock, because like the rest of the world, we have our fair share of depraved maniacs. Luc Picard delivers a stunning performance in the lead role of Roch Theriault, and the supporting cast are great here as well. For those wanting an effective, well constructed made for TV drama that manages to bring out more than its fair share of good storytelling, aided by its cast, Savage Messiah is a well crafted movie that will probably appeal to those interested in such a subject. This works well in terms of a drama, and it is elevated by the fact that this cult actually existed and the events recreated in this disturbing piece of film happened, which in the end makes Savage Messiah a chilling, unforgettable movie.
A well done, disturbing biodrama. Apparently this cult leader, Luc Picard, was killed in prison this year. Kudos to the people involved in that...
Cynthia S.
Super Reviewer
Viscerilly chilling,try not to close your eyes-a most excellent horror movie based on a true story. See it you'll never forget it!
Audrey Lush
Super Reviewer
Savage Messiah Quotes
There are no approved quotes yet for this movie.