Grind
(2003)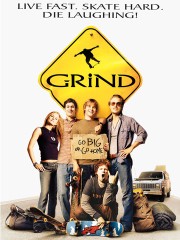 Grind Trailers & Photos
Movie Info
While the rest of his high school graduating class is heading to the same old grind of college, skateboarder Eric Rivers and his best friends, Dustin, a goal-oriented workaholic, and misfit slacker Matt have one last summer road trip together to follow their dream of getting noticed by the professional skateboarding world--and getting paid to skate. When skating legend Jimmy Wilson's skate demo tour hits town, the boys figure that as soon as he sees their fierce tricks, he'll sign them up for his renowned skate team immediately, right? Unfortunately, the guys are intercepted by Jimmy's road manager and they can't get their foot in the door, much less their boards. But they do get some free advice: keep skating, stay true to yourself, and stay in the game--if you're good, you'll get noticed. Following their dream-- and Jimmy's national tour--Eric, Dustin and Matt start their own skate team, reluctantly sponsored by Dustin and his college fund. After recruiting laid-back ladies man Sweet Lou to join their crew and provide the wheels for their tour, team "Super Duper" launches the ride of their lives in an outrageous road trip from Chi-town to Santa Monica. The professional scene doesn't exactly welcome "nobody" skaters, but these outsiders stick together through extreme misadventures. In their quest to go pro, they meet professional vet skating champions Bucky Lasek, Bob Burnquist and Pierre Luc Gagnon, skate pro Bam Margera and his crew Preston Lacy, Ehren "Danger" McGhehey and Jason "Wee Man" Acuņa, as well as sexy skate chick Jamie as they grind handrails across America and force the skateboarding world to give'em a piece of the action.
more
Cast
News & Interviews for Grind
Critic Reviews for Grind
Audience Reviews for Grind
½
While it has heart, and compassion, and a great ending, not even the awesome soundtrack, or skate tricks can make up for the sometimes funny, mostly stupidly mundane scenes in the middle of the whole trip.
At the time, skateboarding was a big thing. Now tony hawk is no cooler than david blaine.
Nay Nay Bauer
Super Reviewer
Grind Quotes
Jimmy Wilson: No go number two on my bus!
Sweet Lou: Sweet Lou cleans no man's Poop.
Matt Jensen: I hate Clowns.
Sweet Lou: You wanna make out?
Dustin Knight: Ok, let me just get you another glass of bitch.
Dustin Knight: Lil Bow Wow, keep arguing me and you are going to take a one way walk in the woods.
Dustin Knight: I don't got jokes I got threats.
Matt Jensen: I just got violated by a Lizard man...Actually that felt kinda good.
Matt Jensen: Hey smell this, do you think this smells like Pepperoni or Ass Crack...I've got five bucks on Pepperoni.
Eric Rivers: Are you kidding me, he get's sick of his shirt, he takes it off, and he gets a new one...FOR FREE!
Matt Jensen: Breast's... I like em two at a time and round...LADIES!
Matt Jensen: I represent the release the twins foundation would you like to make a little donation.
Matt Jensen: About releasing those twins...They look so lonely in their little cages come out...dee dee dee dee.
Sweet Lou: It's just too easy sitting here, year after year watching the new crop roll in, and me just taking my pick.
Sweet Lou: See those two Betty's that were here before, they're just my Tuesday, you should see Friday.
Dustin Knight: Our grills? Is there some sort of BBQ later?
Mr. Rivers: Dudes... get the moron out of the pool.
Matt Jensen: Greeting's from the interior.
Discussion Forum
Discuss Grind on our Movie forum!
News & Features