Lola
(2001)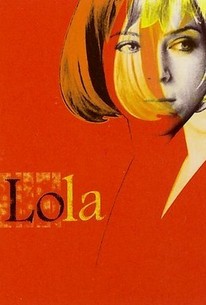 Movie Info
Following up on his gritty Dogma-certified look at street life in Toronto in Johnny, Carl Bessai shifts gears to detail the suburb ennui in Vancouver. Lola (Sabrina Grdevich) spends much of her days on her therapist's couch, blankly wandering the malls and running the odd errand for her hard-driving husband Mike (Colm Feore). Their marriage has stagnated for so long that they can barely imagine another way of living together. One night after an ugly fight, Lola heads into the night. She runs into a hooker named Sandra (Joanna Going), who is fleeing a loan shark and who is heading home for the first time in 15 years after her father died. They strike up a fast friendship, adding a blush of real emotion to Lola's life that had been absent for years. When Sandra's loans catch up with her, Lola assumes Sandra's identity and goes to visit her mother. This film was screened at the 2001 Toronto Film Festival. ~ Jonathan Crow, Rovi
Rating:
NR
Genre:
,
Directed By:
Written By:
In Theaters:
On DVD:
Runtime:
Studio:
Winstar
Critic Reviews for Lola
All Critics (31) | Top Critics (10) | Fresh (25) | Rotten (6) | DVD (1)
It is offbeat, with shafts of tender feeling and truth. But trying to touch on too many subjects makes the film uneven.

Very beautifully shot, in widescreen and luminous black-and-white, it is also formally astonishing, with all the minor characters serving as variations on the central couple.
If Lola is not a masterwork, its general polish and intent augur a bright future for the 31-year-old Mr. Demy.
New York Times
Top Critic
Globe and Mail
Top Critic

Denver Rocky Mountain News
Top Critic
Audience Reviews for Lola
An interesting character study that follows Lola (Sabrina Grdevich), a young woman with a bully for a husband, who befriends Sandra (Joanna Going) a prostitute, only to see her murdered. She then decides to assume the murdered woman's life and travel to visit Sandra's mother from whom Sandra has been estranged. It was fascinating to watch this heretofore mousy woman take on the murdered woman's personality and begin to assert herself in different situations. The story moves from the streets and seedier areas of Vancouver out into the Canadian Rockies, and the cinematography brightens considerably in the wide open spaces, contributing to the change that Lola undergoes. The story left the viewer with a couple of unanswered questions, but on the whole proved a quite satisfying experience. The supporting cast was not stellar, but more than capable. Colm Feore plays the husband as a ruthless psychological abuser who belittles Lola at every turn. One feels little sympathy for him when his sense of loss begins to set in, but that is what the filmmaker intended. Solid effort.
Mark Abell
Super Reviewer
½
Sabrina Grdevich is good enough in the title role, but not good enough to overcome the weak material. It's an odyssey of self-discovery in which nothing happens. Some movies can be about the journey and not the destination, but this one hardly has either.
Lee Mayo
½
[font=Century Gothic][color=red]"Lola" is a 1961 French film directed by Jacques Demy. The lead character is Lola(nee Cecile) played by Anouk Aimee who is a cabaret dancer with a young son. There is another Cecile in the film who is just shy of 14 years old. The younger Cecile mirrors her elder's life but the two Ceciles never meet. Instead, they interact with an American sailor and a local character in search of direction. An early scene sets the stage for the rest of the film, when one of the lead characters is late to work and not for the first time. [/color][/font][font=Century Gothic][color=red]Basically, "Lola" is a bittersweet concoction about near-misses, happenstance, and what does happen when connections are made. [/color][/font]
Discussion Forum
Discuss Lola on our Movie forum!