Innocence
(2004)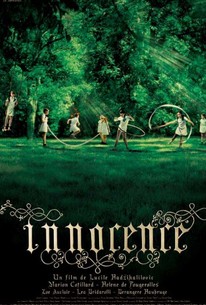 Movie Info
Confused, yet curious, six-year-old Iris is taken in hand by Bianca, the leader of a group of girls who live in one of five houses that make up a kind of boarding school. The only adults are old servants and two authoritarian teachers. Obedience is paramount. Those caught trying to escape are either swallowed up by the horrors of the outside world or condemned to serve the other girls within the school walls for the rest of their lives. The girls suffer various indignities of school life, longing to get outside. However, the eldest girls disappear each night for several hours under orders not to reveal their whereabouts to the others. In the end, we learn how these girls step into adulthood in this familiar, but clearly alternate, universe.
Critic Reviews for Innocence
Audience Reviews for Innocence
Innocence takes place in a mysterious boarding school by a lake, immersed in a haunting, lush forest. Inside, the girls receive biology and dance lessons, swim, and play. They have no idea why they've been sent there, and have no idea when they will be leaving. Mademoiselle Edith and Mademoiselle Eva (Marion Cotillard) are in charge. With subtlety, in this blurry and dark environment, they teach the girls about life and music, perparing them for the reality of the outside world. Iris, Alice, and Bianca are the protagonists of this story (all excellent actresses), young girls surviving the long rite of passage that is their stay in the institute. Iris, the newcomer, adapts to the mysterious system of the school, and gets used to the idea that she may not be going out in a very long time. Alice struggles to become the best dancer in her class in order to be chosen by the headmistress, and be able to leave the Institute earlier. Bianca is on her final year, readying to leave the fairy-tale woods and return to the "real" world she's probably forgotten. The beauty of Innocence is that we as spectators realize that this is just a school! Nothing abnormal is going on, the girls are not being mistreated or abused; in fact, they live in an idyllic place with all commodities at their disposal. Therefore, why are the girls so afraid of it, why does verything seem so mysterious and forbidding? Lucile Hadzihalilovic tries to take us back to the time when we used to be amazed at everything, when all things were new to us, when there was still an element of magic or surprise to life. The truth is that this is a school that prepares potential ballerinas, but to the students it is the entire world, and so everything inside it has a special, larger-than-life significance. The film is meandering, contemplative, and above all intimate. The cinematography is breathtaking, and the slow pace of the plot is absolutely hypnotizing. In a way, there are many "clues" and symbols throughout the film, but it would be useless to try to explain them now: Innocence is very open to interpretation, and the waters definitely run deeper than what I was able to explain. The film is difficult to categorize, but there is some terror to it: the woods, so still and yet so overflowing with movement and hidden life, are metaphors of what the students are going through... that terrifying, confusing time when "girls become women", to say it lightly, that sort of "being on the edge" of full metamorphoses, something unknown (and therefore menacing) happening inside that can't be identified from outside. Hadzihalilovic is a brilliant symbolist. Her film plays like a poem, and it's full of images of gushing water and stillness and movement in nature. She closes the movie with one of the most intelligent and sensible scenes I have ever seen, in which everything has an implicit meaning, with bubbling water, laughter, and a not-so-little girl having the first taste of freedom, taking a vague first look at what the future has in store, at what she has been so thoroughly prepared for as far as her memory can go.
In terms of style and execution this film is a rare delight. Hadzihalilovic creates such an intense and sinister atmosphere without the film ever being intense or sinister. It is in fact the film's almost naive innocence that plays with the viewers preconceptions forcing us to confront a society of young girls hurtling towards adolescence. The film never even considers answering all our questions, but rather offers us visual stimuli to come to our own conclusions. Rather daring without ever being shocking this is a film of true art with similarities to The Wicker Man and Picnic at Hanging Rock. The child actors are incredible and capture the confusion and joy of being so young. Hypnotic and dreamlike this is a film to sit down and watch, making sure one gives it their undivided attention.
Luke Baldock
Super Reviewer
This has to be one of the most intensely boring films I've ever seen. That said, it is oddly compulsive viewing. A metaphor equating the passage from innocence to sexual maturity with the life cycle of the butterfly, the film is, unfortunately, not quite as magical as it should be. Certain moments are stunning though, not least the fountain scene at the very end.
Innocence Quotes
There are no approved quotes yet for this movie.