Alice in Wonderland
(1933)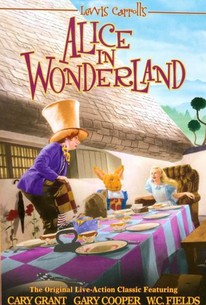 AUDIENCE SCORE
Critic Consensus: No consensus yet.
Alice in Wonderland Photos
Movie Info
This star-laden version of Lewis Carroll's novel combines elements of both the title novel and Carroll's sequel, Through the Looking Glass. In England of the 19th century, young Alice finds that the mirror over the library fireplace opens into a strange world. She has odd adventures and changes size several times both before and after she follows a time-obsessed White Rabbit (Skeets Gallagher). Soaked after nearly drowning in a pool of tears, Alice is helped to dry off by a Dodo (Polly Moran), and encounters a caterpillar (Ned Sparks), whose mushroom also changes Alice's size. In a noisy home where the Cook (Lillian Harmer) and the Duchess (Alison Skipworth) are always fighting, Alice takes care of the Duchess' baby, but it turns into a pig and runs away. Asking directions of the Cheshire Cat (Richard Arlen) is no help, and a tea party with the Mad Hatter (Edward Everett Horton), the March Hare (Charlie Ruggles) and the Dormouse (Jackie Searl) is confusing and annoying.Alice meets the Queen of Hearts (May Robson), and encounters the Duchess again; while strolling with her, Alice meets the Gryphon (William Austin) and the Mock Turtle (Cary Grant). The twins Tweedledum (Jack Oakie) and Tweedledee (Roscoe Karns) recite a poem about a Walrus and a Carpenter (seen as an animated cartoon), but when they decide to go to battle, they're chased off by a crow. Humpty Dumpty (W.C. Fields) relates the poem "Jabberwocky" to Alice, then falls off a wall and breaks. The mournful White Knight (Gary Cooper), unable to put Humpty Dumpty together again, escorts Alice for a while, but she tumbles down a hill and finds she's become a queen. At a party in Alice's honor, the Red Queen (Edna Mae Oliver) becomes furious at Alice, who then wakes up to find herself in the library, with her kitten Dinah in her lap. ~ Bill Warren, Rovi
News & Interviews for Alice in Wonderland
Critic Reviews for Alice in Wonderland
Audience Reviews for Alice in Wonderland
½
Impressive costumes, especially for the time period but it's a shame it isn't in color. Only a few of the star studded cast is recognizable under their elaborate costumes.
Anthony Valletta
Super Reviewer
Alice in Wonderland Quotes
There are no approved quotes yet for this movie.