13th Child
(2002)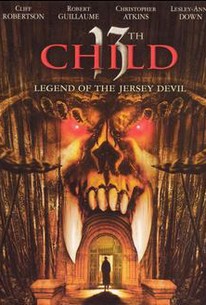 Movie Info
For 250 years, a towering man-beast with wings and razor-talons has been snacking on humans in the forests of New Jersey's Pine Barrens, where investigator Christine Tatum (Michelle Maryk) is sent by the District Attorney (Lesley-Anne Down) to get to the bottom of a recent rash of mutilations. Once there, Tatum meets eccentric recluse Shroud (Cliff Robertson).
Critic Reviews for 13th Child
Audience Reviews for 13th Child
½
I Couldn't take anymore freaking Christmas Movies, I reached extreme burnout at 23, so I return to watching a low-budget horror flick the 13th Child which is about the Jersey Devil. Some of the special effect are great, some not, best one is at the end. The Jersey Devil is a monster that runs around the Pine Barrens of New Jersey along with the bodies disposed of by Tony Soprano. The movie itself has 2 men and a women trying to track down who is mutilating bodies in the jersey woods. Not a bad movie, a B movie for sure, worth the rent or a pawn shop pick up, awe its great to be back in real trashy movies. 3 1/2 stars
Bruce Bruce
Super Reviewer
13th Child Quotes
There are no approved quotes yet for this movie.