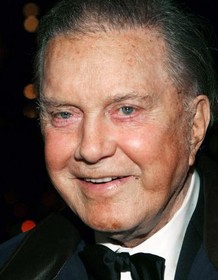 Cliff Robertson
Highest Rated: 100% Sunday in New York (1963)
Lowest Rated: 12% Renaissance Man (1994)
Birthday: Sep 9, 1923
Birthplace: La Jolla, California, USA
As a child growing up in an idyllic California coastal town in the years before the Great Depression, Cliff Robertson was raised to value hard work and perseverance. He saw action in the South Pacific during World War II and worked as a newspaperman before heading to New York City to make a name for himself as an actor. Classes with the Actor's Studio led to his Broadway debut and a busy schedule of work on stage, on television and in such feature films as "PT 109" (1962) and "The Best Man" (1963). An Academy Award winner for playing the title role in "Charly" (1969), Robertson segued smoothly from star roles to character parts in the mid-Seventies but his career was derailed by the 1977 "Hollywoodgate" scandal. After exposing the embezzlement of more than half a million dollars by the head of Columbia Pictures, the actor found himself blacklisted in the industry. Robertson reemerged in a run of high profile films in the early Eighties, reestablishing himself as a venerable American actor, among the last of a dying breed, and a true survivor.
Photos
GIDGET, Cliff Robertson, Sandra Dee, 1959
OBSESSION, Wanda Blackman, Cliff Robertson, 1976
SUNDAY IN NEW YORK, from left, Rod Taylor, Cliff Robertson, 1963
THE NAKED AND THE DEAD, second from left: Cliff Robertson, 1958
THE BIG SHOW, Esther Williams, Cliff Robertson, 1961, TM and Copyright (c) 20th Century Fox Film Corp. All rights reserved.
633 SQUADRON, George Chakiris, Maria Perschy, Cliff Robertson, 1964
BEST MAN, THE, Lee Tracy, Cliff Robertson, Kevin McCarthy, Henry Fonda, 1964
OBSESSION, Genevieve Bujold, Cliff Robertson, 1976
ALL IN A NIGHT'S WORK, from left: Dean Martin, Cliff Robertson, 1961
GREAT NORTHFIELD MINNESOTA RAID, Cliff Robertson, 1972
J.W. COOP, Cliff Robertson, Cristina Ferrare, 1972
THE BIG SHOW, from left: Cliff Robertson, Esther Williams, 1961. ©20th Century-Fox Film, TM & Copyright /
MAN ON A SWING, Cliff Robertson, Joel Grey, 1974
TOO LATE THE HERO, (starting second from left) Lance Percival, Michael Caine, Cliff Robertson, 1970
GREAT NORTHFIELD MINNESOTA RAID, Cliff Robertson, 1972
TOO LATE THE HERO, Ian Bannen, Michael Caine, Cliff Robertson, Ronald Fraser, Lance Percival, Denholm Elliott, Harry Andrews, 1970
J.W. COOP, Cliff Robertson (right), 1972
THE BEST MAN, Cliff Robertson, 1964
THE BEST MAN, Henry Fonda, Cliff Robertson, 1964
MASQUERADE, (aka OPERATION MASQUERADE, aka A SHABBY TIGER), Marisa Mell, Cliff Robertson, 1965