Underworld, U.S.A.
(1961)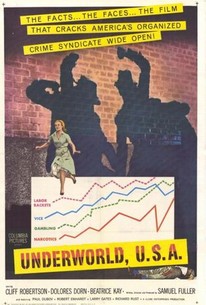 AUDIENCE SCORE
Critic Consensus: No consensus yet.
Movie Info
Cliff Robertson plays Tolly Devlin, an embittered ex-convict who has spent a lifetime tracking down the men who murdered his father. Desirous of handling matters on his own, Devlin pretends to be loyal to both the Mob and the Government, playing one against the other in hopes of flushing out the killers. He learns that the three surviving assassins are employed by a supposedly charitable "cover" operation known as National Projects. To get what he wants, Devlin ingratiates himself with mob boss (and outwardly solid citizen) Conners (Robert Emhardt). What Robertson didn't count on was falling in love with "Cuddles" (Dolores Dorn), which leads to his own downfall -- but not before justice is served. Producer/director/writer Fuller based Underworld USA on a series of "exposé" articles in The Saturday Evening Post; the film's release fortuitously occurred shortly after that infamous mob convention in Appalachin, New York.
Critic Reviews for Underworld, U.S.A.
All Critics (3) | Fresh (3) | Rotten (0) | DVD (1)
... like the gangster figures of the 1930s, he sees only himself and the world around him and treats everything/everyone else as a stepping stone or an obstacle.
Even more so than its plot, the film is notable for its very stark, sharp black-and-white look; each shot almost feels like a paper cut.
Samuel Fuller's revenge crime thriller is shot in the same brisk and violent manner he shoots his war films.
Audience Reviews for Underworld, U.S.A.
½
it started out kinda cheesy but i ended up liking this revenge thriller a good deal. cliff robertson plays an ex con who works his way into the underworld to get to the men who killed his father, then finds out getting out isn't as easy as he'd planned. there are some really cold-blooded scenes in this! i sometimes find fuller's style overdramatic for my taste
Stella Dallas
Super Reviewer
½
[font=Century Gothic]In "Underworld, USA", as a teenager Tolly Devlin witnesses his father being brutally beaten to death by four men and is able to idenify one of the men, Vic Farrar, but will not share the information with Driscoll(Larry Gates) from the district attorney's office. Tolly(Cliff Robertson) grows up to be a small-time thief who is in and out of prison. Eventually, he tracks down Farrar who is dying in a prison infirmary and convinces Farrar to give up the names of the other three men.[/font] [font=Century Gothic][/font] [font=Century Gothic]"Underworld USA" is a good, solid movie about revenge and justice that is occasionally weakened by uneven acting.[/font] [font=Century Gothic][/font] [font=Century Gothic][/font] [font=Century Gothic][color=navy]"The Naked Kiss" starts out with a bald woman, Kelly(Constance Towers), delivering a beating to a man to get the $75 she feels is due to her. Two years later, with a full head of hair, Kelly gets off the bus at Grantville, pretending to be a champagne saleswoman as a front for her mobile prostitution business. She strikes up an acquaintance with the town sherriff, Griff(Anthony Eisley), and they spend the night together at his place but Kelly leaves in the morning. She finds other lodgings and starts a new chapter in her life.[/color][/font] [font=Century Gothic][color=#000080][/color][/font] [font=Century Gothic][color=#000080]"The Naked Kiss" gets off to a great start but the film does not come into its own until late with a particularly disturbing scene. The movie is about the possibility of redemption and how people can change, given the chance.[/color][/font]
Underworld, U.S.A. Quotes
There are no approved quotes yet for this movie.