Sunday in New York
(1963)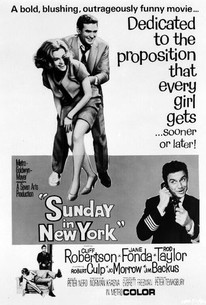 Sunday in New York Photos
Movie Info
In this sexy comedy, an innocent, but attractive virgin heads off to find adventure in the Big Apple and winds up falling in love. The highly principled lass goes to the New York apartment of her airline pilot brother to escape her over-amorous fiance who is increasingly unwilling to wait until their wedding night. Her brother supports her decision to stay pure and tells her that men prefer to marry virgins. He then secretly makes new plans to spend a spicy weekend with his lover in another city. Unfortunately, he is called to work after he makes his plans and is unable to contact his girl friend to tell her. Meanwhile, his innocent sister, left alone in the apartment, discovers that her brother lives by a double standard. Enraged, she decides to become a swinger too and so boards a downtown bus where she encounters a handsome, worldly bachelor. They are both attracted to each other and spend a lazy Sunday sightseeing and falling in love. A heavy downpour leads the drenched couple to the pilots apartment where they dry off. It's all innocent enough, but when both the repentant fiance and the girl's brother show up it's comical chaos.
Critic Reviews for Sunday in New York
Audience Reviews for Sunday in New York
When my non-flixster movie fan friends were sharing their Top 10 for 2007 lists, I got into a discussion with Cheryl, a woman who knows more about film than I could ever hope to fathom. We finally decided that there just weren't enough 2007 films to dig up a "top" ten, so we decided to include some "older" ones we'd viewed either for the first time, or for the first time in a while. We both coincidentally agreed that Wong Kar Wai's 2046 should be on the list, and that Fellini's La Strada was possibly the 2007 great view for all time for us both. Cheryl said, eyes closed and massaging her temples, "Gee, I hope I'm not getting to that age where I start saying, 'the only good ones are the old ones.'" She's fifteen years older than I am, but I give you my sworn word that she is not anywhere near getting old enough to say that old films are the best.
Flixsters, this 1963 movie is wonderful. Really. I'm not just saying that because I'm an old guy. I promise. Yes, there are hokey moments. Hokey with a capital H. As Walter might say, you can tell from the dialog that this is a movie adapted from a play. It is very clever at times, dialog driven, and very Hokey, as I say, at times. We're talking 1963 here, flixster friends, but romance, and more specifically romantic comedy, when it's done well, is truly timeless. This is what happens, no matter when a movie is made, when you get four very smart, very camera savvy actors to click together. And click they most certainly do. Cliff Robertson, Jane Fonda, Rod Taylor, and Robert Culp are chemistry dynamite here together. A true pleasure to experience, and it's climbing into my Top 100 right now.
Lanning : )
Super Reviewer
Sunday in New York Quotes
There are no approved quotes yet for this movie.