3
(2011)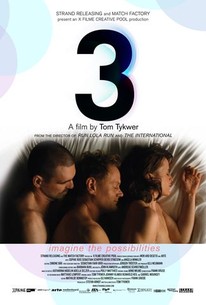 Movie Info
Hannah and Simon have been a couple for 20 years. They live in Berlin, side by side in combative harmony. They are attractive, modern, mature, childless, cultivated, down-to-earth. Affairs, wanting children, moving in together, miscarriage, fleeing and returning; this anchorwoman and art technician have put a lot behind them, but they don't have so much ahead of them anymore. That is until both, without knowing about the other's actions, fall in love with the same man, Adam. -- (C) Strand
Rating:
NR
Genre:
, , ,
Directed By:
In Theaters:
On DVD:
Box Office:
$59,774.00
Runtime:
Studio:
Audience Reviews for 3
½
Tykwer seems to be more interested in pretentious artsy shots than creating a resonant story, and the fact that the female character is unbearable and the plot unbelievable and boring to death only helps make this film an ordeal to sit through.
Carlos Magalhães
Super Reviewer
½
In "3," Hanna(Sophie Rois), a biologist and television presenter, and Simon(Sebastian Schipper), an art engineer, have grown to middle age together, through thick and thin, such as the serious illness and subsequent death of Simon's mother(Angela Winkler). With everything on her plate, it is no surprise that Hanna is distracted at a conference, thus not noticing Adam(Devid Striesow), a younger colleague. The second time they meet is when Hanna has an extra ticket to the theater due to Simon working late that she gives to Adam. The third time is less formal. But unbeknowst to her, at the same time, Simon is elsewhere badly needing her support when he is diagnosed with testicular cancer, followed quickly by some very graphic surgery. While I thought "3" was stylish, erotic and thoughtful and handles its shifting viewpoints well, I know some people might find the movie somewhat pretentious due to Tom Tykwer's use of symbolism and numerology but I think this also works rather well, as these characters are at an age where they have their first serious brush with mortality and start to keep score of accomplishments and important events in their lives. While they may think time is running out, none of us know how much time we have left, not even Simon's mother, whose suicide attempt is cruelly interrupted. So, it is never too late and we should stop worrying so much about what we cannot help. However, for a movie so intent on flaunting conventions, it does sadly become awkwardly conventional late, breaking the magic spell for a brief period before its beguiling ending and memorable final image.
I see a lot of pontential here, but the film doesn't seem to know what it wants. PLOT:Anchorwoman Hanna (Sophie Rois) and engineerng artist Simon (Sebastian Schipper) have been in love for at least 20 years and living with each other. They're real, down-to-earth, childless people that have been through a lot as a couple. Things are going pretty well with their romance until they each meet stem cell doctor, Adam (David Striesow) and fall in love with him. It's a intersting plot executed artisicly, but it is has a few development problems which I'll get to later on. ACTING:The acting was pretty good throughout. I believe the best performances came from Sophie Rois as Hanna and David Striesow as Adam, but disagreeabley, I thought Sebastian Schipper was kind of bland as Simon. I didn't see true emotion come out through him as I did with Sophie and David. SCORE:The score was made up of a few calm, mood-setting peices and a few notable songs. It was good, I'd say. EFFECTS:I don't know if the effects were done in real time, considering this is an indie film, or if they were done through make-up and such, but they were good because they looked real and were even cringe-worthy, which I'll explain in the next section. OTHER CONTENT:I am new to Tom Twyker's films and direction styles, but I can already see a lot of pontential in his style. He starts off the film with a passing car and a voice explaining the life of Hanna and Simon, along with an interpretive dance of the film's main events. It also had multiple screen shots at one time, a brief animation, and the notable scene of the three main characters lying naked fading against a white background. He has earned my respect with his unique direction and editing style for sure, but this had a couple major problems. The plot isn't real well developed; some of the events (such as Simon's mother's death and his testicular operation) have so little to do with the plot that it distracts from the main idea of the plot. It really just ends up as unneeded. Also, the character development as a small problem. Twyker tries to incorporate accurate character development by filming that little scene in the beginning with the passing car and putting those unneeded events in the film, but it doesn't make up for how we see their personalities shine. They end up looking like karma-stricken victims in a horror film due to the problems. This film wasn't really my cup of tea, to be truthful. At times it grossed me out and made me want to stop watching. I think that's another reason why I didn't favor it due to the wonderful direction... OVERALL,an ok indie film with an intersting and artistic plot, pretty good acting, just good score, real-looking effects, and a visionistic direction by Twyker, but the plot isn't real well developed, the character development has a few problems, and the film just wasn't my type.
Kendall Irwin
Discussion Forum
Discuss 3 on our Movie forum!