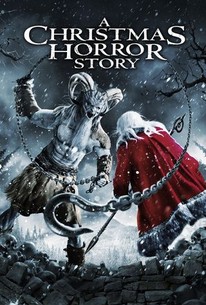 A Christmas Horror Story
2015, Holiday/Horror, 1h 39m
23 Reviews
500+ Ratings
Where to watch
Rent/buy
Rent/buy
Rent/buy
Rate And Review
A Christmas Horror Story Videos
A Christmas Horror Story Photos
Movie Info
Not even Santa Claus is safe from the evil that descends on Bailey Downs, a small town that is suddenly plagued with malevolent spirits, zombie elves and Krampus -- the anti-Santa Claus.
News & Interviews for A Christmas Horror Story
Audience Reviews for A Christmas Horror Story
I've never been the biggest fan of Christmas/holiday movies in general. Mostly because there's not that many that are actually that I would call good, and those that ARE good usually turn the concept on its head or rely on dark humor to be a sorta anti-holiday movie. And, really, those movies are only really worth watching during the holiday season because they help you get in that mood. Watching a holiday movie on, say, March just isn't the same as watching it during the actual holiday season. Horror movies, on the other hand, work perfectly for every time of the year, it just depends what you're in the mood for, but horror isn't limited to one time of year where they can be enjoyed. Which is really the main reason I watched this movie to begin with. Yes, it has a Christmas theme and setting for all its stories,this is an anthology horror flick after all, but I wanted to see how they could use the setting to create a horror movie. But, of course, much like almost every anthology film in existence, the film suffers from consistency and pacing issues. The pacing issues come in the fact that you don't get to see each segment from beginning to end before they move on to the next one. The entire film jumps around. going from segment to segment, showing you bits and pieces before moving. And I think that really hurts the movie in the long run because you might get to a really interesting moment in one segment and that's when they cut to another of the segments, completely killing the pacing, making you wait for the payoff to that moment. And, if I'm honest, none of the individual segments, taken as a whole, really did much for me. The whole 'Santa fighting against zombie elves' was probably the one that I got into the most, but then there's a twist that just negated everything you had seen, at least in that particular Santa vs zombie elves segment. The twist itself isn't bad and it adds a darker element to the proceedings, but I don't know if it was much of an improvement. I think my least favorite of the segments would have to be the one that takes place in the school. And it's my least favorite simply because it's a basic, and not particularly interesting, ghost story. At least the other two had a family being hunted down by Krampus and a couple having to deal with a changeling pretending to be their son. I already mentioned the Santa vs elves one. The ghost story at the school didn't do it for me simply because it just didn't really take many risks. At least the other segments in the film went a little to the crazier side, showing you something you don't see all that often in horror movies, at least in the case of the changeling, since Krampus is picking up on popularity with several movies released. All of these segments are connected by a radio show hosted by William Shatner, playing an actual character and not himself. Though, really, with the way these parts of the film played out, you don't know where Shatner ended and his character in the flick began. He was great, particularly in the post-credits sequence, in this role and he really was the most consistently entertaining part of the movie. This isn't a bad movie, not at all, but, like I said, it's undone by its pacing and the inconsistent nature of anthology style. It's nothing more than just average, at best. And I don't even know if that's appropriate. Maybe I'm being generous, but average is where the rating will stay. It's on Netflix, so there's not much harm in watching it.

A Christmas Horror Story is a chilling anthology that's ghoulishly entertaining. Comprised of four blood curtailing tales, the film follows a zombie outbreak at Santa's workshop, a group of students doing an exposé of a double murder at their school, a changeling that poses as a young boy, and Krampus preying on a deceitful family. The stories feel a little disconnected from each other, but most of them are rather good; delivering some intense scares. And William Shatner gives kind of a fun performance as a radio DJ in the wraparound story. Anthology films are a tricky thing, but A Christmas Horror Story does a fair job at telling a diverse series of scary stories that have different horror elements.
See Details