The Truth (A Dark Truth)
(2013)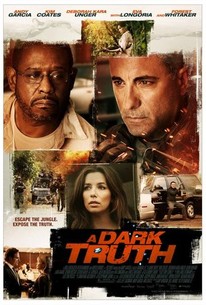 The Truth (A Dark Truth) Photos
Movie Info
Andy Garcia plays a former CIA operative turned political talk show host, who is hired by a corporate whistle blower to expose her company's cover-up of a massacre in a South American village. When he arrives, he is plunged into a violent and chaotic situation, with the military cracking down on a group of protesters led by a pair of activists (Eva Longoria and Forrest Whitaker). The ever-increasing depletion of earth's natural resource of water serves as the backdrop for this tense environmental thriller. (c) Magnolia
News & Interviews for The Truth (A Dark Truth)
Critic Reviews for The Truth (A Dark Truth)
Audience Reviews for The Truth (A Dark Truth)
½
Imagine talking to Martin Sheen for an hour. Oy vey. Well,that's how this liberal-intentions-and-heart-on-its-sleeve action pic plays out as a super big corporation ruthlessly slaughters a village to secure the water rights. Whitaker and Longoria play a Greenpeace activists on the scene who know the truth the coporation is trying to hide, Garcia is a reporter trying to find out what the truth is, and it takes so long to get to the action that you won't care how right (or how Left) anyone is. Wait for a rainy day.
Kevin M. Williams
Super Reviewer
"When you can't affect change from within, I mean positive change, you have an obligation if you're at all conscious to get out and try other things." Jack Begosian (Garcia) is a former CIA operative who is now a talk show host talking about important issues. Bruce Swinton (Coates) is the head of a large corporation who has just found out about a huge problem with his company and a local African community. When his sister wants him to tell the truth he fights her and she hires Jack to go in and expose what is going on in the country. This is a very important movie that should be seen by more people then will actually see it. Very engrossing and informative and worth seeing. The only real problem I have is that it plays almost more like a Dateline or 60 Minutes type story then a movie. I'm not saying that that is a bad thing but that's what I was reminded of. The acting is great and I recommend this but be ready for this type of movie. Overall, a very important movie that may have the possibility to change things.. 5 stars 4-22-13
Bruce Bruce
Super Reviewer
A sharp, sophisticated, rich in character and smart action-thriller. An intelligent and suspenseful nail-biter that grabs you and does not want to let you go. It`s crisp and thrilling entertainment. It packs a full-clip of engaging drama, great character-development and explosive action. A swift. well-crafted and sensational movie. Its great stuff, it has a message and manages to be very entertaining. I really enjoyed it. An insightful, in depth and truly engaging movie. An extreamly gripping and emotionally compelling piece of work. A must-see. It has a great all-star cast. Andy Garcia gives a gritty and excellent performance. Forest Whitaker gives an remarkable and utterly riveting performance. Garcia and Whitaker are outstanding together. Kevin Durand is terrific. Deborah Kara Unger and Kim Coates are fantastic.
The Truth (A Dark Truth) Quotes
There are no approved quotes yet for this movie.