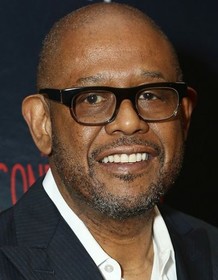 Forest Whitaker
Highest Rated: 100% Mysteries of the Unseen World (2013)
Lowest Rated: Not Available
Birthday: Jul 15, 1961
Birthplace: Longview, Texas, USA
Though actor Forest Whitaker started college on an athletic scholarship, the charismatic and award-winning performer made the unlikely shift from football to studying to become a classical tenor and eventually, an actor. After gaining some attention in several stage musicals, Whitaker made an immediate impression with a small, but memorable role in his feature debut, "Fast Times at Ridgemont High" (1982). Following a quick succession of supporting roles in features and on television, he earned his first wave of critical accolades for his portrayal of drug-addicted jazz saxophonist Charlie Parker in "Bird" (1988). Once he was established as a viable leading man, Whitaker easily oscillated between low-budget and studio projects, earning equal acclaim for his performances. Taking his career to the next level, he made several forays into feature directing - most notably "Waiting to Exhale" (1995) - but continued to churn out one sterling performance after another until finally reaching new heights with his Oscar-winning portrayal of Ugandan dictator Idi Amin in "The Last King of Scotland" (2006), which came hot on the heels of another mesmerizing performance as an obsessive internal affairs officer on season five of "The Shield" (FX, 2002-08). Both roles only confirmed that Whitaker was one of Hollywood's most versatile, surprising and talented actors of his day. His work as a producer on films like "Fruitvale Station" (2013) and "Dope" (2015) helped shepherd a new generation of African-American filmmakers while his work in hits like "The Butler" (2013), "Rogue One: A Star Wars Story" (2016) and "Black Panther" (2018) kept him firmly in audiences' minds.
Photos
THE LAST KING OF SCOTLAND, James McAvoy, Forest Whitaker as Idi Amin, David Oyelowo (in brown suit), 2006, (c) Fox Searchlight
The View, Oprah Winfrey (L), Forest Whitaker (R), 'Season 16', ©ABC
DOWNTOWN, Forest Whitaker, 1990, TM & Copyright © 20th Century Fox Film Corp.
The View, Oprah Winfrey (L), Forest Whitaker (R), 'Season 16', ©ABC
The View, Oprah Winfrey (L), Forest Whitaker (R), 'Season 16', ©ABC
THE LAST KING OF SCOTLAND, Forest Whitaker as Idi Amin, 2006, (c) Fox Searchlight
GOOD MORNING, VIETNAM, Robin Williams, Forest Whitaker, 1987, (c)Buena Vista Pictures
American Idol, Forest Whitaker, Season 7, 1/15/2008, ©FOX
VISION QUEST, Michael Schoeffling (second left), Forest Whitaker (second right), 1985. ©Warner Brothers
JOHNNY HANDSOME, Forest Whitaker, 1989, (c)TriStar Pictures
DOWNTOWN, Forest Whitaker (right), 1990. ©20th Century-Fox Film Corporation, TM & Copyright
BLOWN AWAY, from left: Forest Whitaker, Jeff Bridges, 1994. ©MGM
DIARY OF A HITMAN, Forest Whitaker, Seymour Cassel, 1991, ©Vision International
THE LAST KING OF SCOTLAND, Forest Whitaker as Idi Amin, 2006, (c) Fox Searchlight
_DSC5114.ARW
_U5A8179.CR2
_DSC2844.ARW
_DSC4249.ARW
RAGE IN HARLEM, A, Forest Whitaker, Gregory Hines, 1991, (c)Miramax Films
The View, from left: Whoopi Goldberg, Barbara Walters, Oprah Winfrey, Forest Whitaker, Joy Behar, Sherri Shepherd, 'Season 16', ©ABC
Filmography
Movies
Credit

42%

96%

Big George Foreman: The Miraculous Story of the Once and Future Heavyweight Champion of the World
Doc Broadus (Character)
$5.3M
2023

97%

No Score Yet

Fancy Dance
Executive Producer
-
2023

No Score Yet

No Score Yet

For the Sake of Peace
Producer
-
2022

90%

86%

Passing
Producer
-
2021

68%

95%

Respect
Rev. C.L. Franklin (Character)
$24.3M
2021

90%

70%

Jingle Jangle: A Christmas Journey
Jeronicus (Character)
-
2020

20%

No Score Yet

A Fall From Grace
Unknown (Character)
-
2019

51%

84%

City of Lies
Jack Jackson (Character)
$565.7K
2018

50%

97%

Burden
Reverend Kennedy (Character)
$134.1K
2018

46%

62%

Finding Steve McQueen
Howard Lambert (Character)
-
2018

17%

17%

How It Ends
Tom (Character)
-
2018

93%

70%

Sorry to Bother You
First Equisapien/Demarius (Character),
Producer
$17.5M
2018

No Score Yet

No Score Yet

Triumph: The Untold Story of Perry Wallace
Narrator
-
2018

96%

79%

Black Panther
Zuri (Character)
$700.2M
2018

No Score Yet

No Score Yet

We Are One
Narrator,
Executive Producer
-
2017

70%

62%

Roxanne Roxanne
Producer
-
2017

52%

46%

The Forgiven
Desmond Tutu (Character)
-
2017

84%

87%

Rogue One: A Star Wars Story
Saw Gerrera (Character)
$533.2M
2016

94%

82%

Arrival
Colonel Weber (Character)
$100.5M
2016

94%

67%

Songs My Brothers Taught Me
Producer
$34.2K
2015

60%

75%

Southpaw
Tick Willis (Character)
$52.4M
2015

88%

83%

Dope
Narrator,
Producer
$17.5M
2015

47%

26%

Two Men in Town
William Garnett (Character)
-
2014

13%

43%

Taken 3
Inspector Frank Dotzler (Character)
$89.3M
2014

91%

84%

Food Chains
Narrator
-
2014

No Score Yet

No Score Yet

Sewing Hope
Narrator
-
2013

100%

75%

Mysteries of the Unseen World
Narrator
-
2013

No Score Yet

60%

Zulu
Ali (Character)
-
2013

33%

42%

Repentance
Angel (Character),
Producer
$1.2M
2013

53%

52%

Out of the Furnace
Wesley Barnes (Character)
$11.3M
2013

51%

51%

Black Nativity
Rev. Cornell Cobbs (Character)
$7.0M
2013

72%

78%

Lee Daniels' The Butler
Cecil Gaines (Character)
$116.6M
2013

94%

87%

Fruitvale Station
Producer
$16.1M
2013

No Score Yet

26%

Pawn
Will (Character)
$2.1K
2013

61%

53%

The Last Stand
Agent John Bannister (Character)
$12.0M
2013

79%

84%

Rising From Ashes
Narrator,
Executive Producer
$37.7K
2012

98%

88%

Ernest & Celestine
Ernest (Voice)
$71.4K
2012

0%

36%

A Dark Truth
Francisco Francis (Character)
$5.8K
2012

No Score Yet

30%

Freelancers
LaRue (Character)
-
2012

No Score Yet

14%

Catch .44
Ronny (Character)
-
2011

40%

50%

Monte Carlo
Executive Producer
$23.2M
2011

No Score Yet

55%

Higglety Pigglety Pop! or There Must Be More to Life
Lion (Voice)
-
2010

No Score Yet

66%

Lullaby for Pi
George (Character)
-
2010

No Score Yet

33%

My Own Love Song
Joey (Character)
-
2010

No Score Yet

49%

The Experiment
Barris (Character)
-
2010

15%

48%

Our Family Wedding
Bradford Boyd (Character)
$20.2M
2010

21%

41%

Repo Men
Jake (Character)
$13.8M
2010

No Score Yet

73%

Toys in the Attic
Teddy (Voice)
-
2009

No Score Yet

70%

Hurricane Season
Al Collins (Character)
-
2009

73%

57%

Where the Wild Things Are
Ira (Voice)
$77.2M
2009

25%

40%

Powder Blue
Charlie (Character),
Producer
-
2009

45%

29%

Winged Creatures
Charlie Archenault (Character)
-
2008

67%

60%

Dragon Hunters
Lian-Chu (Voice)
-
2008

37%

58%

Street Kings
Capt. Jack Wander (Character)
$26.4M
2008

34%

57%

Vantage Point
Howard Lewis (Character)
$72.3M
2008

29%

No Score Yet

Ripple Effect
Philip (Character),
Executive Producer
$13.8K
2007

10%

61%

The Air I Breathe
Happiness (Character)
$19.5K
2007

80%

86%

The Great Debaters
Dr. James Farmer Sr. (Character)
$30.2M
2007

No Score Yet

32%

The Marsh
Geoffrey Hunt (Character)
-
2006

24%

29%

Even Money
Clyde Snow (Character)
-
2006

87%

89%

The Last King of Scotland
Idi Amin (Character)
$17.6M
2006

41%

44%

Everyone's Hero
Lonnie Brewster (Voice)
$14.5M
2006

33%

41%

A Little Trip to Heaven
Holt (Character)
-
2005

39%

43%

American Gun
Carter (Character),
Executive Producer
$24.0K
2005

59%

43%

Mary
Ted Younger (Character)
-
2005

No Score Yet

No Score Yet

Odyssey in Rome
Unknown (Character)
-
2005

23%

33%

Jiminy Glick in Lalawood
Self
$25.7K
2004

8%

42%

First Daughter
Director,
Executive Producer
$9.1M
2004

No Score Yet

89%

Deacons for Defense
Marcus Clay (Character)
-
2003

14%

40%

Chasing Papi
Producer
$6.1M
2003

No Score Yet

No Score Yet

American Storytellers
Unknown (Character)
-
2003

72%

64%

Phone Booth
Captain Ramey (Character)
$46.6M
2002

76%

64%

Panic Room
Burnham (Character)
$95.3M
2002

No Score Yet

28%

The Fourth Angel
Agent Jules Bernard (Character)
-
2001

61%

50%

Green Dragon
Addie (Character),
Executive Producer
$146.1K
2001

3%

12%

Battlefield Earth
Ker (Character)
$21.5M
2000

No Score Yet

41%

Four Dogs Playing Poker
Mr. Ellington (Character)
-
2000

60%

61%

Witness Protection
Steven Beck (Character)
-
1999

84%

86%

Ghost Dog: The Way of the Samurai
Ghost Dog (Character)
$3.3M
1999

39%

75%

Light It Up
Officer Dante Jackson (Character)
$5.9M
1999

No Score Yet

41%

Body Count
Crane (Character)
-
1998

27%

72%

Hope Floats
Director
$60.0M
1998

No Score Yet

No Score Yet

The Split
Crane (Character)
-
1998

No Score Yet

94%

Rebound -- The Legend of Earl The Goat Manigault
Mr. Rucker (Character)
-
1996

49%

59%

Phenomenon
Nate Pope (Character)
$104.6M
1996

42%

31%

Species
Dan Smithson, Empath (Character)
$58.7M
1995

61%

79%

Waiting to Exhale
Director
$64.2M
1995

88%

89%

Smoke
Cyrus Cole (Character)
$8.3M
1995

No Score Yet

34%

The Enemy Within
Col. MacKenzie "Mac" Casey (Character)
-
1994

24%

27%

Ready to Wear (Pret-a-Porter)
Cy Bianco (Character)
$10.7M
1994

39%

40%

Blown Away
Anthony Franklin (Character)
$30.1M
1994

58%

90%

Jason's Lyric
Maddog (Character)
$20.3M
1994

No Score Yet

82%

Lush Life
Buddy Chester (Character)
-
1994

No Score Yet

17%

Bank Robber
Officer Battle (Character)
-
1993

No Score Yet

82%

Strapped
Director
-
1993

70%

43%

Body Snatchers
Major Collins (Character)
$54.8K
1993

No Score Yet

67%

Last Light
Fred Whitmore (Character)
-
1993

No Score Yet

36%

Diary of a Hitman
Dekker (Character)
-
1992

43%

54%

Article 99
Dr. Sid Handleman (Character)
$6.2M
1992

23%

25%

Consenting Adults
David Duttonville (Character)
$21.6M
1992

94%

78%

The Crying Game
Jody (Character)
$60.7M
1992

68%

52%

A Rage in Harlem
Jackson (Character)
$8.8M
1991

No Score Yet

33%

Downtown
Dennis Curren (Character)
$2.2M
1990

No Score Yet

No Score Yet

Criminal Justice
Jessie Williams (Character)
-
1990

60%

47%

Johnny Handsome
Dr. Steven Fisher (Character)
$6.6M
1989

77%

79%

Bird
Charlie 'Bird' Parker (Character)
$1.5M
1988

46%

74%

Bloodsport
Rawlins (Character)
$10.8M
1988

89%

82%

Good Morning, Vietnam
Edward Garlick (Character)
$123.9M
1987

89%

56%

Stakeout
Jack Pismo (Character)
$65.4M
1987

88%

73%

The Color of Money
Amos (Character)
$52.3M
1986

89%

93%

Platoon
Big Harold (Character)
$138.5M
1986

60%

78%

Vision Quest
Bulldozer (Character)
-
1985

78%

80%

Fast Times at Ridgemont High
Charles Jefferson (Character)
-
1982
TV