Ernest & Célestine
(2014)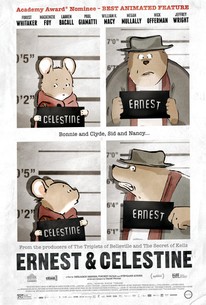 Ernest & Célestine Photos
Movie Info
Deep below snowy, cobblestone streets, tucked away in networks of winding subterranean tunnels, lives a civilization of hardworking mice, terrified of the bears who live above ground. Unlike her fellow mice, Celestine is an artist and a dreamer - and when she nearly ends up as breakfast for ursine troubadour Ernest, the two form an unlikely bond. But it isn't long before their friendship is put on trial by their respective bear-fearing and mice-eating communities. Fresh from standing ovations at Cannes and Toronto Ernest & Celestine joyfully leaps across genres and influences to capture the kinetic, limitless possibilities of animated storytelling. Like a gorgeous watercolor painting brought to life, a constantly shifting pastel color palette bursts and drips across the screen, while wonderful storytelling and brilliant comic timing draw up influences as varied as Buster Keaton, Bugs Bunny and the outlaw romanticism of Bonnie and Clyde. Bringing it all together is the on-screen chemistry between the two lead characters - a flowing, tender and playful rapport that will put a smile on your face and make your heart glow. Based on the classic Belgian book series by Gabrielle Vincent, Ernest & Celestine is winner of the Cesar Award for Best Animated Feature and numerous festival prizes. (c) GKids
News & Interviews for Ernest & Célestine
Critic Reviews for Ernest & Célestine
Audience Reviews for Ernest & Célestine
½
Made from simple artisanal drawings of pastel tones and with a great sound design, this joyful tale of friendship offers a smart commentary on prejudice and acceptance of people's differences - a very important message for children today.
Carlos Magalhães
Super Reviewer
For lack of a better term, "Ernest And Celestine" is cute. It is cutely drawn, reviving the hand drawn animation style, the characters are cute, and the voices (in French) are cute. Having made it to a preview screening of this foreign animated film in the theaters, I can easily say that the audience loved it. Adults and children alike were cracking up at the well timed and well drawn jokes throughout the course of this film. As a bear and mouse attempt to be friends in a segregated world where bears live in towns while mice live in the sewer systems below, one lowly mouse named Celestine ventures out to make friends with a bear named Ernest, who plays musical instruments in public to try and make money, but lives off of rummaging through garbages and stealing from local store owners. Eventually Celestine is outcast for bringing Ernest into the mouse village and is forced to stay with Ernest, as the film makes a commentary on the characters accepting one another for who they are rather than what they are. Living side by side, the comedy comes out of the odd couple situations these characters are placed into and the reactions that are often given to the animals. For instance, one of the biggest laughs I had is when Celestine, trying to teach Ernest a lesson, decides to retreat to the cellar, yet on the way she grabs a spoon of chocolate and points it at him while backing away. Heavy handed with its messages by the end of the film, there is plenty to be said about a film that sticks to its morals and tries to teach the young generation a few lessons. Having seen the sub-titled version in French, the American version can be seen and heard with the voices of high profile actors like Forest Whitaker and Paul Giamatti. At a brisk 80 minutes long and reminiscent of the type of humor you would get from an animated Wes Anderson film ("Fantastic Mr. Fox"), "Ernest And Celestine" is one of the most enjoyable animated features of the year.
Christopher Haskell
Super Reviewer
½
This a thoroughly cute tale based on Gabrielle Vincent's children's book. Here in Cleveland there was no choice about seeing the subtitled version or the dubbed version, so I saw it dubbed with Forest Whitaker and Mackenzie Foy. I was carried along throughout by this story of a friendship between two exiles. The watercolor dream sequences were quite imaginative too. The mice, who live below ground, and the bears, who live above ground, have strong prejudices against each other. In a subplot, one bear family teaches their son that the father bear, who owns a candy store, only sells to all the other children to drive business to the mother bear's dentist office across the street. The mice also have an industry of collecting bear teeth to replace their worn out incisors so they can continue their building projects. It is up to Ernest, the street performer bear, and Celestine, the young painter mouse, to make their respective societies see the error in their prejudices. The final scenes in court with the fires and Ernest and Celestine being reunited lost me, though. The conclusion seemed less truthful.
Byron Brubaker
Super Reviewer
Ernest & Célestine Quotes
There are no approved quotes yet for this movie.