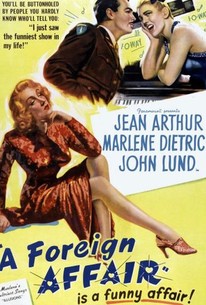 A Foreign Affair
1948, Musical/Comedy, 1h 56m
14 Reviews
1,000+ Ratings
Rate And Review
Movie Info
Idealistic Iowa congresswoman Phoebe Frost (Jean Arthur) touches down in postwar Berlin on a fact-finding mission about legendary cabaret singer Erika von Schlütow (Marlene Dietrich), long rumored to be the former mistress of one or more high-ranking Nazi leaders and now reportedly intimately involved with an unidentified American military officer. Frost falls for her military escort, Captain John Pringle (John Lund), unaware that the handsome American is the singer's secret paramour.
Audience Reviews for A Foreign Affair
What an interesting, conflicting film this is. Jean Arthur plays a congresswoman visiting Germany after the war to check up on the troops stationed there. Marlene Dietrich is a cabaret singer rumored to have been a mistress of one of the top Nazis, and now carrying on an affair with an American officer (John Lund). As Arthur probes into Dietrich, Lund tries to run interference by getting involved with her romantically, thus setting up a love triangle. There are many great things about the film, starting with the footage of Berlin, which was still absolutely devastated by the war. It's sobering, and even as we think of the atrocities Hitler and the Nazis committed, it's still very sad. The film gives us an interesting window into the dynamics of post-war Germany. How does one sort out responsibility and guilt amongst the Germans? The simple question Lund asks Dietrich at one point, "How much of a Nazi were you, anyway?", without deep accusation in his voice or even too concerned with her answer, has a lot of depth to it. One of the difficult things to watch is American soldiers hunting down impoverished German women, and using material goods like chocolate to take advantage of them. It's cringe-worthy on its own, and then more so when the behavior is explained by saying the men had been pushing the entire war, and now hard to control by just putting a stop sign up in front of them. It may be an honest reflection of reality though, and I loved Arthur's criticism "In your admirable effort to civilize this country, our boys are rapidly becoming barbarians themselves." Lest you be outraged that the Allies, the true heroes of this war, may be unfairly treated, don't be alarmed - the American characters point out many sites of Nazi activity now mostly in ruins on a city tour, and allude to their atrocities. I thought the balance was good, and frankly pretty amazing considering director Billy Wilder was Jewish, and lived in Austria and Germany until leaving for Hollywood at 27 in 1933. Marlene Dietrich is iconic, and as a German-American who had to be convinced to take the part of a Nazi collaborator since the idea was so repugnant to her, her performance is filled with soul and depth. I loved the scenes with her singing in the cheap, crowded, and smoky Berlin nightclub, and the move she makes to take a puff on a cigarette before putting in into her pianist's mouth is silky smooth. There is something magical about her performances, and her world-weary, sophisticated character in general. And how ironic is the 'grandfather' comment an officer makes at the end, when Dietrich in real life was just about to become a grandmother? I was intrigued by the contrast between Jean Arthur and Dietrich in the same film, and I loved the fact that they were 48 and 47, respectively. Unfortunately, I was less of a fan of Arthur here, and it kills me to say that. I think the biggest issue was with the role itself, which has her character going from serious congresswoman to puddle of goo after the smallest overture by Lund. Suddenly she can't even dress or apply lipstick without his assistance, nor resist his advances. As an actor she ends up being caught in the middle - not serious enough to deliver a performance which would have further delved into the realities of war amidst the rubble, but not charming enough to be truly endearing. She just doesn't have chemistry with Lund, and her performance of the "Iowa Corn Song" is not great, to put it mildly. The situation she ends up in following a raid of the cabaret is contrived, though how the love triangle plays out is reasonably good, and Arthur delivers in her somber moments. Overall, a film that gives you post-war Berlin, Dietrich singing in a smoky cabaret, and some food for thought. It's flawed and feels too light, but to show more of the reality of the devastation and squalor may have been too much. Wilder gets his points in, and tells us a story on top of it. It also stuck with me.

Billy Wilder's look at postwar Berlin is, at turns, harrowing and yet romantic. A team of naive congressmen comes to "inspect" the reported moral degradation of our good ol' 'Murican boys there keeping the peace, infected by common Euro trash elitists. Jean Arthur bravely plays the plain and ordinary girl-next-door pitted against the sophisticated and worldly Marlene Dietrich. Layered and complex, always entertaining, and a window on a different time, here is a keeper.

This may not be one of Wilder's major works, however, the spirit is here, and you can feel it: the German director and his fellow German leading woman have made this film from the soul. It's more about post-war Berlin, than the love-affair (mere excuse of a plot). Jean Arthur's talent saves the day when it comes to the (sometimes) poor script, and provides the comic relief, but it's Dietrich that shines all the way through- she is simply divine. She steals the whole film, of course, and the scenes where she sings at the cabaret can be inscribed on one's memory for ever. Don't miss this classic!

dark comedy set against the brutal backdrop of post-war berlin. jean arthur plays a stuffy american congresswoman who becomes involved with an army officer who's trying to cover up his lover's nazi past. i like that both jean and marlene were close to 50 when this was made. the script is vintage wilder if a little predictable, with shades from ninotchka to stalag 17. john lund is okay as the male lead; don't think i've ever seen him before...not wilder's best but very entertaining.
See Details