A Man Named Pearl
(2008)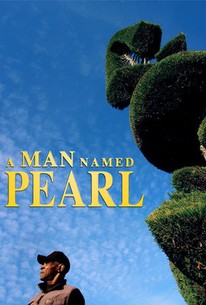 TOMATOMETER
AUDIENCE SCORE
Critic Consensus: Though it lacks moviemaking polish, A Man Named Pearl is redeemed by the interest -- and uplift -- generated by its subject.
Movie Info
A Man Named Pearl tells the inspiring story of self-taught topiary artist Pearl Fryar. It is a subtle and intriguing film that is certain to open hearts and minds. It offers an upbeat message that speaks to respect for both self and others, and shows what one person can achieve when he allows himself to share the full expression of his humanity.
Rating:
G
Genre:
,
Directed By:
In Theaters:
On DVD:
Runtime:
Studio:
News & Interviews for A Man Named Pearl
Critic Reviews for A Man Named Pearl
Audience Reviews for A Man Named Pearl
½
Reminiscent of early Errol Morris films, "A Man Named Pearl" is an inspiring documentary about topiary gardening and how one man can affect the world around him for the better. And nowhere is that more needed than Bishopville, SC, located between Columbia and Florence, which is in the poorest county of a poor state. The solution comes in the person of Pearl Fryar, son of a sharecropper, and his impressive topiary garden, achieved without any formal training. It's a good thing because then he might have realized what he was doing was impossible. People come in buses to see his garden which brings tourist dollars to the area and in return, he brings his gardens to downtown. All of which at the age of 66 makes him the unlikeliest of sex symbols. Pearl, who happens to be black, is surprised that his best friend is the daughter of a lawyer and a lot of his friends shown are white while all of his neighbors are black. Even though Pearl's hero is Jackie Robinson, who would have thought we would be talking about segregation in the twenty-first century?
A simple straightforward U.S documentary about Pearl Fryar, family man, amateur gardener and visionnary. He started small, aiming to win best heighbourhood garden, and just kept going until X years later and the film shows what he created in all its unique beauty. With everbody around him now jumping enthusiastically on the commerical bandwagon.. in particular the local reverend making sure God gets most of the credit.... Pearl just keeps quietly doing what he's always done, trimming those hedges.
An interesting and admirable man, an amazing accomplishment - but mediocre cinema. It's a true pleasure to gander at these vast topiary gardens which are truly artistic, original and abstract, revealing a truly innate talent and an immense labor-of-love. Even more of a pleasure when it is revealed that Pearl's had no formal training, used no reference materials and gathered all the raw material for free from the 'scrap heaps' of local nurseries. But by twenty-five minutes in, when the directors slow down on eyeballing the gardens and instead waste celluloid visiting the soda-can factory where Pearl works, it's clear they're going to lose all sense of focus. There's endless off-point babbling praise (albeit well earned) by everyone and anyone: the pastor of Pearl's church, the good-ol-boy that runs the Chamber of Commerce (feet up on his desk), art professors from neighboring small colleges. At thirty minutes in, the viewer follows Pearl to the local Waffle House to learn EXACTLY how he likes his eggs and toast. Most viewers will be wanting to see far more topiary and Pearl (who's probably even more interesting than this film reveals) - and far less of such talking heads and irrelevant content. It is unfortunate that the filmmakers didn't just focus the camera far more on the man and his product, let him show his work, explain his accomplishments, tell his own story. Also unfortunate is that the film continually drives home the point that all this was accomplished by 'a black man,' 'the son of sharecropper' and so forth - as if such people should normally be expected to be less able of outstanding accomplishment. RECOMMENDATION: Google up pictures and websites to satisfy your curiosity - then use your time to watch other films.
TonyPolito Polito
A Man Named Pearl Quotes
There are no approved quotes yet for this movie.