Play for Today (Abigail's Party)
(1977)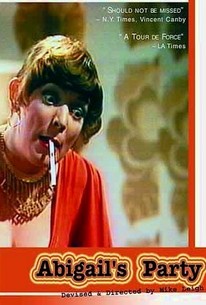 AUDIENCE SCORE
Critic Consensus: No consensus yet.
Play for Today (Abigail's Party) Photos
Movie Info
Abigail's Party originally aired as part of the BBC's influential Play for Today series. Writer/director Mike Leigh was responsible for several productions for the series, as was Dennis Potter (The Singing Detective). This filmed play was developed the same way most of Leigh's work has been -- in improvisatory workshops with the actors. It was also performed on-stage before it was filmed for television. It's a character-driven social satire. Alison Steadman (Leigh's wife, who has appeared in many of his films) stars as Beverly, the obnoxious, manipulative host of a small gathering of neighbors. Tim Stern plays Laurence, Beverly's career-driven, joyless husband. The couple has Angela (Janine Duvitski), a talkative nurse, and Tony (John Salthouse), her taciturn husband, for a visit, along with Sue (Harriet Reynolds), an unfailingly polite and timid divorced woman whose 15-year-old daughter, Abigail, is having a party that night. Beverly begins drinking and smoking before anyone else arrives, and doesn't stop throughout the night. She sets her sights on Tony the moment he walks in the door. She flirts openly with him. Laurence objects ineffectually, while Angela seems almost to encourage Beverly's interest in her husband. For his part, Tony doesn't say much. He's ill at ease, and seems to be in a very bad mood. Sue is also uncomfortable among these people, and preoccupied with what's going on at her own house. She allows Beverly to goad her into drinking until she gets sick. At one point (at Beverly's urging), Tony and Laurence go over to Sue's house to check up on things, but the reassurances they offer upon their return are unconvincing. The tension between Beverly and Laurence grows. As she taunts and belittles him, he objects to nearly everything she says and does, and the evening heads toward disaster. ~ Josh Ralske, Rovi
Critic Reviews for Play for Today (Abigail's Party)
Audience Reviews for Play for Today (Abigail's Party)
½
Hilarious, based on a great play too, you can tell it was a play since it takes place in one setting in a short amount of time, but that just makes it more realistic I think. I really liked this movie it's really funny.
Play for Today (Abigail's Party) Quotes
There are no approved quotes yet for this movie.