About Cherry
(2012)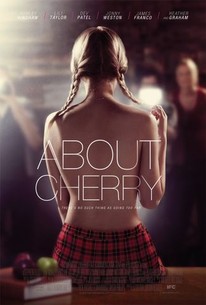 Movie Info
Cherry is about Angelina (Ashley Hinshaw), an 18-year-old girl on the verge of finishing high school. Angelina's family life is difficult. Her mother (Lili Taylor) is an alcoholic and her step-father is violent and unpredictable. One morning her boyfriend (Jonny Weston) suggests she take naked pictures for money. She balks at first but then does the photo shoot, using the money to run-off with her best friend (Dev Patel) to San Francisco. In San Francisco, while cocktailing in a strip club, Angelina meets Frances (James Franco) a well-off lawyer who offers to introduce her to a different kind of world, a place full of expensive dresses and fancy parties. But that world is not as perfect as it first appears and Frances has problems of his own. At the same time Angelina, using the moniker Cherry, has begun exploring the San Francisco porn industry under the direction of Margaret (Heather Graham) a former performer turned adult film director. -- (C) Official Site
News & Interviews for About Cherry
Critic Reviews for About Cherry
Audience Reviews for About Cherry
½
It is irritating to see a movie so awfully edited and structured, full of artificial conflicts and with a horrible dialogue, unable even to maintain focus and, worst of all, to offer any particularly interesting insight into its protagonist, who remains in the end a poorly delineated sketch.
Carlos Magalhães
Super Reviewer
With her mother(Lili Taylor) being an alcoholic, 18-year old Angelina(Ashley Hinshaw) is left to take care of her younger sister Jojo(Maya Raines). At the same time, Angelina desperately wants to spread her wings and live her own life. But her job at a laundromat is not going to get her far. So, she poses nude for Vaughn(Ernest Waddell). That gets her the money for her and her friend Andrew(Dev Patel) to move to San Francisco. That's where she works as a waitress in a strip club where she meets Frances(James Franco). Alternately erotic and chaste, "About Cherry" does admittedly suffer from a lack of focus at times. But it is also refreshing in it not being a garden variety cautionary tale. Rather, it is about somebody who is surrounded by cautionary tales. And it is a nice touch that the movie depicts a corner of the adult film industry as being both gay and female friendly. Out of all the surprises here, the biggest has to be the neat turn by none other than Heather Graham.
Unfocused and lazy, About Cherry is a poorly made film that's kind of pretentious. There's not much of a plot: a teen runaway heads to San Francisco and gets involved in the pornography industry. However, as provocative as the material is the film doesn't seem to know what it wants to say about it. The cast features Ashley Hinshaw, James Franco, and Heather Graham, but the material limits them. Bland and superficial, About Cherry is uninspired and pointless.
Dann Michalski
Super Reviewer
About Cherry Quotes
There are no approved quotes yet for this movie.